Sticky rice is one of the most popular staples in Asian cuisine for both desserts and savory foods. I'm going to show you how to quickly cook sticky rice in 30 minutes using a rice cooker.
By using a rice cooker, you don't have to pre-soak your rice or use a steamer. This means less work, but still amazing results for your next sticky rice dessert or savory dish!
What's sticky rice?
This recipe specifically uses short-grain, white sticky rice (otherwise known as glutinous rice). Don't confuse it with sushi rice or non-glutinous short grain rice because you will end up with a different dish altogether.
What makes this type of rice different from its non-glutinous cousins is in reference to its name–it's much stickier and glossier than traditional non-glutinous rice like sushi rice or other short-grain varieties. This is due to the high amounts of amylopectin starches in the grains.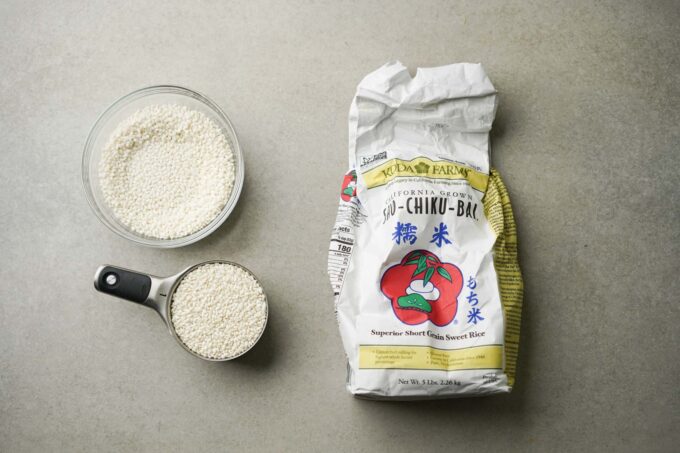 Different varieties of rice contain two main starches that contribute to its texture: amylose and amylopectin. The more amylose starches, the more separate the grains are after cooking. The more amylopectin starches, the stickier the rice becomes after cooking, like sticky rice!
There is also black glutinous sticky rice with its bran intact, so it has a darker color on the outside and white sticky rice. It will still give you a sticky consistency, but its color is just different.
Other cooking methods
Using steamers to make sticky rice is an age-old tradition and method, but when we don't all have the time to wait around and pre-soak the rice for a couple of hours (or even overnight), a rice cooker works wonderfully.
I've found that using a rice cooker can give plump and sticky, sticky rice that's comparable to steamed sticky rice. While you can use a steamer for sticky rice with good results too, I like to use a rice cooker as a faster and hands-off method for making sticky rice.
Tips for making sticky rice, aka glutinous rice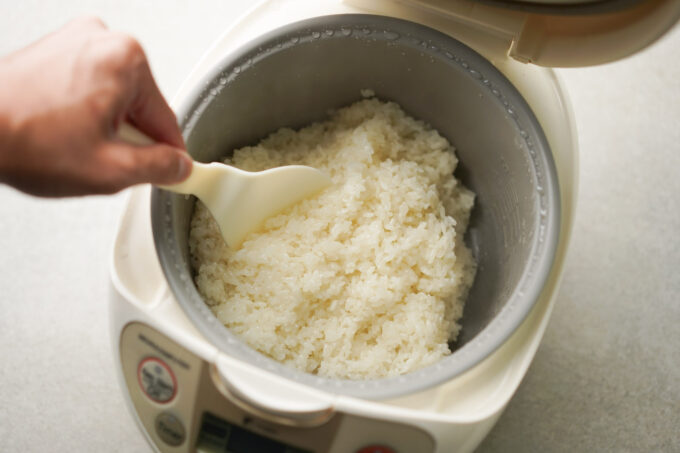 For this recipe, I did a 1:1 ratio for rice to water. This means I used 8 fluid ounces (or 244 grams) of water for every 1 dry measuring cup (or 208 grams) of glutinous rice. This is equal to about 2 servings. For a 4-person serving of sticky rice, you can reuse this ratio and measure out 16 fluid ounces of water (or 488 grams) for 2 cups of glutinous rice (or 416 grams).
Please note, this ratio is only tested up to a 4-person serving, so it may differ if you add more than 2 cups of rice.
To get the plumpest and sticky grains, here are some tips for cooking sticky rice in a rice cooker: 
For best results, use weighted measurements. Not all measuring cups are made equal in terms of manufacturing differences, and this will eliminate the confusion caused between measuring tools for dry food vs liquid.
Wash your rice using a strainer before cooking to remove any dirt on your rice. I like to run it under the kitchen faucet and stop when the water is clear.
After adding water and rice into the rice cooker, use clean hands to spread out the rice so it cooks evenly across the surface.
Use the manual and instructions specific to your rice cooker. For this recipe, I used my National brand rice cooker on the "normal" setting and just hit start. It took about 20-25 minutes to finish cooking.
Use a paddle to fluff up the rice and remove excess moisture. Then let it sit with the lid open for about 2 minutes. This allows the rice to remove the excess moisture and plump up.
Serving and storing
Sticky rice is best served fresh and steaming. You can use it to make mango sticky rice, Chinese sausage fried rice, or just eat it plain with whatever side dish you like! I like to store my sticky rice in an airtight container in the fridge and it should last for a couple of days.
You can reheat it in the microwave, just make sure to add a few sprinkles of water to rehydrate it and cover it with a towel. I like to microwave in 30-second intervals until it's nice and steamy.
Can you cook glutinous rice in a rice cooker?
Absolutely. Follow my recipe below on how to cook glutinous rice in a rice cooker with perfect results. There's really not much downside to using a rice cooker if you already have the machine. It will be more hands-off compared to the stovetop or steamer method, you won't regret the results!
Can you make sticky rice with normal rice?
Nope! Sticky rice is named glutinous rice, it is not merely a description or adjective of how sticky the rice is. If you try to cook long grain rice like basmati, or other medium-grain rice varieties, it will be extremely difficult to make it sticky.
If you use short-grain rice, it will have a higher ratio of amylose making the rice sticker compared to long-grain varieties, but its level of stickiness and final texture is NOT as sticky, and it is completely different than sticky rice (glutinous rice).
Sticky Rice in a Rice Cooker
For super quick white sticky rice, use this recipe and learn how to cook sticky rice in under 30 minutes with your rice cooker at home! You don't even need soaking time with this easy recipe.
Ingredients
1 cup (2 person serving)
208

g

(

1

c

)

glutinous rice

244

g

(

8

fl oz

)

filtered water

water

for rinsing
2 cup (4 person serving)
416

g

(

2

c

)

glutinous rice

488

g

(

16

fl oz

)

filtered water

water

for rinsing
Notes
NOTE: Nutritional value is based on 2 servings of rice. 
Nutrition Facts (per serving)
Calories:
384.8
kcal
|
Carbohydrates:
84.94
g
|
Protein:
7.08
g
|
Fat:
0.57
g
|
Saturated Fat:
0.12
g
|
Sodium:
13.38
mg
|
Potassium:
80.08
mg
|
Fiber:
2.91
g
|
Calcium:
15.1
mg
|
Iron:
1.67
mg
Nutrition Facts
Sticky Rice in a Rice Cooker
Amount per Serving
% Daily Value*
* Percent Daily Values are based on a 2000 calorie diet.
Like this recipe? Subscribe to my newsletter!