A Filipino celebration isn't complete without dessert, and one of the most famous cakes is ube cake from Red Ribbon or Goldilocks. This cake typically comes in a traditional round, sheet cake, or roll cake variation, but it's always moist, nutty, and delicious. Some cakes even include macapuno (coconut string jam)—an absolutely welcome partner in crime with any ube dessert.
Even though I've grown up eating all things ube, including this tasty cake, it wasn't until recent years that ube has gotten exponentially popular in every form. From cake to ube crinkle cookies, ube ice cream, and even ube waffles.
It's gotten so popular that sometimes it's even difficult to find ube cake from my local Red Ribbon shop, so I've made my own version that includes my favorite things. This ube cake will give you ultra-moist chiffon ube cake layers, macapuno filling, and coconut milk and ube buttercream frosting.
Making the cake from scratch vs boxed cake mix
Traditionally, ube cake from Red Ribbon is made using a chiffon cake recipe, which is a cake made with traditional ingredients of flour, eggs, and sugar, but also includes vegetable oil to produce an extra moist cake and meringue to create an airy texture.
After testing different recipes, I ended up doing a nontraditional substitution for the vegetable oil. Instead of using oil and milk for wet ingredients, I used coconut cream to get a more flavorful cake and keep the added fatty moisture—two birds with one stone.
If you're in a pinch, you can also use boxed cake mix, however, I'm not too sure how using coconut cream would affect the texture. I would definitely recommend making this batter from scratch because using cake flour really gives you a softer cake due to the lower gluten.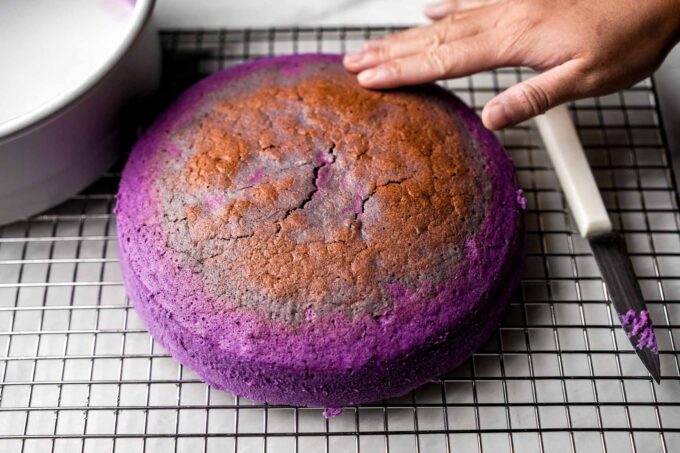 100% real ube vs powder vs extract
For this recipe, I used ube puree that I made by rehydrating pure ube powder and water in addition to ube extract. Due to the popularity of ube, it's been getting harder to access frozen ube puree or ube roots.
Getting your hands on ube powder is a lifesaver because it lasts longer on the shelf and you can rehydrate it when you need. You can also make ube halaya with the powder too.
To rehydrate ube powder, I used a 1 to 5 ratio of ube powder to water and cooked it over a stove while stirring until the powder rehydrated. One caveat about ube powder is that it can be quite gritty during cooking or rehydrating, so it may take some time to fully soak up the water over the stove so be patient.
A faster way to get ube is using ube halaya (which often times is cooked with sugar so be mindful when you add it to this recipe) or ube extract. I use ube extract to get a deeper purple color and concentrated nutty and vanilla flavor for my cake.
Note: ube extract lists "natural ube identical flavoring, water, preservatives, and food coloring," so if this isn't your thing you can omit it from your cake, but the ube flavor won't be as pronounced. You can also use natural food coloring to get a deeper violet.
Often times when you eat ube flavored anything at a store and its deep purple, you are most likely eating ube extract. I joke about how we're so used to eating ube extract (instead of pure ube roots) that most of us probably don't know what real ube tastes like these days.
The macapuno (coconut string jam)
Macapuno is a Tagalog term for "coconut string jam," and you can find it readily available at your local Filipino store, or even at a general Asian store like Ranch 99. It's used in many Filipino desserts, like halo halo. Coconut and ube flavors go together like peanut butter and jelly, so it's the perfect filling for this cake.
How to make ube buttercream frosting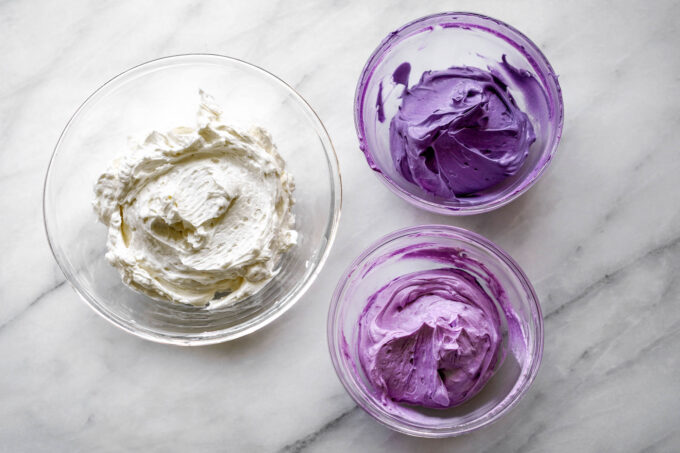 Ube cake is well known for its vivid purple whipped frosting and sometimes crumb cake outer layer, but I have never been a fan of this whipped cream frosting. It often times doesn't last in warmer weather and melts, and it also doesn't taste as good as good old buttercream frosting.
For this recipe, I used a whipped buttercream frosting and added coconut cream (along with some drops of ube extract) to decorate my cake in an ombre style. One of the most important parts of this frosting is to whip up your butter for a good 5 minutes in the stand mixer—this creates a light and soft base for your sugar and coconut cream. It takes about 10 minutes to finish the frosting, but it's worth it!
Serving and storage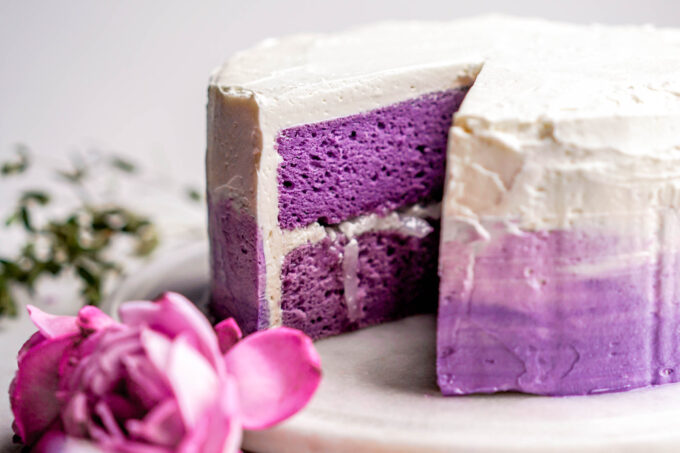 If you're like me and can't wait, you can serve and eat this cake immediately. I would also recommend chilling the cake in the fridge for about 20-30 minutes before serving to enjoy a firm texture in the cake and icing. If you have extra cake, store it in an airtight container in the fridge and it should last for a couple of days.
Ube Cake (Filipino Purple Yam Cake w/Macapuno)
Ultra moist with nutty and vanilla flavors of ube and coconut, this ube cake is just as good as Red Ribbon's! Learn how to make this traditional chiffon cake with a special coconut buttercream at home.
Ingredients
Batter
4

egg yolks

8

fl oz

ube puree

(or ube halaya)

4

fl oz

coconut cream

1

tsp

ube extract

100

g

white granulated sugar

2

g

salt

4

fl oz

carbonated water

260

g

cake flour

10

g

baking powder
Meringue
4

g

cream of tartar

10

egg whites

100

g

white granulated sugar
Frosting and assembly
567

g

unsalted butter

softened and room temperature

550

g

powdered sugar

sifted

2

fl oz

coconut cream

ube extract

optional

3

fl oz

macapuno

coconut string jam
Equipment Used
stand mixer, hand mixer, or whisk

8 x 3 inch cake pans*

spatula

cooling rack

sheet pan

parchment paper
Instructions
Batter
Cut out parchment paper to line each cake pan.

In a mixing bowl, whisk together the egg yolks, ube puree, coconut cream, and ube extract. Pour the sugar and salt and whisk until they dissolve.

Carefully pour in the carbonated water and whisk until incorporated.

Sift the cake flour and baking powder into the mixing bowl with the liquid. Whisk together until there are no lumps.
Meringue
In a stand mixer, add the cream of tartar and all the egg whites. Turn on to your stand mixer to level 8 for about 2 minutes. Add half of the sugar and continue to beat for another one minute, then add the rest of the sugar.

Continue to beat the egg whites for about 5-7 minutes total or until you have stiff peaks. You can test this by turning off your stand mixer, unhooking the whisk attachment, and turning it upside down to see if the peaks keep their shape.
Baking
Using a spatula, take about ¼ of the meringue and add it into the cake batter. Use a whisk to dilute the thickness of the cake batter with the meringue until it's completely incorporated.

Then use the spatula to add the rest of the meringue into the diluted batter. Use a very soft folding method to combine the meringue and batter by holding your spatula like a knife, slicing it down the middle of the bowl, and folding the batter over the left side of the bowl (or right side if you are left-handed).

Keep rotating the bowl slightly before each fold until your meringue and cake batter are combined. Here's how the final batter texture should look.

Divide batter between the two pans, then slightly tap them on the counter to remove any excess bubbles. Place your cake pans on a large sheet pan and place them on the middle rack of your oven. Pour boiling water in the sheet pan for the water bath or "bain marie" and stop at about ½ inch from the bottom of the pan. Check on the water levels for the bain marie every 15 minutes.

Bake the cake for approximately 30-45 minutes or until it's firm in the center. After 30 minutes, test the cake with a toothpick or cake tester by poking it in the middle. The toothpick should come out smoothly and clean—if it doesn't, keep baking and testing every few 5 minutes until it does.

Remove the cakes and immediately turn them upside down on top of a wire rack without releasing them from the pan. Leave on the counter until they are cool to the touch. Cooling upside prevents the cake from deflating.
Frosting
In a stand mixer, add the softened butter and whip on level 8 for about 5 minutes or until it turns into a light and airy texture. Make sure to scrape down the sides every so often to make sure all the butter gets aerated.

Lower the level to 6. Sift the powdered sugar and add half the sugar into the stand mixer. Whisk for two minutes. Scrape the sides if necessary.

Add the other half of the sugar and whisk for another two minutes to make sure all of the sugar is incorporated. Scrape the sides if necessary.

Add the coconut cream and increase to level 8. Whisk for one last minute.

You have the option of adding ube extract to the frosting at this point. I chose an ombre icing design so I added a varied amount of extract for a darker purple and a light violet icing.
Assembly
Run a knife along the sides of the cake to release the cake from the pans. Remove the parchment paper from the bottom of each cake, and place them back onto the rack.

Place one cake on a plate (or cake stand) and add some of the frosting on the top.

Spoon the macapuno on top of the frosting and add the top layer of cake.

Add the 2nd layer of cake on top and if necessary, trim your cakes so they match in size and so it's flat on top.

Frost the cake with the leftover frosting.

Serve immediately or allow to chill in the fridge until it's time to serve.
Notes
Note:
*If you only have ONE cake pan, I would only
 make (or even mix together) half 
of the batter at a time to prevent your batter from collapsing while you wait for one cake to finish baking and cooling. Yes, this is a pain to divide the ingredients, but since we are using meringue and egg whites, you want to keep the airy and lofty texture of the cake as much as possible. Waiting too long to use the batter might give you less than fluffy results. 
IMPORTANT: I included ingredients by weight because this is more accurate for baking. If you don't have a scale and must use volumetric measurements, I've included those in the recipe above too, but please note the volumetric measurement numbers will not change if you scale up or down the servings made in this recipe and you will need to do your own math to figure it out.
Nutrition Facts
Calories:
1129.55
kcal
|
Carbohydrates:
124.18
g
|
Protein:
10.82
g
|
Fat:
68.17
g
|
Saturated Fat:
44.17
g
|
Cholesterol:
250.03
mg
|
Sodium:
310.29
mg
|
Potassium:
275.02
mg
|
Fiber:
1.27
g
|
Sugar:
95.41
g
|
Vitamin A:
1900.95
IU
|
Vitamin C:
0.62
mg
|
Calcium:
111.2
mg
|
Iron:
1.25
mg
Like this recipe? Subscribe to my newsletter!