Soft, fluffy pillows of milky and slightly sweet steamed bao buns are the tastiest ways to pair with tender meat and fresh vegetables. These traditional Chinese lotus leaf buns are similar to many steamed bao, and are distinguished by their flat and folded shape.
This recipe will teach you how to make homemade lotus leaf buns piping hot from the steamer.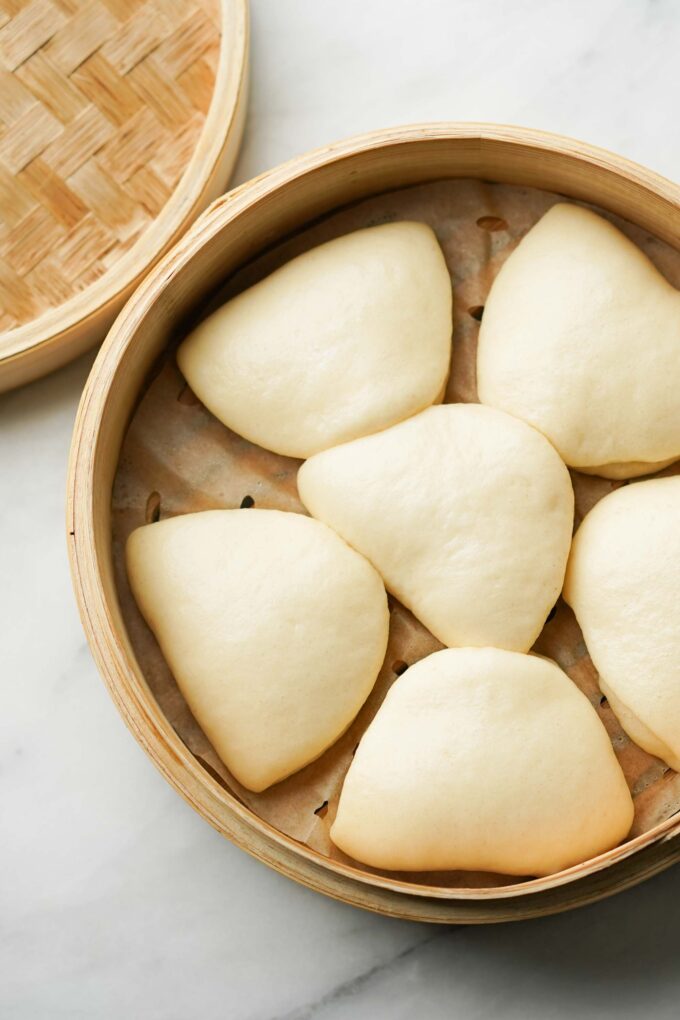 What is bao?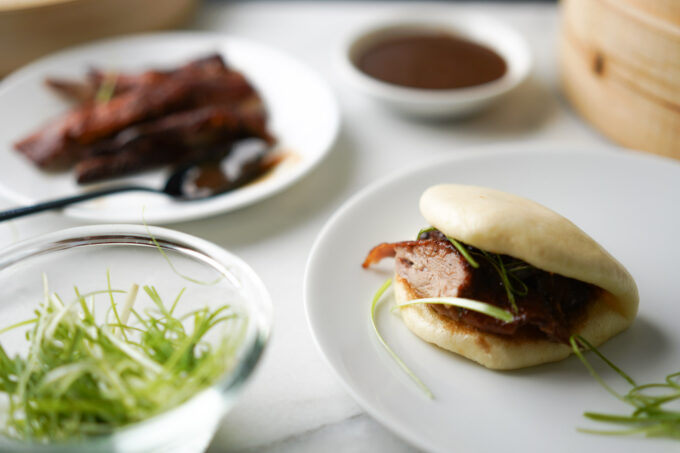 These steamed bao are often erroneously referred to as "bao buns," which repetitively translates to "bun bun." Like other Chinese bao, these are steamed and are made in a flat, folded shape with an opening in the middle–perfect to hold a variety of fillings. This type of bao is called lotus leaf buns because of their shape.
This steamed bao originated from Fuzhou, which is the capital of the Fujian province in China. The original type of lotus leaf bun was called gua bao and it was filled with red pork belly, mustard greens, and peanuts. These days it's filled with various things like fried chicken, kimchi, and more.
My favorite traditional way of eating bao is with Peking duck, sliced scallions, and Peking sauce. One of the well-known bao that you may have heard of is made by Momofuku, and I've luckily been awhile to eat it at their LA chapter, Majordomo. When I visited New York, I was also able to try Baohaus.
Bao bun ingredients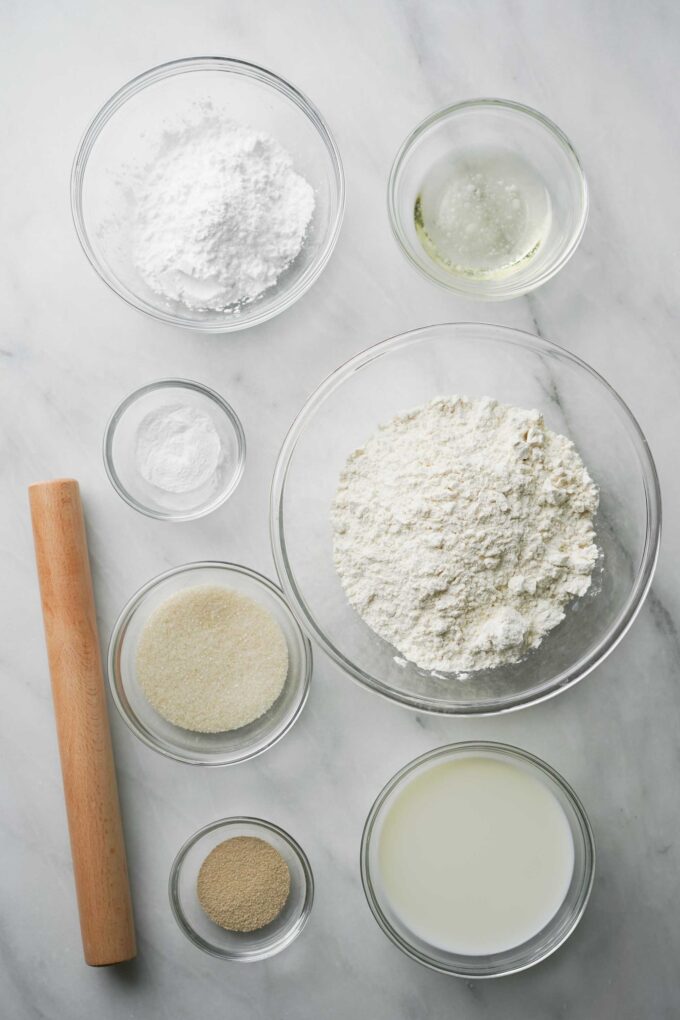 The ingredients for this homemade bao are very similar to other Asian buns and bao dough, like char siu bao, mantou, and even siopao asado. It's a similar white-based dough made from flour, starch, milk or water, vegetable oil, sugar, and leaveners. I like to use both yeast and baking powder to make sure the dough proofs and rises enough to get that nice and fluffy texture.
For my bao recipes, I also like to add wheat starch in addition to using all-purpose wheat flour. Wheat starch is what gives steamed bao a super soft and bouncy texture due to its lack of gluten. If you don't have access to wheat starch, you can also use cornstarch. Note: wheat starch is NOT all-purpose wheat flour, these are two entirely different things.
Where to buy bao buns
If you don't have time to make bao at home, you can also buy frozen bao buns at your local Asian grocery store. 99 Ranch sells a variety of frozen and fresh bao that you can heat up or steam at home–these are a great option because they're still tasty and fluffy once you steam them.
When you order Peking duck to-go at Chinese restaurants, they will typically include lotus leaf buns, Peking duck sauce, and scallions with every order.
How to make and steam bao buns
To make lotus leaf buns, you make the dough very similar to mantou in a stand mixer. I love using a stand mixer for these recipes because it cuts down on kneading time with your hands almost entirely.
After resting the dough for 5 minutes, you can begin to divide the dough into equal pieces of 16. Then you'll roll out each piece into a ball, then using a rolling pin roll each into an oval, brush on some vegetable oil to prevent sticking, and then fold it in half.
Why using a scale is better than a cookie cutter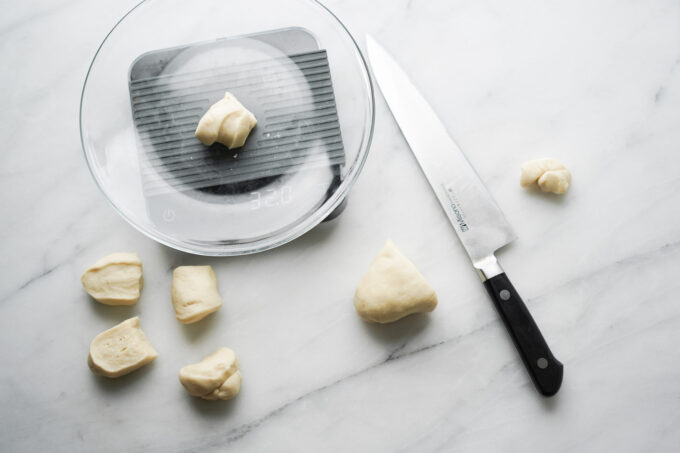 Better consistency. Some people like to roll out the entire ball of dough and use a cookie cutter to divide the dough, but I prefer weighing each dough ball for accuracy. Using a scale helps ensure all the buns are the same size and look more consistent after steaming.
It saves time and prevents overworking the dough. I didn't like having to deal with excess scraps that you need to roll out again and again. You end up waiting longer for the dough scraps to rest in between rolling them out and cutting again or face the potential of overworking your dough.
With the cookie-cutter method, I got shorter semi-circles because I only had circle cutters. To make these semi-circles longer, some recommend rolling it out again after folding to get a better shape, but I found this caused the two sides to stick together. You can also just buy an oval-shaped cookie cutter too. I like rolling out each piece individually because I can get a better semi-oval shape once it's folded and I don't have to worry about the sides sticking together.
Steaming
This recipe only requires proofing once while the buns are in a steamer over warm water. Once it's time for steaming, each batch should only take about 20 minutes on medium-low with an additional 4 minutes off the stove to acclimate the buns to the resting temperature. If you open the lid too quickly, this can cause your buns to deflate.
Filling options and storage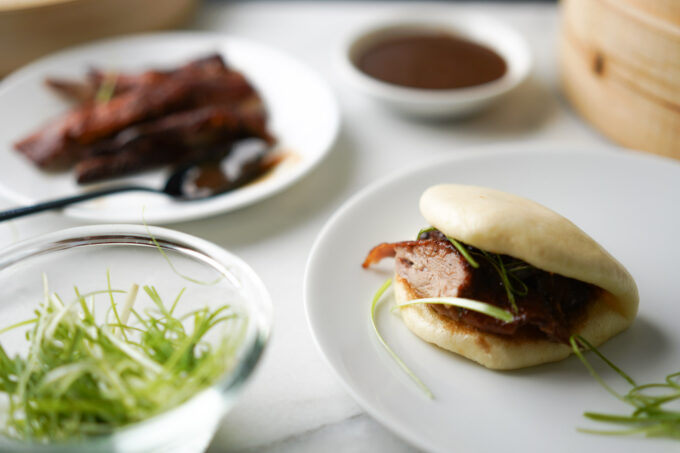 What I love most about bao, especially these lotus leaf buns, is that you can eat it and fill it with a myriad of meats, vegetables, and/or greens. My favorite fillings are char siu, roasted duck, bbq chicken, shredded scallions, and greens.
If you have extra steamed bao, you can steam them and freeze them in an airtight ziplock bag. To reheat, I like to wrap a damp paper towel over a bao and place it in the microwave for 30-second intervals until it's hot and steamy. You can also place them back on the steamer for a few minutes (do not leave this unattended), and remove them when they're nice and fluffy again.
Steamed Bao Buns (Fluffy Chinese Bao)
Learn how to make homemade soft and fluffy Chinese lotus leaf buns that are perfect for filling with tender char siu or peking duck.
Ingredients
235

g

(

2

c

)

all-purpose flour

50

g

(

¼

c

)

wheat starch

or cornstarch

5

g

(

1

tsp

)

baking powder

7

g

(

2 ¼

tsp

)

instant activated yeast

50

g

(

¼

c

)

white granulated sugar

150

g

(

5

fl oz

)

whole milk

24

g

(

1

fl oz

)

vegetable oil

plus more for brushing
Equipment Used
brush

steamer & parchment paper
Instructions
Dough
Combine the all purpose flour, wheat starch, baking powder, yeast, and sugar into the mixing bowl with the dough hook attachment. Set to the lowest / stirring speed until all the mixture is evenly distributed.

Turn the mixer speed up slightly to level 2.

In a small mixing bowl, combine the milk and oil. Slowly add the liquid into the mixer.

Turn up the speed to level 5. When the dough turns into a ball and releases from the sides of the mixing bowl, continue to knead on medium (about level 5) for 5 more minutes. If necessary, scrape down the sides of the bowl. It's done when the ball of dough should look smooth with no lumps and completely detach from the sides of the bowl. See photo for final texture.

Remove the dough from the mixer, and use your hands to form it into a ball. On a clean surface, hover your hands over the ball while making a heart with your thumbs and fingers, and make circular movements with the ball to get a tight, smooth surface.

Place the ball into a bowl, cover it with a lid, and let it rest for about 5 minutes to give the dough a break from kneading–you don't want to overwork your dough.

Poke the ball of dough, if it leaves a mark from your finger and doesn't spring back, you can begin to roll it into balls.

Transfer the ball onto a clean surface, remove the excess gas from the dough by kneading it a few times with the heel of your hand.
Forming & proofing
Weigh your entire dough ball to get its final weight. If you followed this recipe without scaling it up or down, it should be approximately 515 grams.

Portion out smaller dough balls with a knife, weighing each one to be 32 grams. This will give us 16 bao total if you didn't scale the recipe. Repeat until all the smaller dough balls are portioned out. Keep the unused balls of dough under a towel to prevent them from drying out.

Place it on top of a parchment paper lined steamer. Make sure each bao is separated by at least 1 ½ inches since these expand when cooked.

Repeat until you have all the bao made. Note: If you cannot fit all of the proofed bao into your steamer at once, place the remaining bao in the fridge to prevent them from proofing more. Chilling them should slow down the proofing process. Remove them from the fridge about 5 minutes before the proofing and steaming process to get them to room temperature.
Steaming
After proofing, uncover and check the dough, they should be at least 1 ½ times bigger. Cover again with the lid and turn on the stove to high heat. When the water begins to boil, lower to low and continue to steam for 20 minutes. Make sure the heat is high enough to generate steam the whole time, and add additional water if it runs too low.

After 20 minutes of steaming, remove the pot from the stove and let the steamer rest for 4 minutes before opening the lid. This will prevent the bao from deflating from temperature shock.
Nutrition Facts (per serving)
Calories:
87.98
kcal
|
Carbohydrates:
15.55
g
|
Protein:
1.99
g
|
Fat:
1.98
g
|
Saturated Fat:
1.42
g
|
Cholesterol:
0.94
mg
|
Sodium:
37.7
mg
|
Potassium:
32.39
mg
|
Fiber:
0.51
g
|
Sugar:
3.63
g
|
Vitamin A:
15.19
IU
|
Vitamin C:
0.01
mg
|
Calcium:
31.32
mg
|
Iron:
1.1
mg
Nutrition Facts
Steamed Bao Buns (Fluffy Chinese Bao)
Amount per Serving
% Daily Value*
* Percent Daily Values are based on a 2000 calorie diet.
Like this recipe? Subscribe to my newsletter!