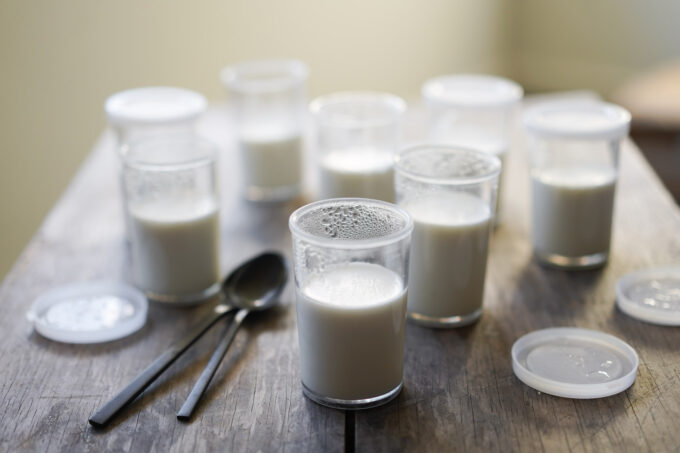 Why buy store bought yogurt when you can make this sweet, tangy, and fresh Vietnamese yogurt recipe at home for a fraction of the price? Even though I can go to local Vietnamese stores like Bánh Mì Chè Cali (or Hien Khanh, who seems to have stopped selling it) who supply fresh yogurt nearby, making it at home is easy to make in a large batch and is super cost-effective.
This Vietnamese recipe uses agar agar which is a great vegan alternative to gelatin. It really helps make the texture of this yogurt firmer. Most of the yogurt I had in Vietnam was liquidy, which seems to be the standard there, but I prefer the addition of optional agar agar for firmness.
American vs. Vietnamese Yogurt
Yogurt was first introduced in Vietnam by French colonists and its popularity has grown a lot since then. While in Vietnam, I got to try Vietnamese yogurt in many different cities and even on the airplane.
Vietnamese yogurt is different from our familiar American variety due to the addition of condensed milk, which was more readily available than fresh milk. This added sweetness from the condensed milk complements the tangy flavor of the yogurt.
While frozen Vietnamese yogurt is also available, I prefer this non-frozen version because it's easy to make and you can make them ahead of time, refrigerate your jars, and eat them throughout the week.
Similar to other yogurt recipes, Vietnamese yogurt relies on using live, active cultures. There are many different types of active cultures you can use, but you need at least one active culture: Streptococcus thermophilus, Lactobacillus bulgaricus, etc. These live active cultures in the yogurt are what help turn the milk into lactic acid and create that tangy flavor in the yogurt.
Yogurt makers
The yogurt maker I used is actually a super cheap thrift store find by my mom (she even has more to spare), but here's a popular yogurt maker if you don't have one yet.
There are many options for yogurt machines out there and they all basically do the same task: to hold a certain temperature for a set amount of time for the active cultures to do their thing.
Knowing that, you can make yogurt in Instant Pots, or even in your oven. But often times yogurt makers / machines come with properly sized jars for snacking, a timer for cooking, and are pretty compact.
Live Active Cultures
While there are companies that sell starter cultures to make yogurt if you want to experiment with making yogurt from scratch, the easiest way to add these cultures is to use store-bought yogurt with the live, active cultures in them. It does seem a bit backward to require an ingredient for a recipe you are currently making, but it's an accessible option for most people.
For this recipe, you can use any yogurt you find at the store, just make sure it has live, active cultures included and that it doesn't have any added flavors or fruits. Some yogurt brands will even have a special seal from the National Yogurt Association that certifies specific brands have live and active cultures in the yogurt.
Shelf Life
Fresh, homemade Vietnamese yogurt can last for about two weeks in the fridge. Note that the tangy flavor does get stronger the longer it is in the fridge, so I prefer to eat the yogurt within one week. These are great for a nice light breakfast or snack in the middle of the day.
What does Vietnamese yogurt taste like?
Vietnamese yogurt has a sweet and tangy flavor from the fermented whole milk and condensed milk.

How long does homemade yogurt need to incubate?
This recipe has Vietnamese yogurt incubated for about eight to nine hours, but the time can increase in colder weather, or decrease in warmer weather.

What happens if you use too much yogurt starter?
I do not recommend adding more starter yogurt than necessary. If you use too much starter, this could change the consistency, bacteria growth, or fermentation period for your yogurt.

How do I make my homemade yogurt thicker?
I like to use agar agar in my recipe, suggested by my mom, to make sure it has a thicker consistency.
Vietnamese Yogurt (Da Ua / Sữa Chua)
This simple to follow Vietnamese yogurt's sweet and tangy balance of flavors is great to make for breakfast the next morning
Ingredients
4

c

whole milk

divided

1½

tsp

agar agar powder

½

c

condensed milk

5

oz

yogurt – label must say it contains live and active cultures
Instructions
Combine about 25% of the milk and agar agar powder in a sauce pan and mix thoroughly. To warm and activate the agar agar, cook over medium heat until you hit a low boil for 1-2 minutes, then remove from heat.

In a large glass or microwave safe bowl, combine the condensed milk and about 25% (same amount used earlier) of the milk and microwave for two minutes on high so they incorporate and warm up a bit, then stir well.

Combine both mixtures above in the large bowl, then add all the remaining milk.

Mix well and check the temperature to make sure it's between 90-100 °F.

Add in a five oz container of yogurt, stir well, then strain through a metal sieve or strainer to remove any large chunks.

Split between jars for the yogurt maker and heat for eight to nine hours or even more if needed when the weather is cold, until it has enough of the sour yogurt taste to your liking.

When ready, transfer to the fridge until cooled. Then it's ready to eat!
Notes
I did notice that the texture of yogurt in Vietnam has a tendency to be more liquidy because it's not common to add agar agar. There are also two types of yogurt in Vietnam: traditional yogurt like this recipe and frozen yogurt in a plastic bag and eaten like ice cream.
Nutrition Facts (per serving)
Calories:
147
kcal
|
Carbohydrates:
17
g
|
Protein:
6
g
|
Fat:
6
g
|
Saturated Fat:
4
g
|
Cholesterol:
21
mg
|
Sodium:
85
mg
|
Potassium:
259
mg
|
Sugar:
17
g
|
Vitamin A:
266
IU
|
Vitamin C:
1
mg
|
Calcium:
214
mg
|
Iron:
1
mg
Nutrition Facts
Vietnamese Yogurt (Da Ua / Sữa Chua)
Amount Per Serving
Calories 147
Calories from Fat 54
% Daily Value*
Fat 6g9%
Cholesterol 21mg7%
Sodium 85mg4%
Potassium 259mg7%
Carbohydrates 17g6%
Protein 6g12%
Vitamin A 266IU5%
Vitamin C 1mg1%
Calcium 214mg21%
Iron 1mg6%
* Percent Daily Values based on a 2000 calorie diet.
Like this recipe? Subscribe to my newsletter!