Any waffle lover can attest to the intoxicating aroma of waffles hot off the iron. This pandan waffle recipe takes it up a notch (and in a Vietnamese / southeast Asian direction) with its sweet aroma of pandan, rich coconutty taste, chewy mochi center, and a crispy outer texture.
What to expect with these waffles
Not to be confused with recipes like my thinner, bánh kẹp crispy pizzelles, this pandan waffle recipe features a thicker waffle and extra chewy center. This recipe started off as an adaptation from my mom's friend's recipe (Bac Vieng) and developed over my innumerable recipe attempts to get the same chewy and crispy consistency as Bambu's pandan waffle.
Crispy on the outside, a bit chewy on the inside, and that amazing aroma of pandan leaves.
What is pandan?
Pandan leaves are long, narrow, and bright green leaves with an aromatic and sweet smell. You can find it at different Asian grocery stores in the form of fresh leaves, frozen leaves, and extracts. Read more about pandan leaves here.
Every time I see fresh pandan leaves at the store (or anywhere), I take in as much as I can to enjoy the sweet and ambrosial smell of these leaves–I just love it!
Putting my love for this aromatic leaf aside, it's also one of the most popular flavors in Asia due to its versatility–think of it similar to how America uses vanilla in many desserts.
Its sweet and fragrant smell pairs well with coconut, mango, and many other tropical fruits. I've used pandan in many different desserts like che bap and pandan sticky rice (xoi lá dứa). But pandan isn't just reserved for sweets because you can also use the leaves in various savory dishes to wrap meat or rice.
Where are pandan waffles available?
Pandan waffles are available widely in Vietnam, something that I saw frequently during our last trip, but the hard part is finding the perfect waffle with a balance of extra chewiness on the inside and crunch on the outside while giving you ample flavors of pandan and coconut.
I am lucky that we have restaurants like Lee's or Bambu (the latter is my favorite waffle) nearby, but I wanted to figure out a homemade recipe that I can make at home. Being a quality control freak, I also like that I can make the waffle perfect to my needs.
Batter tips
I went through so many iterations of this recipe and learned a lot of how to perfect this balance between a nice crispy outer layer and a chewy and fluffy center. For example, using glutinous rice flour instead of regular rice flour made the batter too sticky.
Or not using tapioca starch made it super crispy, but not gooey enough. To achieve this balance, I use a combination of tapioca starch, rice flour (not glutinous rice flour), and all-purpose wheat flour.
I like to sift the dry ingredients into the wet batter because this makes a smoother batter without over-mixing. Resting your batter for one hour is necessary in order to get that fluffy texture–I know it's tempting to skip this step, but trust the process!
I also like to use pandan extract from leaves instead of pre-made extract because I want a fresher flavor. You can see in the recipe below, and also on my bánh kẹp recipe where we extract flavor from pandan leaves. If you can't find fresh leaves, you can also buy artificial pandan extract online.
Storage & freshness
The beauty of this batter is that you can make it one week ahead of time and leave it in the fridge covered–if you can restrain yourself from eating it all. In the fridge, the batter might solidify a bit, but you can just stir it up before cooking.
Like most waffles, it's best to serve the waffle as soon as possible to get the best texture and flavor. I like to eat pandan waffles with icy coconut Vietnamese coffee or even boba milk tea.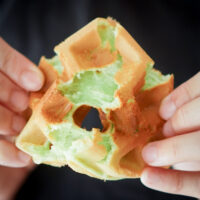 Pandan Waffle Recipe (Bánh Kẹp Lá Dứa)
These chewy on the inside and crispy on the outside pandan waffles are so addicting, you'll want to make them just so you can smell the aromatic and coconutty flavor all throughout your house!
Print
Pin
Calories / serving:
480
kcal
Ingredients
Pandan Option 1 - Fresh Extract (recommended)
8

pandan leaves

fresh or frozen, cut into three inch sections

½

c

water
Pandan Option 2 - Artificial Extract
Waffle
285

g or 2 c

tapioca starch

73

g or ½ c

rice flour

75

g or ½ c

all purpose wheat flour

1

c

sugar

2

tsp

baking powder

¼

tsp

salt

3

large eggs

13.5

oz

coconut cream (1 can)

1

tbsp

neutral cooking oil
Instructions
Pandan Option 1 - Fresh Extract (recommended)
Defrost eight pandan leaves (if frozen) and clean leaves under running water.

Cut your pandan leaves into three inch sections, add to the blender.

Add half a cup of water to the blender, and blend until you no longer see large chunks.

Strain the pulp, reserve the remaining liquid, and squeeze out any liquid inside the pulp too.
Pandan Option 2 - Artificial Extract
If you can't get pandan leaves, you can use a few drops of artificial pandan extract, and 1/2 cup water instead. Add these to your batter directly. Start off with only 1 drop of extract, and slowly add more after fully mixing until it reaches a color you like. Try not to add too much!
Waffle
In a mixing bowl, add the tapioca starch, rice flour, all purpose flour, sugar, baking powder, and salt.

In a large mixing bowl, beat the eggs together. Then, add the coconut cream, pandan extract, and oil.

Sift the dry ingredients into the wet ingredients mixing bowl and fold carefully to prevent from over mixing the batter. Your batter should be slightly thick and have lumps left over.

Let the batter rest for at least one hour, this helps the dough texture improve. If you're only resting one hour, leaving on the counter is fine, but you can rest it in the fridge in an air-tight container for up to a week and the batter will still be good.

When ready to cook, mix the batter a little bit and heat up your waffle iron. Do this before making EACH waffle since the batter can separate and settle. I use an Oster belgian waffle iron and found that the setting for medium-high works best.

Using a disher or ladle, drop three to four scoops onto the waffle and cook. When your waffle iron is finished cooking, your waffle should be nice and golden brown with specks of green on the outside.

Remove your waffle and serve. If you find your waffle is on the softer side, let it rest for about one minute and it should get crispier.
Nutrition Facts (per serving)
Calories:
480
kcal
|
Carbohydrates:
74
g
|
Protein:
5
g
|
Fat:
20
g
|
Saturated Fat:
15
g
|
Cholesterol:
61
mg
|
Sodium:
205
mg
|
Potassium:
202
mg
|
Fiber:
2
g
|
Sugar:
25
g
|
Vitamin A:
89
IU
|
Vitamin C:
1
mg
|
Calcium:
75
mg
|
Iron:
2
mg