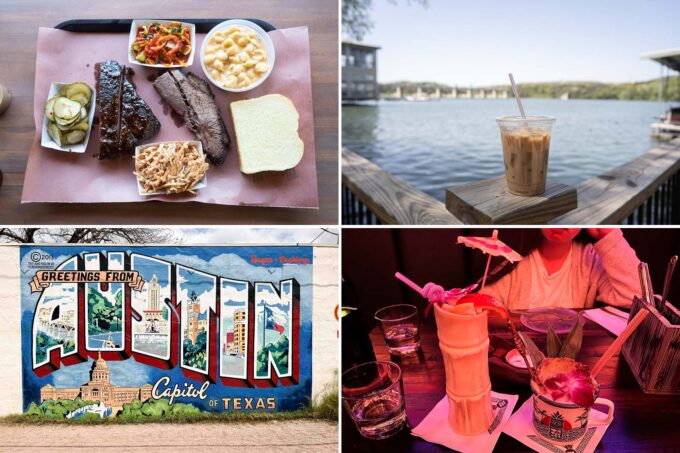 Austin definitely holds its own as a food destination. I feel a sense of home while being here, with lots of food to explore that's still different than what I have at home. The thriving bar scene really does feel like home in Orange County, California and San Diego, California too.
There's a thriving coffee scene with dozens of small specialty roasters and counters sprinkled throughout the city. Everywhere you turn, there's a new coffee shop to try.
And for dining, there's no shortage of creative restaurants to choose from. I loved the spread of humble snacks, to eco-friendly carbon neutral, farm to table restaurants, and countless options for Texas style barbecue some with hours-long line waiting more than others.
Read along to find what I discovered to be the best restaurants in Austin to grab a bite, or a drink!
la Barbecue
Not only is this a women-owned barbecue spot–a title that exists few and far between in the bbq world–but one of the co-owners, LeAnn Mueller, actually comes from a well-known bbq lineage. Her father, Bobby Mueller, was the first pitmaster awarded a James Beard award for bbq, and she continues his legacy today.
When I first went to la Barbecue in 2018, it was mainly to avoid a four-hour line at another popular spot and not really because other people recommended la Barbecue. After a quick 15-minute line, I was so happily entranced by the peppery, smokey brisket, tender ribs, and various pickles on my plate. Since coming back, there's a considerably longer line, but equally as good bbq.
This East Austin spot is in the middle of a neighborhood, but they also have their own small but private lot. So if it gets super busy, you can always park on the side streets.
Type of food: Texas BBQ
Price: $$ ($30 per person)
What to order: sliced brisket, pork ribs, side of pickled veggies
Address: 2401 E Cesar Chavez Austin, TX 78702
Website: https://www.labarbecue.com
Arlo Grey by Kristen Kish
Arlo Grey is a new American restaurant by Topchef alum Kristen Kish. It's located in the Line Hotel, and depending on where you're sitting during the day; you can get a nice view of Lady Bird Lake. Arlo Grey is one of the best downtown restaurants in Austin because the food is inventive but not pretentious. There's a mix of familiar American flavors and European techniques and tastes.
Due to the seasonality of their menu, many of the items I've ordered previously aren't available, so I recommend asking the servers their preferences or whatever looks good to you. But my whole dining experience here was surprising, fun, and interesting! Some of my favorites were the kanpachi crudo with cucumber and ginger and the burrata over date jam. My entrees were flavorful, fresh, and experimented with texture and taste.
I would recommend getting a reservation because it's a popular restaurant. And since this is located at a hotel, only valet parking is available, so I recommend taking an Uber or Lyft unless you don't mind spending the extra bucks for valet.
Type of food: New American, brunch, cocktail bars
Price: $$$
What to order: seasonal menu
Address: 111 E Cesar Chavez St Austin, TX 78701
Website: https://www.thelinehotel.com/austin/bars-restaurants/#arlogrey
Barley Swine
Barley Swine was one of my last meals before flying out of Austin, and I couldn't have been happier leaving on such a happy note and satisfied stomach. I loved that Barley Swine was a farm-to-table and carbon neutral restaurant, but they also offered out-of-the-box menu items that were equally as delicious as they were helpful for the environment.
They offer an 8-course tasting menu with two different desserts to end your meal. Some of my favorites are the almaco rib (or grilled yellowtail rib), mushroom chip, red snapper with hatch chili dashi, and the caramelized fennel ice cream that had a foamy and carbonated texture. I also loved the bengal lancer cocktail that reads pretty different because it's made with gin, carrot juice, yogurt, curry, and lime; My tastebuds went wild for this one!
Barley Swine is located in North Austin, but the distance from popular downtown Austin is worth the trek. They also have a parking lot with complimentary valet parking which is a plus. It's best to make a reservation because walk-ins are not always available. I would also recommend booking the chef's counter for your reservation because you get to see the action firsthand–watching a kitchen staff work so well is like seeing an orchestra at work.
Type of food: new American, farm to table
Price: $$$ ($107 per person, includes 20% tip, $15 beers for the staff)
What to order: tasting menu only
Address: 6555 Burnet Rd Ste 400 Austin, TX 78757
Website: https://www.barleyswine.com
Tiki Tatsu-Ya
I've only had two experiences where I visited a restaurant for the first time and immediately made another reservation for the next day. Tiki Tatsu-Ya was one of these experiences. If you travel to try out new foods, you might understand that replacing a precious dinner slot with a repeat restaurant is a big deal.
Tiki Tatsu-Ya is another brainchild of chef Tatsu Aikawa known in Austin for his other popular restaurants (Ramen Tatsu-Ya, Kemuri Tatsu-Ya, and DipDipDip Tatsu-Ya). What was supposed to be just an after-dinner tiki bar spot during my trip turned into one of the best meals and cocktail experiences I've ever had. This place delivered fresh, tasty Poly-American fusion treats from the taro tots to the homemade spam and the cocktails.
I've been to my fair share of tiki bars, from Don the Beachcomber to LA's Tiki Ti. Tiki Tatsu-Yagave me a modern Trader Sam's vibes–they even had sound and light effects when you ordered specific drinks. It's located in south Austin, and they do have a small parking lot, but we didn't have too much trouble finding a spot. I recommend making a reservation because they get super busy. People on Yelp claim if you try to just walk in, it can be up to a two to three hour wait.
Type of food: Polynesian American fusion, tiki bars
Price: $$ ($45 per person)
What to order: taro tots, yokozuna ribs, homemade spam, strip n' go naked cocktail, painkiller cocktail, forever summer cocktail
Address: 1300 S Lamar Blvd Austin, TX 78704
Website: https://www.tiki-tatsuya.com
Kemuri Tatsu-ya
I wasn't originally planning to eat at Kemuri Tatsu-ya, but after the exciting meal at Tiki Tatsu-Ya, I knew I had to try another Tatsu-ya restaurant. I picked this izakaya because it's also a smokehouse, and I was in Texas after all.
After asking the staff their favorite items, I picked cold, seasoned broccolini or the yuki-lini. Yep, you read that right. And surprisingly, it was one of my favorite dishes the entire night because it made me realize I need to expand the way I eat vegetables! The al dente, chilled broccoli with a savory sesame seasoning blew my mind (so much that I recreated this recipe at home). I also recommend the DIY grapefruit sour where you ream your own grapefruit and mix gin and Topo-chico together–it was fun and refreshing!
Kemuri Tatsu-ya is located inside an east side neighborhood, and if it wasn't for its red outdoor lighting, you might miss it. However, they have plenty of parking, and I recommend making a reservation. They have a nice outdoor seating area, but the indoor decor also reflects a Texas izakaya with old tin signs, Japanese paraphernalia, and taxidermy deers.
Type of food: izakaya, Japanese American
Price: $$ ($60 per person)
What to order: yuki-lini, kara-age 2.0, hotate skewers, ribs, grapefruit sour cocktail
Address: 2713 E 2nd St Austin, TX 78702
Website: https://kemuri-tatsuya.com
Here Nor There
I've been to a few speakeasies in the past, but my experience at Here Nor There was completely different. It's just as much a secret bar as an art experience that ends with exclamations about how amazing the drinks taste.
It all starts with downloading an app. Yes, they make you download their proprietary app and request a reservation. You even get a door code to get through to the bar. I would definitely consider this one of the best downtown Austin spots. To keep the mystery (and because you're not allowed to take any indoor photos), I'll refrain from describing the setting too much, but I will say the environment feels intimate and otherworldly at the same time.
Recently, they created a new cocktail theme revolving around the universality of colors in different cultures and languages–the cocktails in their new menu reflect this experience. We tried the white and green cocktails that were light, refreshing, and earthy.
Type of food: speakeasy, bar
Price: $$ ($25 per person)
What to order: the "green cocktail" and "white cocktail"
Address: 612 Brazos St Austin, TX 78701
Website: https://hntaustin.com
Olamaie
Olamaie uses local and seasonal produce and meats from Texas farms and ranchers to create a menu focusing on contemporary but traditional-inspired Southern cuisine. It's located in a renovated home in Northern Austin near the University and a bunch of large hotels. It has a great indoor and outdoor classy vibe fitting for a celebratory dinner or anniversary.
One of my favorite dishes at Olamaie was a side of biscuits and salted honey butter. These are the famous biscuits they served at their other location, Little Ola's Biscuits, and it's worth adding to your main entree, like the blackened dayboat fish. Another dish I liked was the butter beans–a southern favorite.
An interesting thing Olamaie does is add a 20% fee on top of their food, that is meant to go to their workers' healthcare and essentially provide a better living wage. I'm all for that. But the problem I have with it is that they don't tell you this until the end of your meal.
I understand the reason to do this is to avoid sticker shock of inflating the marked prices instead, which could deter people from ordering what they would have otherwise. But the end result is the same in either case, and it just feels a little deceiving and guilt-tripping by not telling us until the bill arrives. They are really battling with customer expectations with pricing expectations, so I understand their play, and would still return to this very well run restaurant.
Type of food: new American, southern
Price: $$$ ($85 per person, includes healthcare 20% fee)
What to order: biscuit with salted honey butter, bitter greens salad with beef fat vinaigrette, butter beans, blackened dayboat fish
Address: 1610 San Antonio St Austin, TX 78701
Website: https://olamaieaustin.com
Intero Restaurant
Intero Restaurant was one of the best Italian restaurants in Austin, in my opinion. They pride themselves as a farm-to-table sustainable restaurant with an in-house whole animal butchery program; This reflects their name Intero, which translates to "whole" in Italian. I do appreciate their goal to be zero-waste one day.
The service was impeccable because our server was the sweetest (shoutout to Maddie!), and the food was just as good. I ordered the house burrata with grilled greens, pickled chiles, and pecan bruschetta, and it was a new way of eating cheese for me! Burrata is one of my faves, and I loved eating it with pickled and sauteed chard. They also have handmade pasta and handcrafted desserts like the amazing brown butter cake, as well as artisan chocolates.
Intero Restaurant is located in East Austin, and you can find parking along the neighboring side streets. I made some early reservations, which I recommend because you can choose either outdoor seating or indoor dining.
Type of food: Italian, desserts
Price: $$ ($45 per person)
What to order: house burrata, brown butter cake
Address: 2612 E Cesar Chavez St Austin, TX 78702
Website: https://www.interorestaurant.com
Mozart's Coffee Roasters
If you dream about taking your early morning coffee with one of the best views in Austin, then Mozart's Coffee Roasters is for you. Everyone knows I love a good third-wave coffee roaster, but sometimes I also like unassuming coffee and cafe joints, especially when it comes with scenic views of Lake Austin.
Mozart's is located in West Austin, and there are specified parking lots within walking distance to Mozart's and a big parking lot across the street. It does get a bit busy even during the week, so be warned. I ordered a light brunch with an individual-sized bacon quiche and an iced latte. Even though it was pretty busy for a weekday, there were still plenty of tables inside and outside.
Type of food: cafe, bakery, coffee roaster
Price: $ ($12 per person)
What to order: iced latte, bacon quiche
Address: 3825 Lake Austin Blvd Austin, TX 78703
Website: https://mozartscoffee.com
Greater Goods Coffee
You know it's gonna be a good spot when there's a line out the door–okay, this may not always be the case, but Greater Goods Coffee did not disappoint. They're a coffee roaster and cafe that won Micro Roaster of the Year in 2021 by Roast Magazine, and you can buy their beans in-store and online. You can even take a barista course from them if you want!
I ordered an iced latte, and it was refreshing and balanced between oat milk and espresso. Next time, I'd try their specialty drinks like the tiger latte or bourbon latte. They have three locations, with one in Dripping Springs and a private parking lot in East Austin.
This location had a beautifully designed modern interior and exterior with plenty of seating around the center pod where all the coffee action happens. Great both indoor and out to sit for a chat, or to come get a little work done.
Type of food: coffee roaster, cafe
Price: $ ($6 per person)
What to order: iced coffee, latte
Address: 2501 E 5th St Austin, TX 78702
Website: https://greatergoodsroasting.com
Launderette
Launderette is open for brunch and dinner with new American fare with traditional and modern menu items. They have buttermilk pancakes and eggs benedict and offer healthy options like rainbow bowls filled with beet hummus, sweet potatoes, quinoa, and eggs. Their breakfast English muffin sammie was delicious too. I would love to go back and check out their dinner menu for their charred octopus and fried shrimp.
There are plenty of reservation spots for dinner; however, I would highly recommend booking out your brunch dates early on their website, at least two weeks ahead of time. They offer indoor and outdoor dining options and have their own parking lot for easy access.
Type of food: new American, brunch
Price: $$ ($25 per person)
What to order: iced coffee, rainbow bowl, buttermilk pancakes
Address: 2115 Holly St Austin, TX 78702
Website: https://launderetteaustin.com
Torchy's Tacos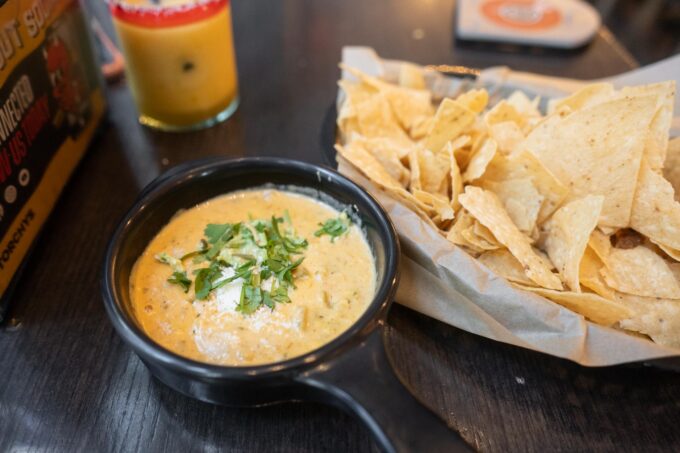 If there was one place that I received multiple recommendations for, it was Torchy's Tacos. It's a well-known, casual taco chain that features Tex-Mex cuisine. This is a good spot if you need a snack or an inexpensive meal in the city. They're known for their queso and chips and offer "damn good" tacos like the trailer park with fried chicken, brushfire taco with jerk chicken, and crossroads taco with smoked beef brisket.
The green chile queso does take the cake, though, if I have to be honest. It's rich, cheesy, and has a hint of spiciness from the green chiles. If you're in the mood for happy hour, they also have a bar, and I ordered a frozen margarita swirl with passion fruit and mango.
Not every Torchy's has a full bar available, but the location I went to downtown had a full bar. Additionally, there are multiple locations throughout Austin and even throughout the country.
Type of food: tacos, Tex-Mex
Price: $ ($17 per person)
What to order: chips & queso, frozen margaritas
Address: various locations
Website: https://torchystacos.com/
The Roosevelt Room
The Roosevelt Room is a fancy bar that specializes in cocktails throughout history, making sense considering its namesake. I really appreciated how their menu listed the drinks based on their original era–giving you a quick history lesson.
The pricing is similar to many Los Angeles cocktail bars near where I live, about $15 on average per drink, but they are definitely worth the price. I also loved the opportunity of drinking cocktails that I've never come across. My favorite is the Floradora cocktail popular from the 1880s to 1910s.
Due to its location in downtown Austin, I highly recommend ordering a ridesharing car because it's tough to find parking. Since it's a popular place, try to make a reservation to get a spot; otherwise, you might be waiting quite long during the weekends.
Type of food: cocktail bars
Price: $$$
What to order: florodora and painkiller
Address: 307 W 5th St Unit B Austin, TX 78701
Website: https://www.therooseveltroomatx.com
Whisler's
I stumbled on this bar after walking around East Austin during the Renegade Fair, and it caught my eye because it had such an interesting interior design. It's located in a one-hundred-year-old stone building decorated with a menagerie art on the walls and baubles throughout the narrow bar.
It's a hipster's paradise, and the drinks are also deliciously centered on nuanced old-fashioned cocktails–they even have a dedicated mezcal bar upstairs called Mezcaleria Tobala. My favorite cocktail is the calliope made with gin, mastiha, thyme, pineapple, and lime. It's super refreshing to drink on a hot day.
They often hold live music events, so this is the perfect spot to bar hop or chill with your friends. Unfortunately, they don't have dedicated parking, so it's best to carpool and park on the street or use rideshare.
Type of food: cocktail bars
Price: $$
What to order: calliope
Address: 1816 E 6th St Austin, TX 78702
Website: https://whislersatx.com
Revival Coffee by Gabrielas
If you've ever driven through 7th street on the East side of Austin, you've probably seen the bright pink building for Revival Coffee. I went with a simple cortado and cappuccino, and they were pretty tasty.
Like their whimsical decor, they also have exciting house specials that I want to try next time like a fruity pebbles drink made with matcha and lavender, and the abuelita latte that's made with Mexican hot chocolate and espresso. There's a small parking lot available in the front of the store, but there is also street parking.
Type of food: coffee & tea
Price: $
What to order: latte, cortado
Address: 1405 E 7th St Austin, TX 78702
Website: https://www.revivaltexas.com
Terry Black's
You can't go to Austin without trying Terry Black's BBQ. This casual, first-come, first-serve restaurant feels like you're in someone's house for a backyard bbq. Now I love pork ribs, and this has been one of my go-to bbq orders for decades, but it wasn't until I ate the beef ribs from Terry Black's that I realized I was missing out.
The beef ribs were super tender and full of savory flavor. They also have sliced brisket, sausage, sandwiches, and tasty sides like mac-n-cheese and cornbread. So if you're craving a traditional bbq joint, this is your spot. End your meal with their mini pecan pie, and you won't regret it.
Located in South Austin, they have onsite parking and, like other popular bbq spots, often have a line out the door. If you're lucky, these lines typically take between 15 and 45 minutes. If you are like me and wish you could order more beef ribs or brisket from Terry Blacks, they also sell it nationwide through Goldbelly.
Type of food: BBQ, southern
Price: $$
What to order: beef rib, brisket, pecan pie
Address: 1003 Barton Springs Rd Austin, TX 78704
Website: https://www.terryblacksbbq.com
Caroline & Upstairs at Caroline
Caroline is a new American restaurant with a Tex-Mex influence and right in the middle of downtown Austin. What's great about Caroline is that they're open all day, they're centrally located, have lots of seating, and have a full bar.
Since I came here on Thanksgiving, they had a special menu with a traditional Thanksgiving meal. I also added their popular appetizers of spicy deviled eggs and roasted sweet corn dip, which were all great.
If you're looking for some good food and happy hour, there's also Upstairs at Caroline, a full bar on top of the dining restaurant. It's got one of the best views and outdoor eating for Austin because you get a view of downtown Austin and can have fun with games like giant Jenga or cornhole.
While it's always nice to have reservations, there are typically open seats or open reservations on the day of for this restaurant. However, due to its location, you do have to park on the street or in a public parking garage, so I recommend coming early and finding parking before your reservation.
Type of food: American
Price: $$
What to order: spicy deviled eggs, roasted sweet corn dip
Address: 621 Congress Ave., Austin, TX 78701
Website: https://www.carolinerestaurant.com
See more restaurant travel guides
If you enjoyed my restaurant guide here for Austin, check out the other cities I have visited and made restaurant guides for!:
Like this recipe? Subscribe to my newsletter!