Try to say "karaage" without salivating just a little. These little nuggets of chicken simultaneously give you a satisfying crunch on the outside and juicy tenderness on the inside.
I love all variations of fried chicken whether that is southern or Korean fried chicken, but this Japanese variety is mind blowing. I can eat this for 5 days straight and still want more.
Luckily, we have some amazing options for karaage at local restaurants (& also have tried amazing karaage in Austin, too). After many years of eating at these restaurants, I figured out the best parts of each recipe I liked to create flavorful and easy karaage at home. 
What is karaage?
Also known as "tori karaage" translating directly to "poultry" and "fried," karaage in general is Japanese fried chicken. While karaage always brings to mind the tantalizing smell of crispy chicken bites, it doesn't necessarily mean fried chicken.
Karaage is actually a term for foods that are lightly breaded with flour and deep fried. Although in the more recent times, it has become purely associated with fried chicken (probably because it's the most delicious!).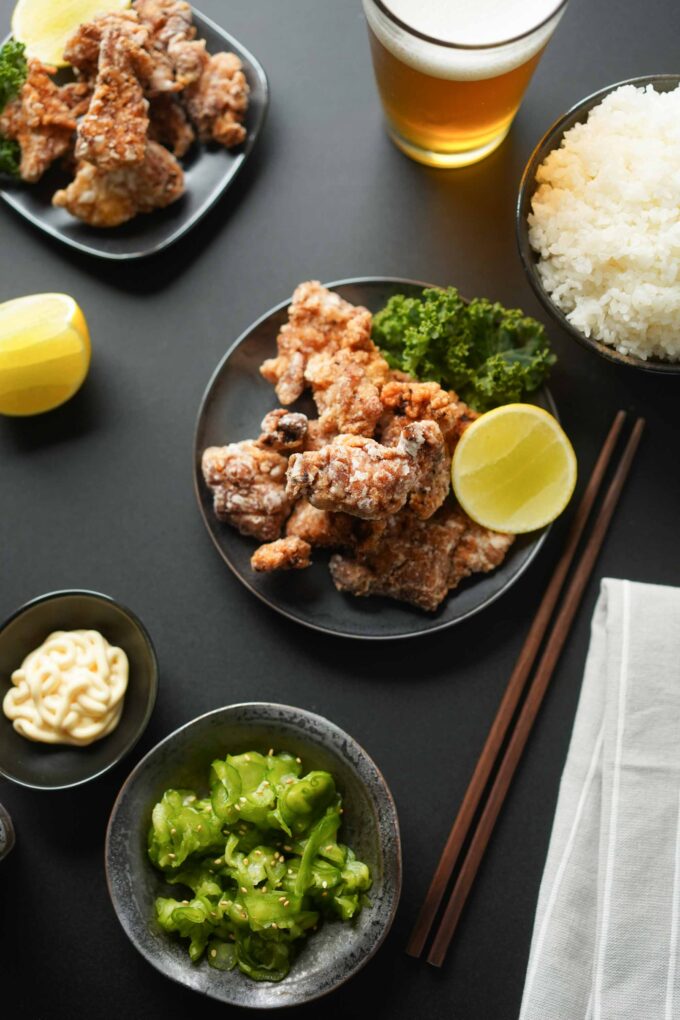 Cuts of chicken to buy
To get the moistest and most tender fried chicken, make sure to buy skin-on chicken thighs. If you want something more healthy, you can also use breast meat and marinate it for a little bit longer.
Once you take your little thighs home, you will need to de-bone the thigh bone and separate the meat from the bones, and cut one-inch-sized pieces of chicken. I recommend trying to give each piece an equal amount of skin-to-meat ratio.
Karaage marinade
In a bowl, combine the soy sauce, garlic, ginger, mirin, and sake and stir thoroughly. Stir in the chicken, making sure to coat each piece properly. You will need to marinate the mixture for at least six hours.
We found that we liked the seasoning better when we marinated for a longer time. While the dark meat is already tender, you want to make sure the chicken can soak up all the soy sauce-y goodness to make an even tastier fried chicken.
The flour coating
After marinating, fill a bowl with the potato starch and lightly coat each piece of marinated chicken. Potato starch is typically used for karaage or other fried foods in Japan, but you can use cornstarch if you can't find potato starch at your local grocery store.
How to fry the karaage
You want to make sure to choose a neutral cooking oil with a high smoke point, like vegetable or peanut. In a heavy-bottomed pot like an enameled cast-iron pot, fill the oil to about 1 1/2 inches from the bottom of the pan and heat to 375 °F degrees. Use an instant-read thermometer to make sure the oil stays at the appropriate temperature and doesn't burn.
Slowly lower each piece into the heated oil and fry for about five minutes depending on the size of the piece. When they are golden brown, remove them from the oil and place on a cooling rack to remove excess oil.
Serving
It probably doesn't need to be said, but these bite-sized pieces are best eaten as soon as possible to take advantage of the crunch since the ideal window is within only a few minutes. They're actually still ok about 20-30 minutes later, but still not peak crunch.
The great thing about karaage is that they are still really good if you re-bake in the oven even a few days later (or for that morning after carb-filled breakfast).
I like to eat them with fresh squeeze of lemon juice and a side of Japanese mayo (Kewpie brand) topped with Shichimi Togarashi. Some other Japanese foods to eat with karaage is yakitori, shrimp tempura and takoyaki (Japanese octopus balls).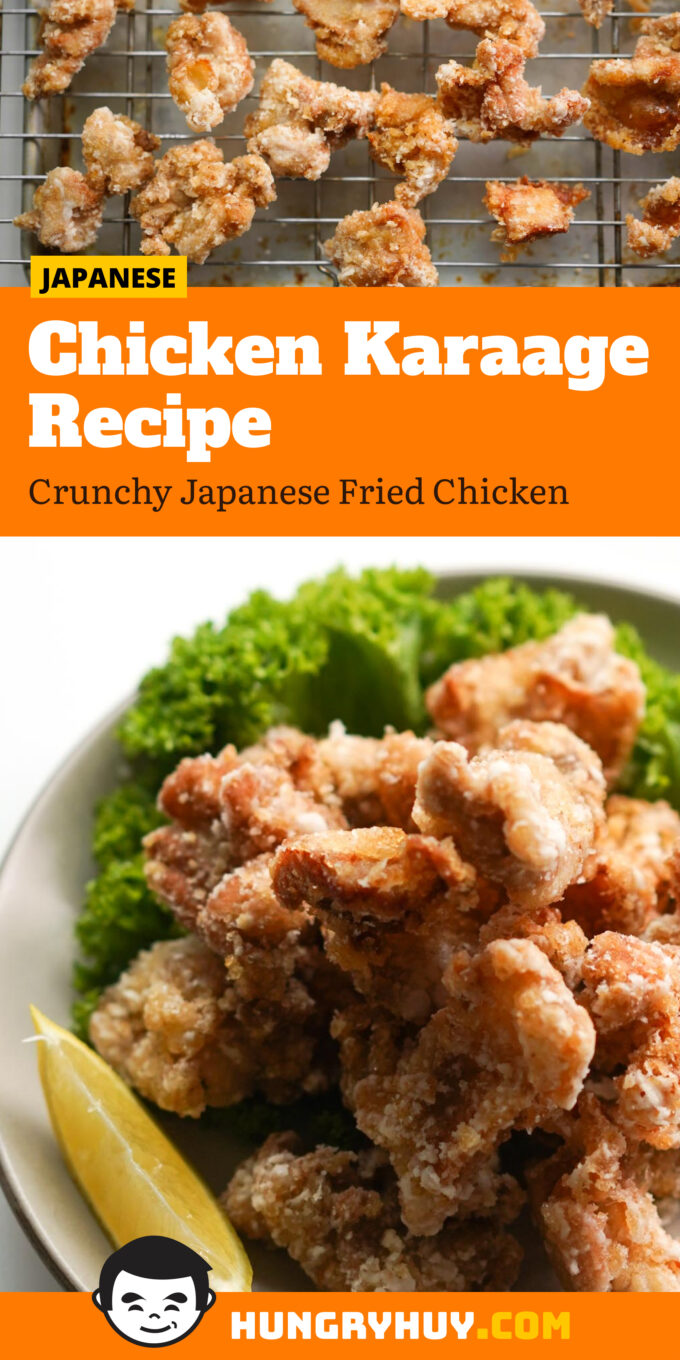 Chicken Karaage Recipe (Japanese Fried Chicken)
Treat yourself to extra crispy bites of juicy fried chicken with this karaage recipe. I bet you can't say no to just one piece!
Ingredients
2

lb

chicken thighs

skin-on, de-boned, & cut into 1 inch pieces

2 ¾

fl oz

(

5 ½

tbsp

)

soy sauce

1

fl oz

(

2

tbsp

)

sake

8

g

fresh grated ginger

10

g

grated garlic

⅓

fl oz

(

⅔

tbsp

) mirin

vegetable oil

200

g

potato starch

or cornstarch
Instructions
De-bone your chicken thighs and cut into 1 inch, bite-sized pieces.

In a bowl, add soy sauce, sake, ginger, garlic, and mirin together and stir until all ingredients are combined.

Add the 1-inch chicken pieces to a container with a lid (I like to use glass food storage containers with a rubber seal for marinating because it seals liquids properly).

Mix in the marinade and stir to cover all the pieces of chicken. Close the lid and leave in the refrigerator for at least 6 hours. You will want to check at the 4 hour mark and give it a mix to ensure even coverage.

After your chicken is done marinating, pour about 1 ½ inches of vegetable oil in a heavy bottomed pot and heat to 375 °F degrees.

Measure out 200 grams of potato starch into a shallow bowl. Lightly flour each piece of chicken into the potato starch. Add more starch to the bowl if necessary. If you can't find potato starch, you can also substitute it for cornstarch.

Immediately after breading, you want to slowly lower each chicken piece into the heated oil. Make sure to not crowd the pieces to ensure proper frying.

Cook each piece for about 3-5 minutes depending on the size, or until golden brown.

Remove the chicken and place on a cooling rack or paper towels to remove excess oil.

Serve the karaage with lemons and Japanese mayonnaise (Kewpie brand) topped with Shichimi Togarashi, if you want an extra kick. Enjoy!
Nutrition Facts (per serving)
Calories:
494
kcal
|
Carbohydrates:
32
g
|
Protein:
29
g
|
Fat:
27
g
|
Saturated Fat:
7
g
|
Polyunsaturated Fat:
1
g
|
Monounsaturated Fat:
1
g
|
Cholesterol:
152
mg
|
Sodium:
911
mg
|
Potassium:
703
mg
|
Fiber:
3
g
|
Sugar:
2
g
|
Vitamin A:
118
IU
|
Vitamin C:
11
mg
|
Calcium:
44
mg
|
Iron:
2
mg
Nutrition Facts
Chicken Karaage Recipe (Japanese Fried Chicken)
Amount per Serving
% Daily Value*
* Percent Daily Values are based on a 2000 calorie diet.
Like this recipe? Subscribe to my newsletter!