I moved to Southern California and have been exploring Orange County's food scene for over 17 years. Orange County has made a transformation over the years making this area incredibly dense with some of the best foods I've ever eaten.
We can now boast a spread of restaurants that makes Orange County a food destination with Michelin-star restaurants, Bib Gourmand-awarded restaurants, and nationwide famous breweries. I travel a lot just to eat and am still amazed by the world-class food we have right here in my backyard in Orange County, California.
You could spend weeks eating here, without even needing to trek out to Los Angeles or San Diego, and still not be able to try all the mouthwatering food Orange County has to offer.
Keep in mind this is an evolving list that I will add to overtime. Let me show you some of my favorite spots, in no particular order.
Mo Ran Gak – Garden Grove
If there is any restaurant on this list that I frequent most often, it could possibly be Mo Ran Gak in the center of Koreatown in OC. I love eating Korean barbecue here so much that I will most likely decline any other KBBQ restaurants. It's just that delicious, trust me.
From the quality and flavor of each homemade banchan to the fresh and marbled meat selection, no other place can simply compete. After years of eating AYCE (all you can eat) KBBQ in the OC, I've quickly realized that getting a deal at KBBQ always means sacrificing the quality of the food you're eating and I would rather pay for pre-set packages of KBBQ at Mo Ran Gak than eat AYCE at this point.
I recommend hitting this place up during off-peak hours like right after lunch between 2-6 PM to avoid the waiting list. Some of my favorite preset packages are ones with brisket, pork belly, and short rib–you can't go wrong with those three. One hot tip is to substitute more brisket for no chicken.
On days I can't get Mo Ran Gak, I try to host KBBQ at home and make my own banchan (like gamja salad), bulgogi, japchae, dipping sauces, and Korean purple rice–BUT it doesn't entirely compare to eating there and having them cook for you!
Type of food: Korean, Korean barbecue
Price: $$ ($35)
What to order: KBBQ packages (sub more brisket for the chicken), or a la carte options for brisket, boneless short ribs, and black pork belly
Address: 9651 Garden Grove Blvd., Garden Grove, CA 92844
Website | Yelp
Ootoro Sushi – Irvine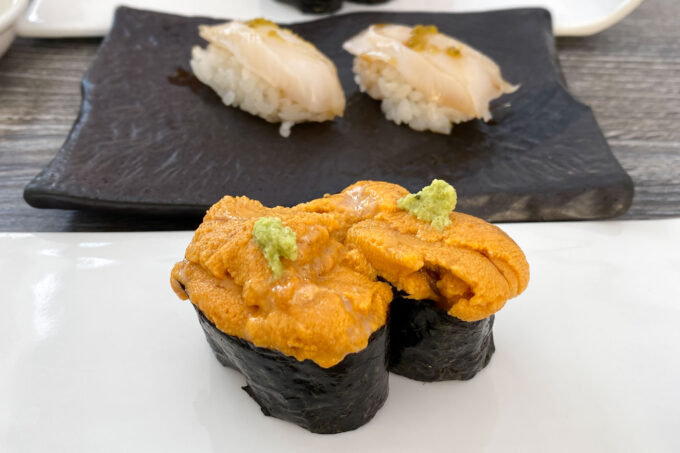 Sushi is one of my favorite foods ever. I often reminisce about eating sushi in Japan, and when the craving hits I always go to Oo Toro. They have a great selection of fresh fish like akamutsu, uni, live ama-ebi, and more.
This restaurant serves sushi in a traditional fashion aka sashimi, nigiri, and simple hand or cut rolls. You won't find any sauce-drenched or overly stuffed cut rolls that start with the word "dragon" here. They also serve different levels of omakase that I still need to try one day.
Some of my favorite things to order are mainly nigiri options: sake toro (or salmon belly), akamutsu (seared sea bass), and uni of course. If you want something more affordable but still want to try Oo Toro, they have a great chirashi bowl available for lunch that fills you up. If you're not in the mood for sushi, they also serve hot foods like karaage or fish.
They are closed on Sundays and Mondays and open for lunch between 11:30 AM-2:00 PM and open for dinner between 5:30-9:30/10:00PM from Tuesday through Saturday. I definitely recommend calling in for a reservation so you don't have to wait as they typically get booked throughout the week.
If you want an at home sushi party, you can also make sushi rice (in a rice cooker), handrolls (temaki sushi), spicy tuna rolls, or even California rolls.
Type of food: Japanese, sushi
Price: $$$ ($80 pp)
What to order: nigiri (uni, akamutsu, sake toro, albacore, unagi, amaebi), chirashi bowls, blue crab handrolls
Address: 2222 Michelson Dr. #246, Irvine, CA 92612
Website | Yelp
Honda Ya – Tustin
Whenever I get a craving for simple cut rolls or an assortment of hot foods like miso black cod, plump rice, onigiri, or even noodles, I head to Honda Ya. It's a Japanese restaurant that features yakitori (or grilled and skewered foods), but has an extensive menu with noodles, sushi and more.
Tucked away in a random plaza in old town Tustin, this place is always busy as soon as doors open at 5:30 PM almost every night. What's great about this place is it's perfect for groups and for late night eats because it usually closes at midnight.
Some of my favorite things to order are garlic pork belly and quail egg skewers, and king oyster mushroom and salmon hot plates. Funnily enough, I never pass up the opportunity to order their garlic french fries because the garlic-roe-mayo dipping sauce is so addictive. I've also made some of my favorite things to order at home, like miso black cod, takoyaki, yakiudon, and yakitori.
Type of food: Japanese, yakitori
Price: $$ ($30 pp)
What to order: yakitori (garlic pork belly, quail eggs, beef tongue, cartilage, skin, bacon covered asparagus), salmon and avocado cut rolls, miso black cod, king oyster mushroom and salmon, garlic french fries, and kabocha stew
Address: 556 El Camino Real, Tustin, CA 92780
Website | Yelp
LAMILL – Anaheim
One of my favorite new coffee shops in OC is LAMILL, a coffee roaster, and cafe that originated in Los Angeles. Located in Anaheim next to Angel's Stadium, this is a very nice cafe to stop by any time of the day. Their coffee is great–my drink of choice is an oat cappuccino or iced oat latte on warmer days. They roast their own beans at their Alhambra headquarters, and you're also able to buy beans for home.
Good coffee is a must, but LAMILL also offers great food quality which was a big surprise to me. This is a bit of a rare thing for a specialty coffee shop that roasts its own beans to have such good food.
Their menu changes frequently, but some of their main staples are worth trying. The breakfast sando is made with soft pain au lait buns, juicy chipolata sausage, and a fried egg. I would also recommend their braised short-rib chilaquiles and french fries if you want other options.
Note that even though there's a fairly large parking lot, sometimes parking can be a bit of a pain because it has a set of Tesla superchargers and a very popular brunch spot in the same plaza.
Type of food: coffee & cafe
Price: $$
What to order: LAMILL latte, flat white, Kyoto-style cold brew, breakfast sando, braised short ribs chilaquiles, & french fries
Address: 2420 E Katella Ave., Anaheim, CA 92806
Website | Yelp
Brodard Restaurant – Fountain Valley
Even after Brodard Restaurant moved to a larger location across the Mile Square park in Fountain Valley, it's still bombarded with families eager to eat the famous spring rolls and dipping sauce here. They're THAT addicting.
I've been eating at Brodard since before they moved to their new location, but my order stays the same as it has for over a decade: nem nuớng cuốn (pork spring rolls) and cơm bò lúc lắc (shaken beef with rice). Sometimes I get an iced Vietnamese coffee or a lychee jasmine tea.
If you want to skip the line and eat at home, you can order online and pick up or deliver to your house. They also have catering options if you're planning a party–Brodard is always a hit. They don't take reservations, but if you want a fancier version of Brodard, there is also Brodard Chateau in Garden Grove that takes reservations and is typically where my family celebrates special dinners with a large group.
If you want to try some of these items at home, you can also make my recipes for bò lúc lắc (shaken beef) and Vietnamese coffee.
Type of food: Vietnamese
Price: $$ ($20 pp)
What to order: nem nuớng cuốn (pork spring rolls), bánh khọt tôm (rice cakes with shrimp), cơm bò lúc lắc (shaken beef with rice), bánh xèo (sizzling rice cakes), cơm tấm bì (broken rice with grilled pork)
Address: 16105 Brookhurst St Fountain Valley, CA 92708
Website | Yelp
Heritage Barbecue – San Juan Capistrano
Heritage Barbecue is a Bib Gourmand recipient from Michelin, and it's well deserved. After traveling throughout the US (especially in Austin, Atlanta, and South Carolina), I've tasted my share of American barbecues. I love that Heritage Barbecue is nearby and delicious. It's the closest to southern barbecue I can get without having to step foot on a plane.
My favorite items to order are the beef ribs that's only available on the weekends, beef brisket (and I request the fattier pieces), cornbread muffins, hot link sausages, and mac n' cheese. Note that if you do order online, the cornbread muffins come in one pack of four. One order of beef ribs comes with a huge amount of meat and typically lasts us at least three more meals.
My biggest tip is to order online so you don't have to wait online. I typically wait until the morning to order, especially during the weekend, because it may take a while for them to update the site to add beef ribs during the weekends. You can opt for drive-up pick-up, so you don't even need to get out of the car. The only caveat is that you cannot eat your meal at Heritage Barbecue, but I just park my car and eat my food at the local park a block away.
Type of food: American barbecue
Price: $$ ($50)
What to order: beef ribs, beef brisket (fatty portion), cornbread muffins, hot link sausages, sausage mac n' cheese
Address: 31721 Camino Capistrano, San Juan Capistrano, CA 92675
Website | Yelp
OMG–Omakase by Gino – Santa Ana
If you have a special date or anniversary (or just want to celebrate your love of sushi and Japanese food), then Omakase by Gino is the perfect match. It's tucked in an unassuming corner of downtown Santa Ana–blink and you might miss it. I'd heard of Omakase by Gino from the whispers of our foodie friends and found that the 8-seat, reservation only restaurant was super difficult to book.
I was expecting basic nigiri omakase, but was pleasantly surprised by Gino's nuanced take on Japanese food and sushi entirely. This was an intimate experience especially because Gino serves all eight customers by himself and introduces each dish and course to every single person. Some of my favorites throughout the night were trying various types of Japanese uni from Hokkaido and Osaka, and seared bluefin tuna with garlic foam.
I finally found a random booking (probably due to someone canceling at the last minute), but I also recommend following them on Instagram because they list when booking windows are released. This is a pricey experience at about $165 per person not including tax or drinks.
Type of food: Japanese, sushi
Price: $$$$ ($225 pp)
What to order: 16-course omakase is the only option
Address: 304 N Main St Santa Ana, CA 92701
Resy | Yelp
Pho Redbo – Garden Grove
I wanted to dislike this place. The seemingly nonsensical name, the Japanese feeling logo and visual branding, and another false promise of high quality "Wagyu" in a food where it didn't belong. The interior decor of this restaurant was a few levels up from a run of the mill Vietnamese restaurant—one meant to attract non-Vietnamese clientele. Everything was setup for this to be another flash in the pan hype-meal. But the pho was delicious.
I didn't order the A5 wagyu, and got the brisket and rib cubes. Both were fattier and more tender than normal, cooked perfectly. The broth was also tasty—it felt rich and flavorful without being overly salted or overly MSG'ed. I like to keep my broth free of sriracha or hoisin to taste as much of the original intent as possible. Fresh plate of herbs on the side with vibrant basil, blanched bean sprouts as requested, and even culantro (ngo gai) that you don't always get.
Seated at a table with a view of the kitchen, I kept seeing one of the cooks repeatedly looking into a kaleidoscope-looking tool so I asked our waiter about it. "It's to test the saltiness with more accuracy than tasting," he said. Amazing. I had to look it up and seems like it's a salinity refractometer—I wonder how other elements or richness of broth affect this test.
Definitely coming back here, and the regular non-A5 meat is so good I see no reason to blow ~$50 on that, but might try it out just for kicks. I love Pho 79 for a more authentic and nostalgic vibe, but am very happy there's another spot I'd frequent nearby when the line at 79 is unbearable.
Type of food: "Vietnamese with Japanese influence"
Price: $$ ($20 pp)
What to order: any of the pho, with brisket or rib cubes
Address: 7725 Garden Grove Blvd Garden Grove, CA 92841
Website | Yelp
Taco María – Costa Mesa
Taco Maria is one of the handfuls of Michelin-starred restaurants in Orange County, and I would definitely recommend this for a nice night out. It's located in the OC Mix Mart in Costa Mesa, and they offer indoor and outdoor dining.
They offer a rotating prix fixe menu based on modern Mexican foods like aguachile and crab tostadas. The food was high quality and very fresh for each dish. Even though these are traditional foods, they deliver elevated presentations of each dish that are filled with flavor and aesthetically pleasing. I also loved our server because there was no pretense and gave our party great suggestions for dishes (and even talked to us about his passion project).
Reservations open four weeks in advance, and since they don't allow walk-ins, I definitely recommend signing up online for reminders on Resy. Parking is plentiful, so you won't have any issues finding a spot.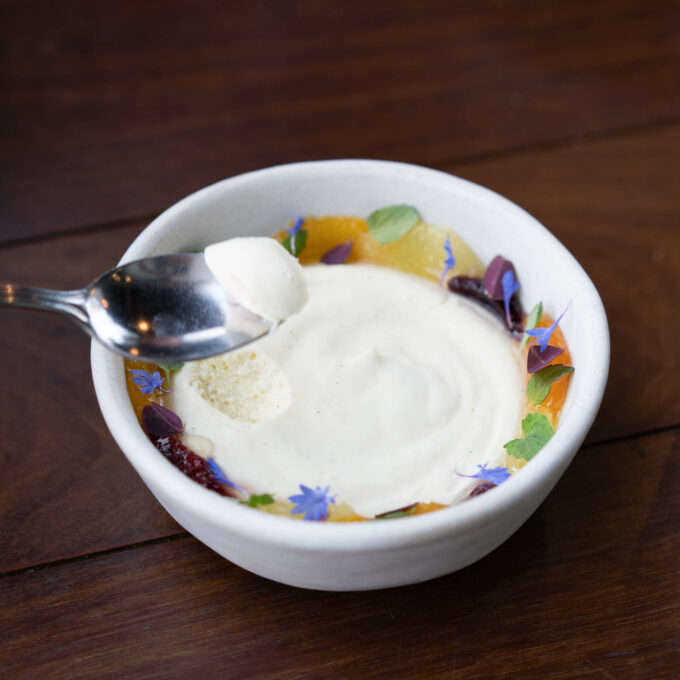 Type of food: contemporary Mexican
Price: $$$ ($95 pp)
What to order: rotating prix fixe menu (favorites were agua chile, crab tostada, panna cotta)
Address: SOCO & The OC Mix, 3313 Hyland Ave., Ste C-21, Costa Mesa, CA 92626
Website | Yelp
Nice Burger – Santa Ana
If you're in the mood for plant-based fast food, then Nice Burger is your answer. I would liken Nice Burger to a vegan In-N-Out. They even have "animal style" friend fries that are cooked in rice bran oil and are completely plant-based.
Along with fries, they use Beyond Meat and Gardein patties and gluten-free buns to make a myriad of burgers and sandwiches. There are so many varieties, but my favorite is the basic Nice Burger with tater tots.
They have three locations in OC that are evenly dispersed throughout the region. My local Nice Burger even has a drive-through so I don't have to get out of the car. If you're in an even bigger rush, you can also pre-order online and pick it up or deliver it to your home.
Type of food: Vegan burgers and fast food
Price: $$ ($15 pp)
What to order: Nice Burger with animal-style friend fries or tater tots
Address: 1727 E 17th St Santa Ana, CA 92705 or 615 W 19th St, Costa Mesa, CA 92627 or 7104 Katella Ave, Stanton, CA 90680
Website | Yelp
Pelicana Chicken – Buena Park
I was first introduced to Pelicana Chicken by my friend whose mom says it is the ONLY Korean fried chicken around here she approves. Bonus points because this chain is from Korea. It was love at first crunch, and then more love appeared as I ate more.
This chicken chain is a popular worldwide, fast dining restaurant. The food here is perfectly paired with glasses of beer and bottles of soju. My favorite thing to order is the crispy chicken with original sauce and the pickled radish cubes, but really you can't go wrong here. Their menu is relatively simple because they don't offer too many different things.
I am always amazed at how crispy Pelicana chicken is even after it's doused with massive amounts of sweet, savory, and sticky sauce–even AFTER it's delivered 20 minutes away. (I even made my own version of Korean fried chicken and chicken-mu at home because I loved Pelicana so much).
Pelicana is located at The Source in Buena Park and can be a bit confusing to find if you haven't been before. It's on the lowest level and located in the center of the outdoor plaza. You can also order delivery if you live nearby too!
Type of food: Korean fried chicken
Price: $$ ($25 pp)
What to order: whole crispy fried chicken with original sauce, pickled daikon radish cubes, french fries, and doukbokki
Address: 6930 Beach Blvd Unit-L130 Buena Park, CA 90621
Website | Yelp
Cream Pan – Tustin
Cream Pan bakes the dreamiest, flakiest strawberry and custard croissants ever. And they make 'em fresh on the daily. There was once a mini surge of popularity in these croissants, popping up at many other local Asian/French bakeries, but Cream Pan still takes the cake.
Just up the street from Honda Ya, Cream Pan is a Japanese bakery that makes so many goodies like pork katsu sandwiches, sushi cut rolls, and even shokupan loaves. They also have a new, larger location in Fountain Valley that sells the same food if you're nearby.
If you need a quick lunch or want to buy some food for a picnic, this is a great place to buy some tamago sando or pastries for you and your crew. During the weekends, the line typically takes about 10-20 minutes on busy days, but if you go during off-peak hours or during the weekdays there shouldn't be a line.
I love shokupan and tamago sandos so much, I even tried to make my own at home, but it's so much easier dropping by Cream Pan and getting my other favorite goodies. If you are having a party and don't have time to make anything, Cream Pan also has multiple catering trays too.
Type of food: Japanese bakery
Price: $ ($10 pp)
What to order: strawberry croissants, tamago sando, pork katsu sandwiches, sushi cut rolls, various types of bread
Address: 602 El Camino Real Tustin, CA 92780 or 15945 Harbor Blvd Fountain Valley, CA 92708
Website | Yelp
Din Tai Fung – Costa Mesa
Xiao long bao, or soup dumplings, are one of my favorite types of dumplings and Din Tai Fung is one of the most well known places to get some. What started as a restaurant in Taiwan has now expanded to various restaurants around the world, and luckily for me, I have a nearby location at South Coast Plaza. Din Tai Fung's infamous hours on end waiting list (even when there's a reservation system) is only a testament on how tasty these dumplings and Taiwanese dishes are made.
Their best known dishes are kurobuta pork xiao long bao, or soup dumplings, which are handmade using a proprietary dough that's wrapped with 18 folds. These dumplings have a supple, but slightly al dente wrapper that bursts open with the most savory soupy filling and tender ground pork.
After trying xiao long bao at over a dozen restaurants, Din Tai Fung still holds the #1 spot in my book. We've even made our own version of soup dumplings at home, too. When you visit Din Tai Fung, don't forget to order all the other delicious dishes like cucumber salad and sweet & sour pork baby back ribs.
Type of food: Taiwanese, xiao long bao (soup dumplings)
Price: $$ ($40)
What to order: kurobuta pork xiao long bao, cucumber salad, sweet & sour pork baby back ribs, shrimp & kurobuta pork shao mai, braised beef noodle soup, pot stickers, fried rice, and sauteed string beans with garlic
Address: 3333 Bristol St., Space 2071, Costa Mesa, CA 92626
Website | Yelp
A&J Restaurant – Irvine
One of my favorite restaurants to eat when I'm craving home-cooked vibes is A&J Restaurant. There's no fanfare at this restaurant, and it's always so satisfying to eat homestyle Taiwanese food. Every time I eat here, it's always busy–and rightfully so because everyone eating, there knows where to get a good meal.
A&J has my favorite spicy wontons. There's no denying that their sweet, spicy, and savory sauce along with the juicy wontons makes this dish–I can't find anywhere else where the sauce is so full of umami that I dip everything else in it.
It's best to go to this restaurant with a small group (about 4-6 people since it's small here) so you can share a myriad of dishes like the Chinese-style fried pork chop on rice or pan-fried pork dumplings.
Type of food: Taiwanese
Price: $$ ($30 pp)
What to order: Chinese-style fried pork chop on rice, scallion pancake, cucumber salad in hot garlic sauce, spicy wontons, Chinese beef wrap, pan-fried pork dumplings
Address: 14805 Jeffrey Rd, Irvine, CA 92618
Website | Yelp
Omomo – Irvine
"Boba?" within my family is a suggestion and decision already made. Regardless, I am always down for Omomo. Ever since 2018, it's taken the boba scene by storm and changed the game with its new style of boba aesthetics (yes, I'm trademarking that term) of simple, playful designs and flavors like Oreo brulee green milk tea.
We all know what comes with really good boba–a really long line. I swear this place opens with a line out the door the instant they open, but let me tell you it's always worth it. To make line waiting worth it I've even bought TWO boba drinks so I can drink the second one the next day and it was still good.
I recommend either going with a group of friends who you can talk with while waiting in line, or coming right when they open or mid-day. My all-time favorite drink is the grapefruit smash with agar boba and lychee jelly add-ons.
Type of food: Boba, bubble tea, milk tea
Price: $$ ($10 pp)
What to order: grapefruit smash with agar boba & lychee jelly, Oreo brulee green milk tea, watermelon green tea, & camo Thai.
Address: 5365 Alton Pkwy Unit G, Irvine CA 92604 or 14433 Culver Dr., Irvine CA 92604
Website | Yelp
CHAAK Kitchen – Tustin
I first had Chaak Kitchen for my cousin's birthday and it definitely made an impression. Even though I've lived in California my entire life and have had ample amounts of Mexican food, it was my first (but not my last) experience eating Yucatecan food.
OC's Chef Gabbi Patrick centers her dishes on her Yucatecan background, so a lot of the food has Mayan influences of cochinita pibil, seafood like ceviche campeche, and more. I was also interested to learn that food from the Yucatan Peninsula had many culinary influences from Spanish, Caribbean, and Mediterranean foods.
I love the modern design of the restaurant and presentation–it's perfect for celebrating big events like birthdays and anniversaries. Try to make a reservation if you can because this place gets busy, especially after it was awarded a Bib Gourmand by Michelin in 2021!
Type of food: Yucatecan/Mayan
Price: $$ ($40 pp)
What to order: sikil p'ak, ceviche campeche, cochinita pibil, bombas
Address: 215 El Camino Real, Tustin, California
Website | Yelp
Tenkatori Karaage – Costa Mesa
Japanese fried chicken, or tori karaage, is another top favorite fried food for me and Tenkatori Karaage is the juiciest, crispiest option in town. This is a no-frills, hole-in-the-wall take-out join that's down the street from South Coast.
Tenkatori makes their karaage out of boneless chicken thighs so it's super moist and the breading is extra crunchy. I also like to order the wings combo to get some rice and a side salad to make myself feel a little bit healthier. They also have a series of different dipping sauces you can add, too, and my favorites are spicy mayo and yuzu aioli.
It's the perfect spot to order some savory fried chicken for your next party, too. If you want to attempt to make karaage at home, here's my recipe, but I would definitely recommend hitting up Tenkatori when you're nearby, and you won't be disappointed.
Type of food: Japanese fried chicken
Price: $ ($15 pp)
What to order: karaage, teba (wings), and dipping sauces (spicy mayo, teriyaki sauce)
Address: 3001 Bristol St Ste D Costa Mesa, CA 92626
Website | Yelp
Santouka – Costa Mesa
Ramen is always a debated hot topic, but I will die on this Santouka hill. I LOVE Hakata-style ramen with its thick bouncy noodles, in a cloudy, rich and umami pork broth, topped with ultra-tender pork slices. The price here is affordable and there's NO line. The many, many times I've been standing in a line for over an hour to try a hot new ramen spot simply just reaffirms Santouka's top ranking for me.
I've been to many different Santouka locations in California and Boston and it hits the spot everytime. Two of the Southern Californian locations near me are nestled inside different Mitsuwa supermarkets (they all seem to be inside Mituswas actually) and this comes in clutch when you want to have a bite before shopping. The Irvine location even has MoDo Hawaii mochi donuts next to Santouka, so it's the perfect dinner and dessert.
My favorite type of ramen is the tokusen toroniku ramen (their best-known variety) that's made with their special pork cheek slices. I also like to add a marinated egg on top because why not, we love eggs around here. If you're not in the mood for ramen, I also like the chashu rice bowls.
Type of food: Ramen, Japanese
Price: $ ($15 pp)
What to order: tokusen toroniku ramen and a marinated egg, chashu rice bowl
Address: 665 Paularino Ave Costa Mesa, CA 92626 OR 14230 Culver Dr, Irvine, CA 92604 ( both inside Mitsuwa cafeteria)
Website | Yelp
Porto's Bakery – Buena Park
Adding Porto's Bakery to this list is a no-brainer. Ever since I lived in Long Beach and was a 10 minutes drive from their Downey location, this bakery has had a permanent spot on my best places to eat list. Now that they've opened a Buena Park location in OC, I'm often tasked with grabbing some potato balls, chicken croquettes, fruit tarts, and all the other tasty treats for family parties.
If you don't want to wait in their typical line out the door, I recommend ordering online for pick-up to make things easier. They also offer delivery nationwide now, so you don't have to schlep boxes of Porto's around for your family (anyone frequenting from Northern California knows this well!). If you do decide to walk in, I recommend going during the week; otherwise, weekend lines and parking can be a bit of a headache.
Type of food: Cuban bakery & cafe
Price: $ ($10 pp)
What to order: papa rellena (potato ball), chicken croquette, chicken empanada, cubano, guava and cheese strudel, cheese roll, dulce de leche besito, milk and berries cake
Address: 7640 Beach Blvd Buena Park, CA 90620
Website | Yelp
Mil Jugos – Santa Ana
The only spot in town to get the best arepas and cachapas are at Mil Jugos. This Venezuelan restaurant is run by Norah Briceño Brower and her family, and I've been coming here with my family for over a decade.
My favorite things to order are arepas with potato and chicken filling, queso cachapas (a sweet and savory pancake made of corn and cheese), and super refreshing watermelon juice. Their light green sauce is undeniably one of my favorite parts of this restaurant, it's full of herby and garlicky flavor that makes it the perfect topping for the arepas.
It's located in the heart of downtown Santa Ana and is a great lunch spot to get a home-cooked Latin meal. They close at 5:00 PM and all day on Sundays, so make sure to check their times the day you want to eat.
Type of food: Venezuelan
Price: $$ ($20 pp)
What to order: arepas (reina pepeada, pernil), queso cachapa, shrimp empanada, watermelon juice
Address: 320 W 5th St Santa Ana, CA 92701
Website | Yelp
Terrace by Mix Mix – Costa Mesa
Chef Ross Pangalinan has recently made waves in OC after his restaurant Terrace by Mix Mix was recently awarded a Bib Gourmand by Michelin, and it was well deserved. Nestled into the third floor of Crystal Court Plaza across from the main South Coast Plaza, this restaurant has new American tapas with hits of Filipino flavors in its dishes.
Some of my favorites are the pork cheek adobo, honey pork belly pizza, and most importantly the tropical verrine (a fruity panna cotta made from tangy lilikoi and coconutty flavors). It's relatively easy to make reservations here, and it's a balance of class but relaxed vibes. We were even lucky to see Chef Ross assisting in the dining room and kitchen.
Type of food: New American, tapas, Filipino
Price: $$ ($35 pp)
What to order: pork cheek adobo, honey pork belly pizza, tropical verrine (panna cotta)
Address: 3333 Bear St. Unit 316, Costa Mesa, CA 92626 (located inside Crystal Court Plaza on the 3rd Floor)
Website | Yelp
Gem Dining – Fountain Valley
Gem Dining is one a new wave of Asian American restaurants that really represents where "new American" food is headed. It's a fusion of different Asian flavors that represent so many different types of cultures in Orange County, and presented with Western flair.
You can eat Singaporean-influenced soft shell crab, Filipino-inspired lamb shank kare kare, and even Malaysian laksa in the style of creamy risotto. While most of the menu stays the same during the year, there are new seasonal dishes too.
Like other restaurants by Kei Concepts, Gem Dining is always packed, and it's good to get a reservation–they even have a private dining room available for those who want to host a party. It's the perfect place to celebrate something special, and the presentation and service entire make every meal memorable.
Type of food: Asian American fusion, new American
Price: $$$ ($80 pp)
What to order: soft shell crab, lomo saltado octopus, laksa risotto, honey & yuzu cheesecake, sticky toffee pudding
Address: 10836 Warner Ave Fountain Valley, CA 92708
Website | Yelp
Stella Jean's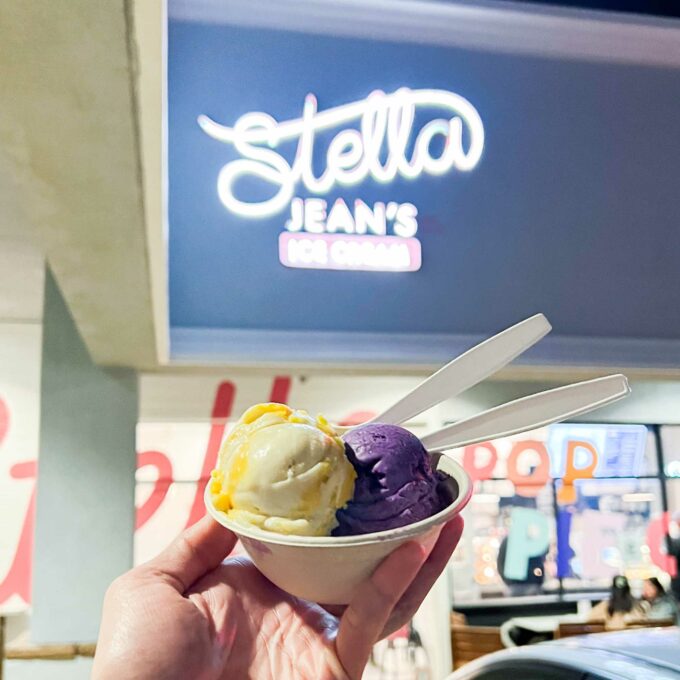 Stella Jean's ice cream is a San Diego transplant, and it's right next door to its sister restaurant Pop Pie. It's also right next door to Sidecar Donuts–a dangerous trio of foods if you ask me. When I'm not in the mood for ice cream, Stella Jean's is one of my top dessert spots because their ice cream is rich and creamy with innovative flavors.
They change flavors seasonally with new small-batch ice creams like lemon basil ice-box or strawberry basque cheesecake; however, my favorite flavors will always be mango sticky rice and ube pandesal. It's so hard to choose every time. If you've got some dietary restrictions, Stella Jean's also offers ice creams that are vegan and gluten-free. They also sell hand-packed pints to take home, too.
Type of food: ice cream
Price: $ ($10)
What to order: mango sticky rice, ube pandesal, waffle cone
Address: 270 E 17th St Ste 16, Costa Mesa, CA 92627
Website | Yelp
Postino Park Place – Irvine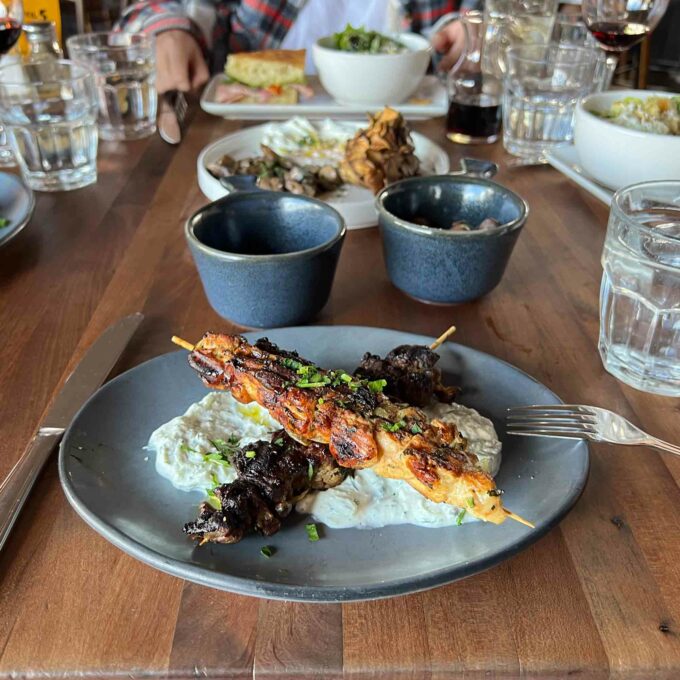 After trying Postino in Phoenix, I was pleasantly surprised to find a new location open up in Irvine. They offer a multitude of wines and a large lunch and dinner menu. If you're up for a happy hour, wine glasses are only $6 before 5:00 PM–this is a steal!
One of my favorite wines they pour is Deja Vu chardonnay; it's light and fresh after a long day. If you're hungry, I would recommend the half-and-half option of a salad and panini because it's the best of both worlds. My current favorite salad is the raspberry chicken, and my go-to panini is the west coaster. If you want a light snack with your drink, the maitake mushroom is savory with two types of sauteed mushrooms on a bed of lebni yogurt.
The Orange County location is currently the only location in California. It's located in a very busy plaza next to Mother's, North Italia, and Houstons. Parking can be a bit difficult, so it's important to get there early if you have a reservation.
Type of food: wine bar, bistro
Price: $$ ($40 pp)
What to order: maitake mushroom, skewers, raspberry chicken, mixed greens salad, west coaster panini, Deja Vu wine
Address: 2981 Michelson Dr., E, Irvine, CA 92612
Website | Yelp
Mogumogu – Costa Mesa
Mogumogu specializes in mazemen, a brothless type of ramen that is just as delicious as the original. This restaurant is known for its mazemen deluxe, which includes thick ramen noodles, chashu, spicy minced pork, lots of herbs, and a poached egg.
There's seasoning from the pork chili garlic soy sauce, and you're supposed to mix together all the ingredients to coat all the noodles. This makes such a rich and flavorful bowl of ramen that's so satisfying. If you're not in the mood for noodles, they also have chashu or karaage rice bowls and takoyaki.
Get there earlier than expected or even before you're hungry because there will be a line. They don't take reservations, so it can be a waiting game if you're there during prime dinner time or the weekend. During happy hour they offer discounts on beer and appetizers.
Type of food: Ramen
Price: $$ ($20)
What to order: mazemen deluxe, mogu chicken, takoyaki, chashu bowl
Address: 2969 Fairview Rd., Costa Mesa, CA 92626
Website | Yelp
Annapoorna – Irvine
Annapoorna is my family's favorite Indian restaurant in all of Orange County. It's tucked away in a corner off of one of Irvine's busiest plazas, and you might miss it if you're not paying attention.
I've been eating at this restaurant for over a decade, and it still hits the spot every time I need a satisfying and filling meal. I don't know how they make their butter chicken, but it's the richest and most savory butter chicken I've ever tried. Even comparing it to other Indian restaurants, Annapoorna's butter chicken is the best. I also like ordering pakoras, chili gobhi (dry), samosas, and garlic naan.
Annapoorna is located in Heritage Plaza, and it's best to enter the plaza off of Walnut. There's plenty of parking available in the back of the plaza as well as in front of the restaurant. While I haven't been able to eat Annapoorna for lunch, they do offer a weekday lunch buffet for under $20.
Type of food: Indian
Price: $$ ($30 pp)
What to order: butter chicken, palak paneer, pakoras, samosas, garlic naan, chili gobhi (dry)
Address: Heritage Plaza, 14450 Culver Dr., Suite A, Irvine, CA 92604
Website | Yelp
For more city guides, visit Washington, D.C., Chicago, Austin and Oahu to see my personal favorite restaurants!
MoDo Hawaii – Irvine (permanently closed)
UPDATE: Unfortunately, in 2023 MoDo Hawaii closed its Irvine location, and I am still in search of a mochi donut that's just as good. It will be missed!
Mochi donuts have certainly made quite a splash in the trendy food scene, but I hope they're here to stay because the texture is next level. After trying five different mochi donut spots, I can guarantee that MoDo Hawaii mochi donuts are the best. Not only do they have a myriad of addictive flavors (I love them all), they're dough is fried fresh and KEEPS crisp even after being delivered or transported to another location.
Most of the mochi donuts I've tried change textures from crisp to soggy in a matter of minutes and get gummy pretty quickly. Whereas MoDo Hawaii has donuts that are just as good at the end of the day as they were out of the fryer. I've made my own mochi donuts, but it is a lot of labor unless you're making a large volume.
I also love their location inside Mitsuwa because I can pick some up after eating at Santouka and grab an after-grocery treat. While you can pre-order online, you can also walk up and see the daily seasonal flavors like ube, pandan, and earl gray. Some of my favorite daily flavors are matcha, lilikoi, and black sesame.
What to order: lilikoi (passion fruit), matcha, black sesame, ube, cookies and cream
Type of food: mochi donuts
Address: 14230 Culver Dr #103, Irvine, CA 92604 (inside Mitsuwa cafeteria)
Website
See more restaurant travel guides
If you enjoyed my restaurant guide here for Orange County, check out the other cities I have visited and made restaurant guides for!:
Like this recipe? Subscribe to my newsletter!