A spoonful of sweet lychee bites, jackfruit slices, chewy jellies, and ice cold coconut milk, sounds refreshing doesn't it? Chè Thái is more than just a sweet soup or fruit cocktail, it's a dessert that packs in a lot of flavor in just one bite.
Luckily, this dessert is super simple to make because the use of canned tropical fruit makes it readily available and you can customize it based on the different fruits you prefer.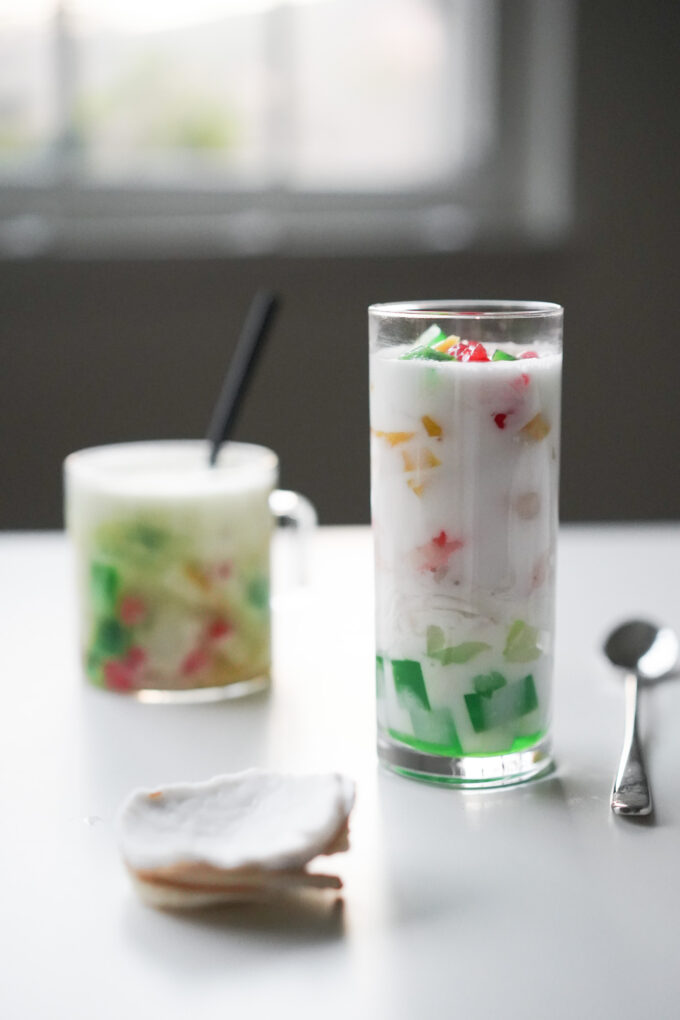 This dessert doesn't have shaved ice, but its mix of ingredients often reminds me of chè ba màu, or halo-halo.
Chè Thái is a Vietnamese version of a similar Thai dessert named "Tub Tim Krop," a dish that is a combination of water chestnuts and coconut milk. The water chestnuts are coated in red food coloring, covered in tapioca starch, and boiled, which gives the chestnuts a shiny crimson shade that resembles its nickname as "red rubies."
The red rubies
Chè Thái takes on this base of "red rubies" and coconut milk and adds even more delicious fruits and jellies. I like to add canned longans, lychees, jackfruit, ai-yu jelly, and toddy palms. The great part about this dessert is that you have the option to use other types of fruit or items, like coconut, grass jelly, or tapioca balls.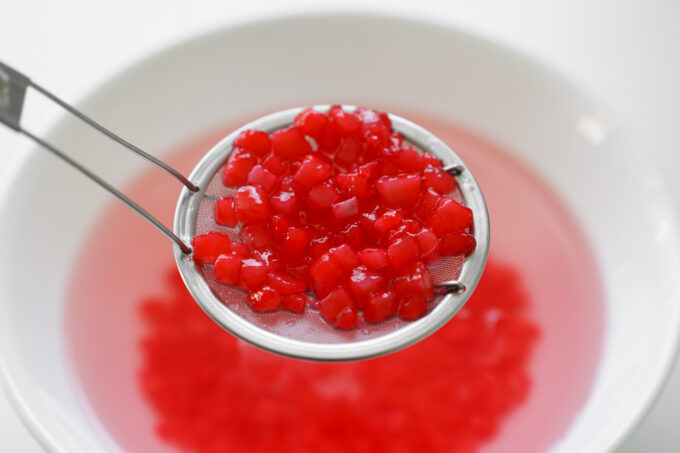 To make make the "red rubies," you only need about half of the canned water chestnuts. Cut the water chestnuts into ¼ inch pieces, mix with red food coloring, and coat with tapioca starch. Now boil the water chestnuts in batches and remove when they begin to float.
Immediately put them in an iced water bath. The longer you keep them in the water, the chewier they will be, so I like to keep them in for at least 10 minutes.
The fruit
For the canned fruit, be sure to save the syrup inside one of the cans because you will use this as a sweetener later. (Using only one can of syrup helps emphasize the sweetness without muddling the taste.) Cut all the fruit into bite sized pieces and put them into a large punch bowl along with the "red rubies."
The coconut
To finish this fruit cocktail, I use coconut milk and add the juice and meat of one coconut for extra flavor into the punch bowl. (If you don't have this on hand, you can also use half and half or heavy whipping cream.) Since I like extra sweetener in my chè Thái, I also add some of the leftover syrup from the canned fruit.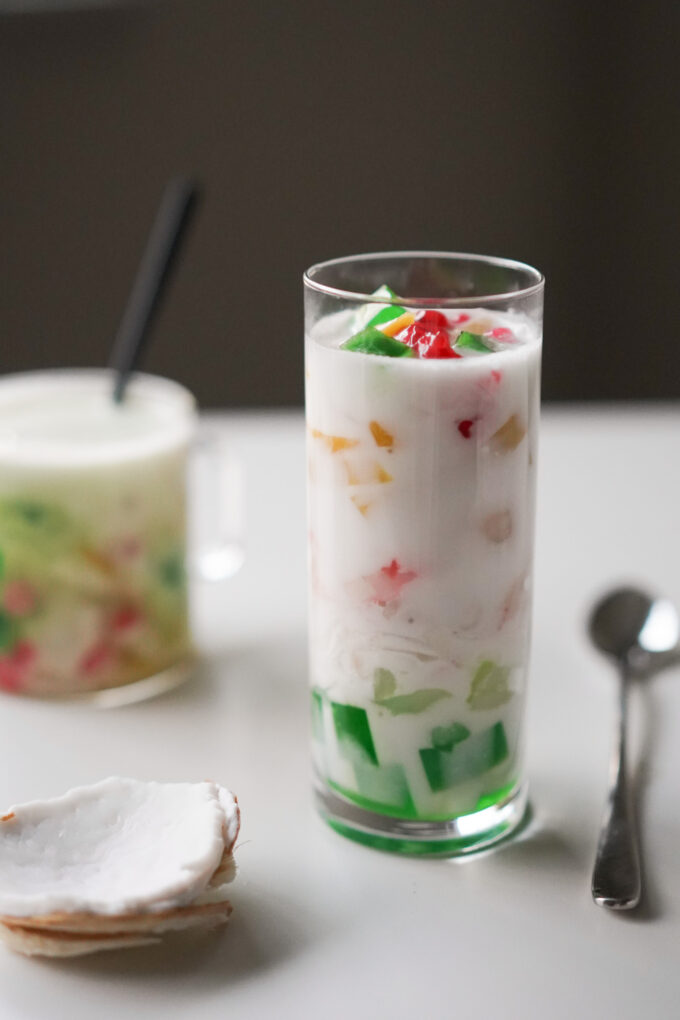 You can chill the chè Thái by adding ice, but I like to make this ahead of time and place it in the refrigerator for one or two hours so that the ice doesn't water down the flavor. I like to serve this for parties since you can share with so many people!
What is Vietnamese Chè?
Chè in Vietnamese describes sweet desserts that come in liquid forms, like drinks, pudding, or even types of 'soup.'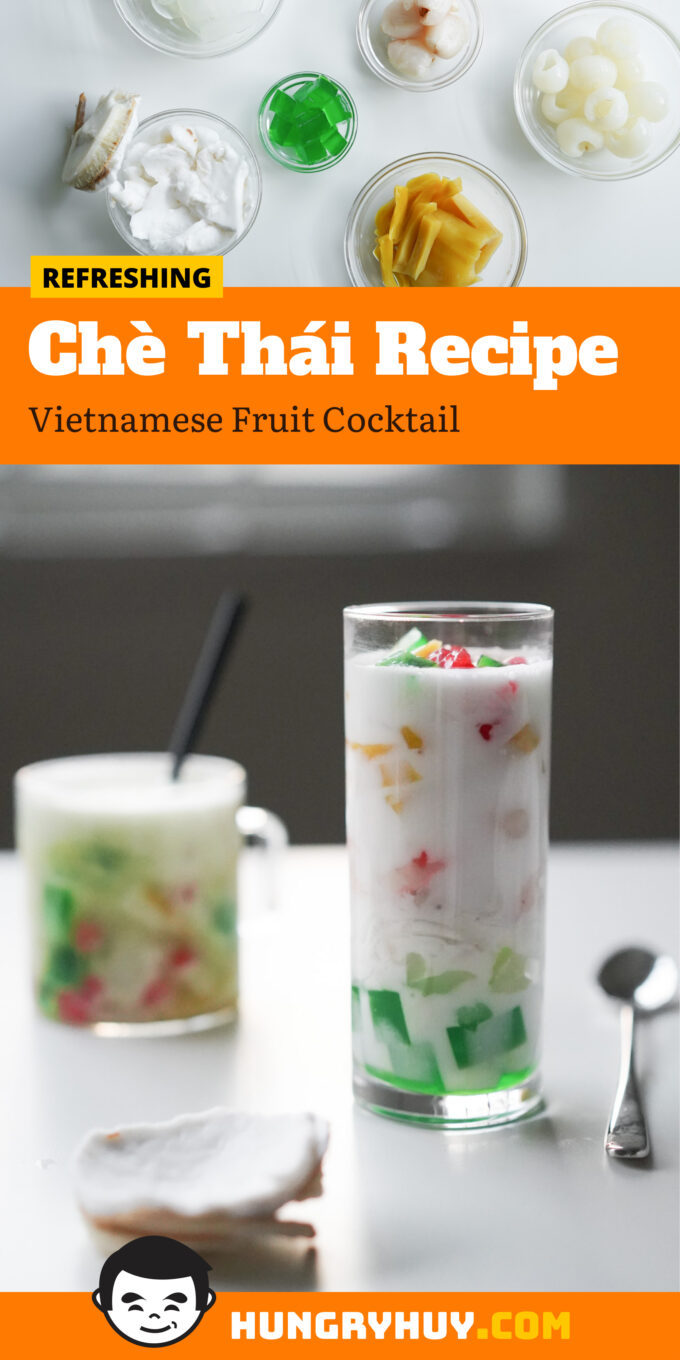 Chè Thái Recipe (Vietnamese Fruit Cocktail)
Chè Thái is a delicious sweet soup that is as easy to make as it is to eat.
Ingredients
"Red Rubies"
(1) 20

oz can

whole water chestnut

you only need half

red food coloring

1

c

tapioca starch

water

ice
Chè Thái
(1) 20

oz can

jackfruit

(1) 20

oz can

lychee

(1) 20

oz can

longan

(1) 19

oz can

ai-yu jelly

(1) 20

oz can

toddy palm seeds

1

coconut

you will need the juice & meat

(1) 13.5

oz can

coconut milk
Instructions
"Red Rubies"
Open the water chestnut can and drain. You will only need about half of the water chestnuts.

Cut the water chestnuts into small pieces about ¼ inch and place them in a large bowl (the coating of the tapioca starch will make them bigger).

Add a few drops of red food coloring to the small pieces and mix thoroughly. Make sure there isn't extra water or food coloring in the bowl because this will make the tapioca starch extra gummy.

Add one cup of tapioca starch to the bowl and cover all the water chestnuts evenly. To remove extra starch, place the water chestnuts in a colander and sift. You want to prevent extra starch from going into the boiling water because it will make the water gummy, too.

Boil a pot with about two inches of water over medium-high heat. In small batches, add the covered water chestnuts and stir to prevent them from sticking. When the chestnut float to the top, remove them from the boiling water and put them in an ice water bath and stir again to keep from sticking.

Keep them in the bath for at least 10 minutes.
Assembly
Open all the canned fruit, save the syrup from one can in a separate container. I like lychee the best, so I save this syrup. We found that if you mix the syrup from all the cans, the taste can get quite muddled.

Cut jackfruit into slices, cut lychee into large slices, and cut toddy palm into thin slices. Keep the longan in its original shape since these come fairly small. Combine all fruit into a large container.

Open coconut and set aside juice, carve out slices of coconut meat.

In another container, combine coconut milk and coconut juice. Slowly start to add the juice syrup to sweeten the milk, you want to begin by adding ½ a cup at a time. Adjust to your taste. Add the sweetened coconut milk, juice, and meat into the large container with the fruit and stir.

I prefer fridging the chè Thái for a couple of hours before serving so it's nice and cold, but you can also add crushed ice if you want to serve immediately.
Nutrition Facts
Calories:
319
kcal
|
Carbohydrates:
55
g
|
Protein:
4
g
|
Fat:
11
g
|
Saturated Fat:
9
g
|
Sodium:
14
mg
|
Potassium:
708
mg
|
Fiber:
4
g
|
Sugar:
27
g
|
Vitamin A:
65
IU
|
Vitamin C:
102
mg
|
Calcium:
29
mg
|
Iron:
3
mg
Like this recipe? Subscribe to my newsletter!