Sweet and rich meat sauce swirled in al dente pieces of spaghetti and sprinkled with sharp cheddar — this Filipino spaghetti recipe strays from its Italian namesake, but it's favored in the hearts of many Filipinos around the world.
I grew up with Filipino spaghetti and I love it so much that as an adult, I still prefer this sweet version over the traditional tangy and tomato version of spaghetti. This recipe includes a unique addition of fish sauce that adds ample umami flavor to this dish!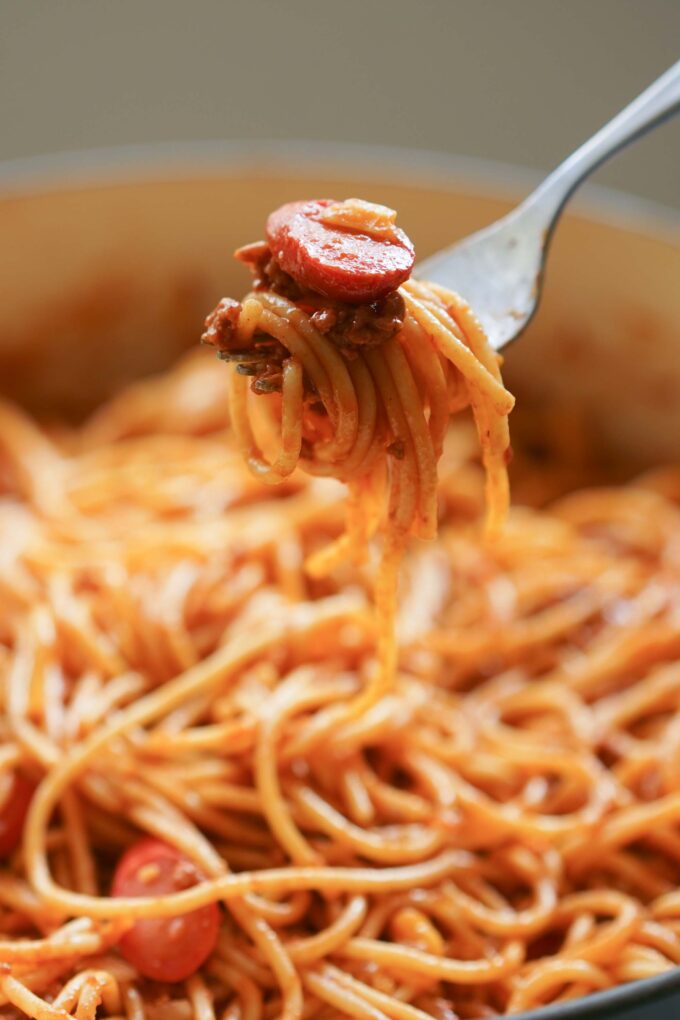 Background
While it might sound blasphemous to pasta connoisseurs to add sugar and ketchup to a pasta sauce, it's a beloved dish in the Philippines. Thanks to American colonization in the Philippines in the late 1800s, Filipinos were introduced to a myriad of American products, like hot dogs and ketchup.
There's a rumor that Filipino spaghetti was created due to the influence of General Douglas MacArthur during World War II. In Japan, MacArthur ate Spaghetti Neapolitan, which has ketchup as an ingredient.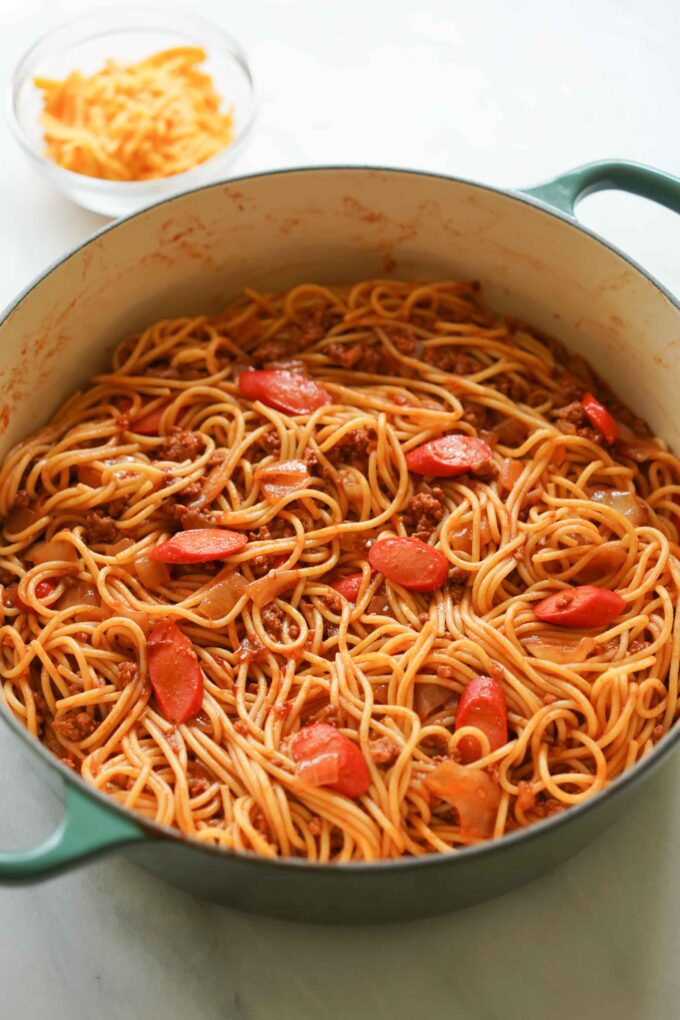 When MacArthur moved to the Philippines, his staff adjusted the recipe to fit the Filipino flavor profile and included banana ketchup among other ingredients.
Filipino spaghetti at Jollibee
These days, you can find Filipino spaghetti at fast-food restaurants around the world like Jollibee and order their famous Jolly Spaghetti. Jolly spaghetti is great for when you're busy and need a quick meal. It tastes super sweet and has a slight tang.
If you don't have a local Filipino restaurant, this easy to follow recipe will also give you a sweet and tangy spaghetti at home, but with a heartier sauce filled with umami flavors due to the special ingredient.
Filipino spaghetti sauce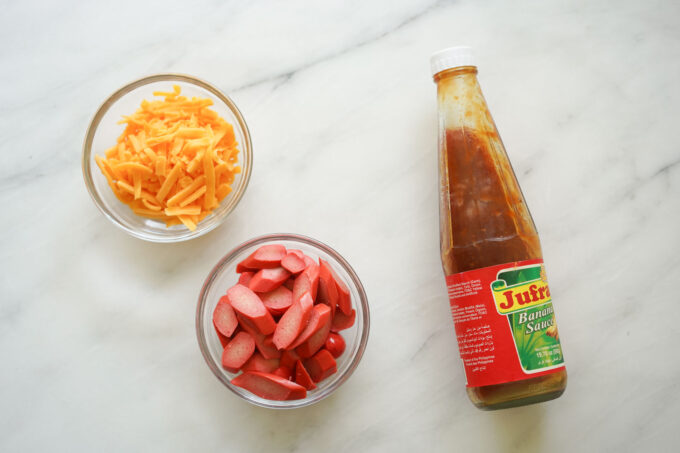 Banana ketchup
Due to limited resources to make tomato ketchup in the Philippines, banana ketchup was created by food scientist and chemist, Maria Orosa, who used an abundant fruit in the Philippines, bananas, as a base to make banana ketchup and fulfill Filipinos' love for ketchup.
From there, banana ketchup became a very important ingredient in many Filipino foods, like pork bbq skewers, was used as a dipping sauce for dishes like lumpia Shanghai, or a necessary part of breakfast with sinangag.
Hot dogs & cheese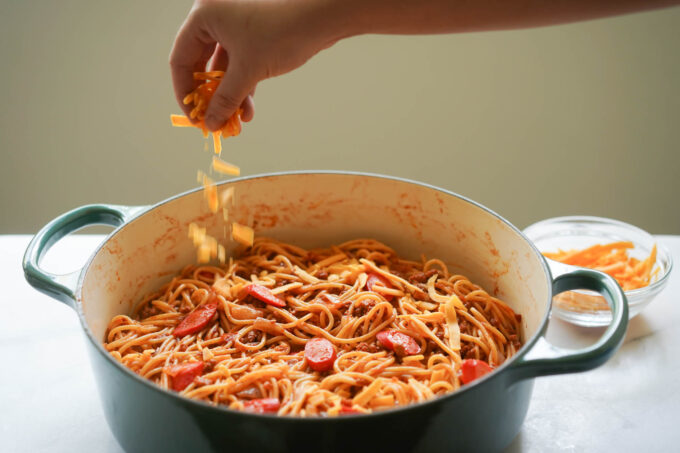 Like spaghetti or spam, Filipinos were introduced to a lot of processed foods during American colonization. Popularity for velveeta cheese and hot dogs were so high that they were both added to different dishes like puto or hot dog marshmallow skewers for birthdays, and of course, Filipino spaghetti.
You can't have Filipino spaghetti without toppings like sliced hot dogs and cheese. Using hot dogs While you can use hot dogs from your local grocery store and slice them into small pieces, I like to go the traditional route and get the Pamana brand hot dogs that are bright red.
For cheese, traditionally you should use a quick melting cheese like Velveeta brand. However, I prefer sharp cheddar and this works well too. The sharp cheddar adds a little more tangy and fatty flavor into this dish.
Fish sauce
I added fish sauce into this recipe as a salty component. While it's not a traditional ingredient in Filipino spaghetti, I also have an aunt who adds fish sauce to elevate the flavor in the sauce. Even though you won't typically find it in this specific dish, fish sauce (or patis) is a very important ingredient in other Filipino dishes and adding it into the spaghetti sauce gives it an umami characteristic.
Cooking tips
Start your meat sauce first and then start boiling your pasta halfway into making the sauce. You don't want to start the pasta first because it will dry out by the time the sauce finishes.
If you want a thicker sauce, continue to cook down the meat sauce until it reduces in size. Note that after you finish cooking, the sauce will continue to thicken a little bit as well.
If you want to thin out sauce that has already thickened, just mix in some pasta water until it hits a consistency you like.
Salt your pasta water thoroughly. You want to make sure to salt the pasta so it's not bland. Alternatively, you do not want to rinse your pasta after you remove it from the boiling water.
Who invented Filipino spaghetti?
It's rumored that General Douglas MacArthur helped influence Filipino spaghetti due to his introduction to Japanese spaghetti naporitan–a dish that includes ketchup in its ingredients. Later on when MacArthur traveled to the Philippines, the dish changed to adjust with Filipino ingredients like banana ketchup.
Filipino Spaghetti (w/ Sweet Spaghetti Sauce)
Use this traditionally sweet spaghetti recipe from the Philippines that's filled with rich, umami flavored meat sauce and topped with sliced hot dogs and melted cheese for your next dinner.
Ingredients
Sauce
1

tbsp

vegetable oil

1

medium

yellow onion

chopped

5

cloves

garlic

minced

1

lb

ground pork

16

fl oz

canned tomato sauce

4

fl oz

banana ketchup

1

tbsp

dark brown sugar

½

tbsp

fish sauce

5

hot dogs

sliced on a bias

¼

tsp

black pepper

¼

tsp

salt
Spaghetti
1

lb

dried spaghetti

10

c

filtered water

for boiling spaghetti

2

tsp

salt
Optional topping
Velveeta

or cheddar cheese
Instructions
Filipino spaghetti sauce
In a large pan over medium heat, add the vegetable oil and the onion. Saute the onion for 3-5 minutes or until translucent.

Add the garlic and saute until fragrant or about 30 seconds.

Add the ground pork and cook for about 5-7 minutes or until the meat is completely browned.

Add the tomato sauce, banana ketchup, fish sauce, and the dark brown sugar and stir until combined with the meat mixture. Bring the mixture to a boil and then lower to medium low heat and continue to cook for 5 minutes to slightly thicken the sauce.

Add the hot dogs and continue to cook for another 5 minutes.

Taste test the sauce and add salt and black pepper, adjust to your preference.

You have the option of adding cheese on top too.

Add the spaghetti on a plate and ladle on the sauce. Serve immediately.
Spaghetti noodles
In a large pot, add the water and bring to a boil over medium high heat. Add the salt and stir until dissolved. Add the dried spaghetti and follow instructions on the box to cook. This could take anywhere between 8-15 minutes depending on the pasta brand.

Test your spaghetti by tasting one strand, it should be cooked throughout without any opaqueness in the center, but still slightly firm.

Strain the pasta from the boiling water, reserving some of this water in case you need it to thin the sauce, and set the pasta aside. Do not rinse the pasta.
Nutrition Facts
Calories:
471.83
kcal
|
Carbohydrates:
54.11
g
|
Protein:
21
g
|
Fat:
18.87
g
|
Saturated Fat:
7.48
g
|
Cholesterol:
53.48
mg
|
Sodium:
1207.55
mg
|
Potassium:
553.58
mg
|
Fiber:
2.97
g
|
Sugar:
6.08
g
|
Vitamin A:
256.08
IU
|
Vitamin C:
6.14
mg
|
Calcium:
49.71
mg
|
Iron:
2.57
mg
Like this recipe? Subscribe to my newsletter!