Tender, sweet, and rich slices of pork belly and shoulder with a side of savory garlic fried rice and a fried egg—this Filipino pork tocino recipe will satisfy the wildest breakfast cravings you are having.
After trying many, many different pork tocino recipes from local Filipino restaurants, fast food places, home recipes, and even trekking to the Philippines, I've found an easy and customizable pork tocino recipe that will give you nice tender pieces of pork bursting with flavor without the harm or unnatural look of nitrites.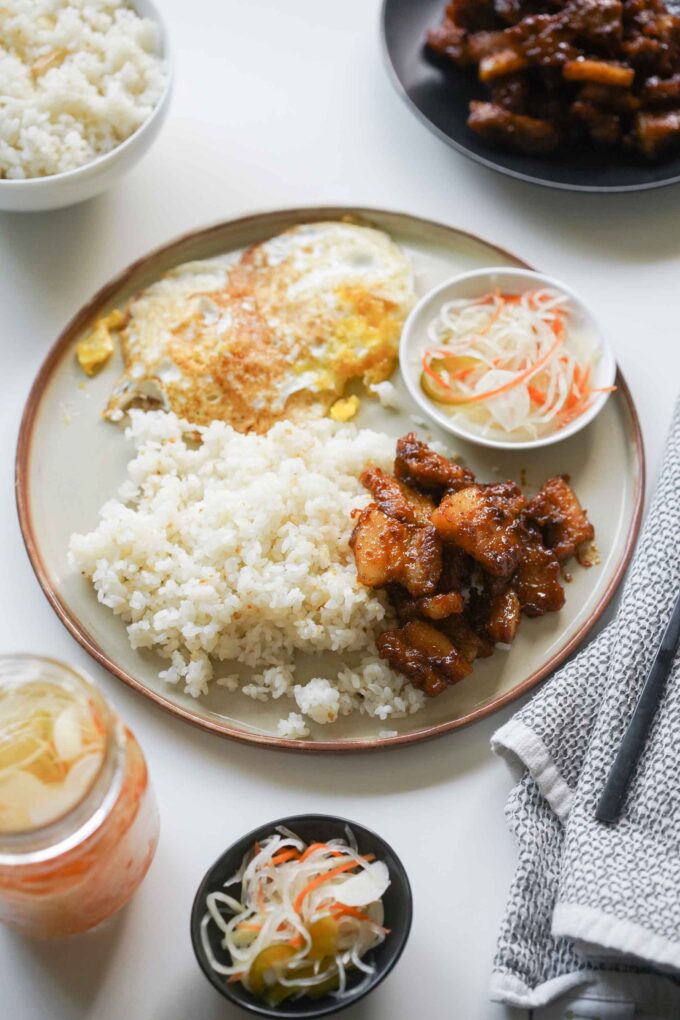 What is Filipino tocino?
The word "tocino" is a Spanish term for "bacon," something I hope all of us are very familiar with. In short, it's cured pork belly and was originally introduced to the Philippines during Spanish colonization. But don't be fooled because Filipino pork tocino is very different from Western bacon made of thin strips of salty pork or salty cubed Spanish tocino.
What makes Filipino pork tocino different from other bacon is its red hue, its sweet marinade, and the addition of ingredients like anise, wine and/or annatto. I grew up with tocino breakfast, otherwise known as tocilog or tosilog, that was a combination of pork tocino, sinangag (garlic fried rice), and a fried egg. This was and still is my favorite breakfast to this day.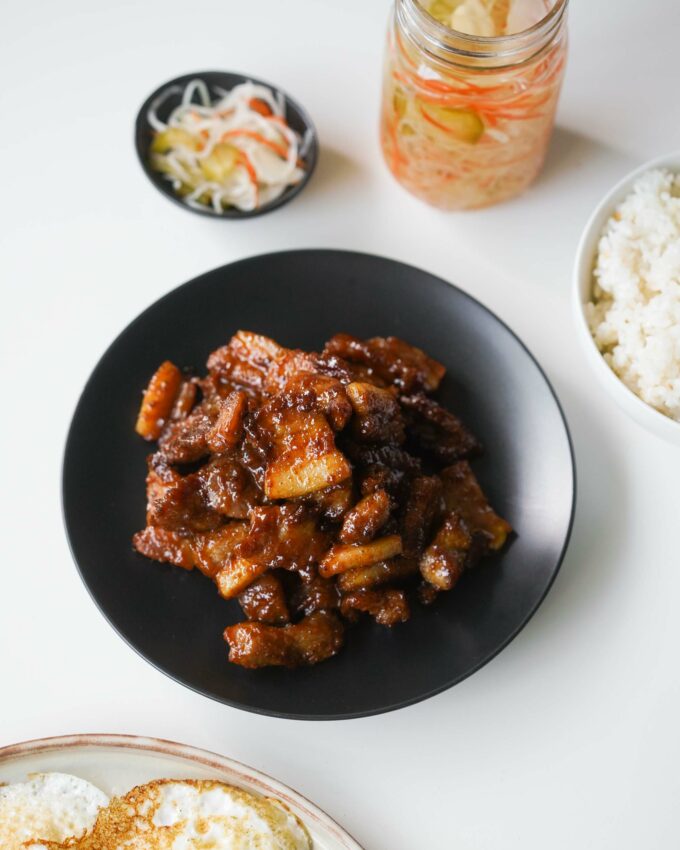 Even when I'm eating at local Filipino restaurants like Salo Salo Grill or shopping at Seafood City, I always get an order of tocino and rice—how can I say no? At my parents' house, my mom always had a pack of Pamana's frozen tocino ready to go.
Recently, I began to experiment about making my own and found that it's actually super simple! This recipe allows me to customize the sweetness and other flavors of tocino without having to eat nitrates (which often is included in frozen or prepackaged tocino and also gives it the red coloring).
Cuts of pork to use: belly & shoulder
For this recipe, I liked using a combination of half pork belly and half pork shoulder (same as pork butt) pieces to mix and match fattier pieces with some leaner pieces. This gives the tocino variation, but also doesn't give me a tocino that is too oily from all the pork fat, or too lean from the pork shoulder. You can easily adjust the amount of either type based on your own preference.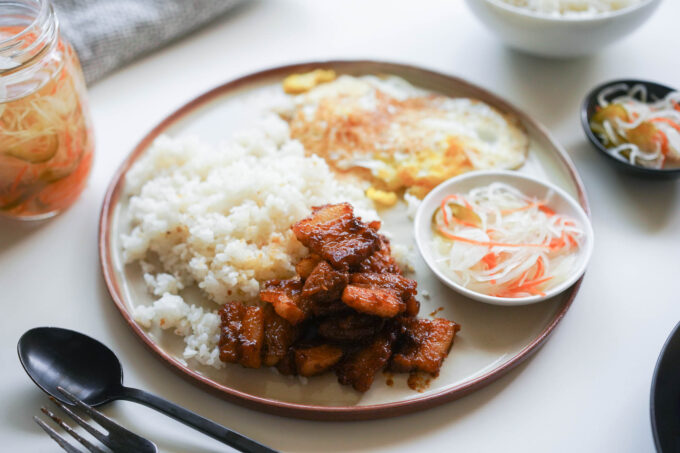 I like to cut the pieces in ¼ inch even slices to make sure all the meat marinades evenly. I've experimented with different thickness, but found that this size worked well for me because it wasn't too thick that it became hard to eat or too thin where it dried out too quickly during cooking.
If you're not a fan of pork or want a different variety of tocino, you can also use chicken for this tocino recipe. I would recommend using juicy parts like the thigh for marinating.
Tocino marinade ingredients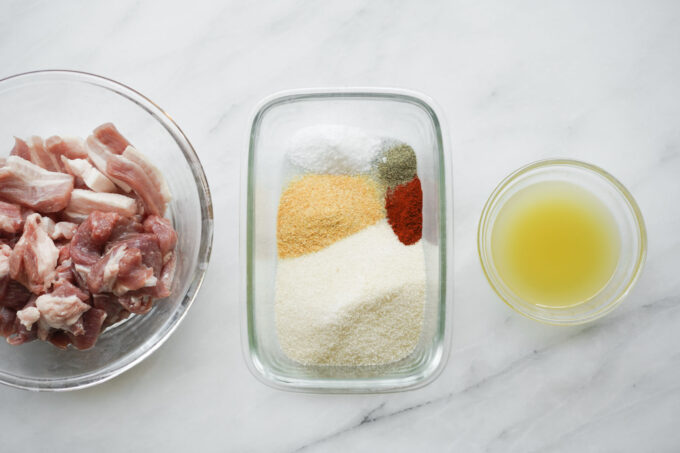 This marinade gives me the ability to replicate the tocino I've grown up with, but also allows me to focus on more natural ingredients. The basic ingredients for this recipe included white granulated sugar, garlic powder, salt, black pepper, pineapple juice, and annatto powder.
Most of the ingredients in this recipe can be found at your local Asian grocery store. Traditional marinades from store packages typically add nitrates, preservatives, and/or food coloring, which I try to stay away from.
Some packages also include citric acid in the ingredients and to substitute, I used pineapple juice for its acidity and sweetness. I think it really helps with tenderizing the meat too.
The natural coloring ingredient
Annatto powder is an ingredient in many Filipino dishes that give food a hint of peppery spice, but also a reddish hue, like chicken inasal and kare kare. This tocino recipe is no different because it gives the tocino a slightly reddish-brown hue with no artificial food coloring and no nitrates. Yay!
I was able to find annatto powder from my local Seafood City in the spice aisle, but you can also find it in many international aisles too.
Cooking tips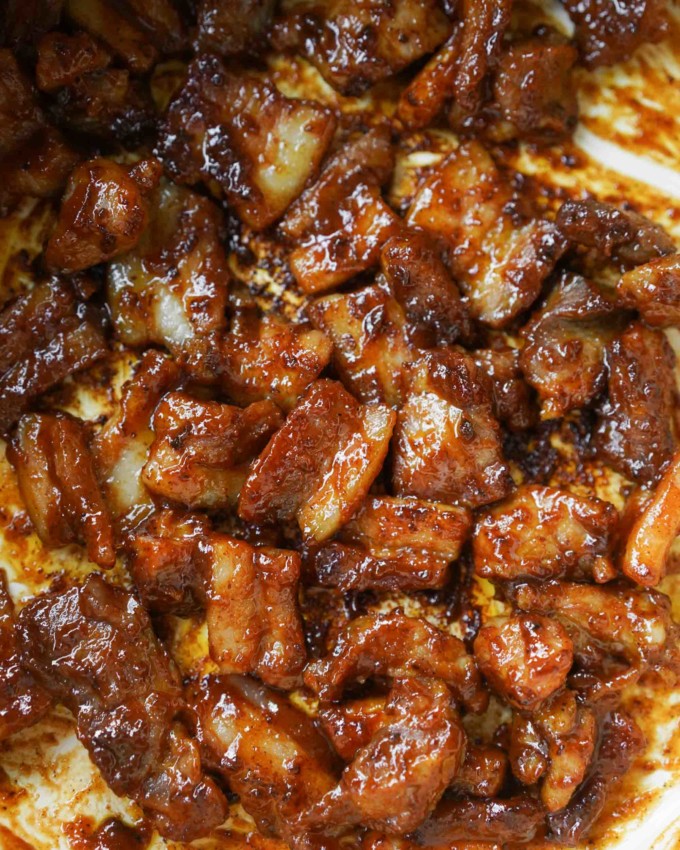 When cooking tocino, use a pan large enough so that the tocino is flat against the surface in one layer and add just enough water to just about cover the meat. This helped with cooking the meat evenly and helped with reducing the amount of time for braising.
After the water cooks down, stir the meat constantly and do not leave the pan unattended. The sugars in the marinade caramelize very quickly and you want to watch over the tocino to prevent burning.
What does tocino taste like?
Tocino has a predominantly sweet, garlicky, and slightly peppery taste. Using pork for this tocino recipe also gives it a fatty and juicy flavor.
What part of the pig is tocino?
Tocino is a Spanish term for "bacon," and is typically associated with the pork belly portion of the pig, but can also be made with pork shoulder or any cut you like.
Is tocino a Filipino food?
Tocino is originally from Spain and introduced to the Philippines during Spanish colonization, however, Filipinos have made this dish completely their own by adding flavors that is a hallmark of Filipino flavors—sweet, garlicky, and peppery pork belly.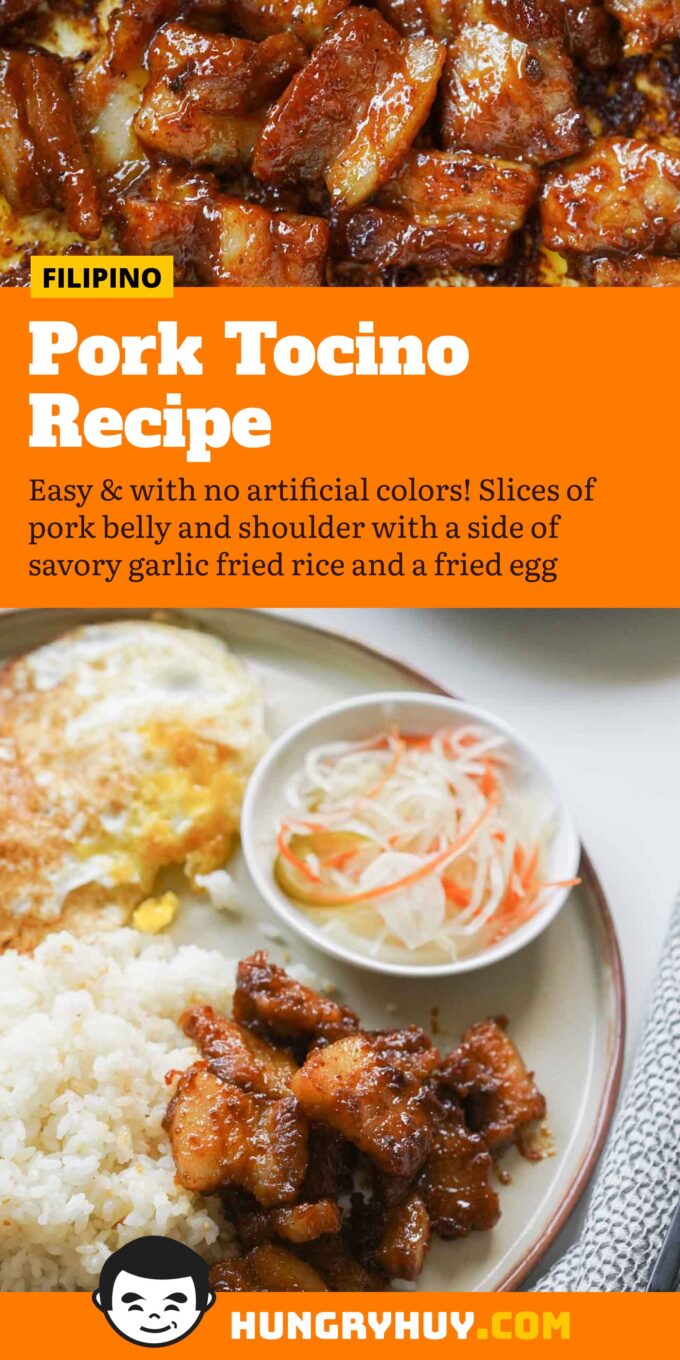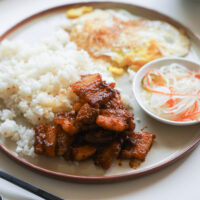 Filipino Pork Tocino (Easy & No Artificial Colors)
Juicy, sweet, and peppery pork belly and shoulder pieces marinated overnight and sauted over a hot stove–this pork tocino recipe is a quintessential part of a Filipino breakfast. Learn how to make your own tocino at home because it's easier than ever with this recipe.
Ingredients
Tocino marinade
¼

c

granulated white sugar

¾

tbsp

salt**

1

tbsp

garlic powder

¼

tsp

black pepper

½

tsp

annatto powder

¼

c

pineapple juice

only use 100% juice

1

lb

(

453.6

g

)

pork shoulder and/or pork belly

cut into ¼ inch slices
Cooking tocino
2-3

tbsp

water

more or less depending on the size of your pan

vegetable oil

optional
Instructions
Tocino marinade
In a glass container with a lid, combine the dry ingredients and stir together. Pour in the pineapple juice and stir until fully incorporated.
Cooking tocino
Remove the tocino marinade from the fridge at least 20 minutes before cooking and let it come to room temperature on the counter.

In a pan over medium heat, pour all the contents of the tocino and marinade. Spread the pork evenly throughout the pan.

Pour enough water so that just about covers the pork slices. Stir the meat every so often to make sure all the pieces cook evenly. Continue to braise the pork for about 10 minutes or until the water reduces completely.

Continue to cook the pork for another 5-7 minutes or until the sugars in the marinade and meat begin to caramelize in the pan – DO NOT leave the pan unattended at this point. This is how it looks midway through cooking.

Stir constantly to prevent the pork from burning, and lower the heat if it's browning too fast for you to control. Here's how the tocino looks when fully cooked.
Notes
*I used Diamond Crystal salt brand, which is less salty than most brands so please adjust the measurements based on the salt you are using. 
Nutrition Facts (per serving)
Calories:
166.91
kcal
|
Carbohydrates:
16.24
g
|
Protein:
13.99
g
|
Fat:
4.98
g
|
Saturated Fat:
1.72
g
|
Cholesterol:
46.34
mg
|
Sodium:
1362.93
mg
|
Potassium:
283.99
mg
|
Fiber:
0.22
g
|
Sugar:
14.01
g
|
Vitamin C:
2.03
mg
|
Calcium:
9.69
mg
|
Iron:
1.03
mg
Nutrition Facts
Filipino Pork Tocino (Easy & No Artificial Colors)
Amount per Serving
% Daily Value*
* Percent Daily Values are based on a 2000 calorie diet.
Like this recipe? Subscribe to my newsletter!