This char siu recipe is a classic Cantonese comfort food that will give you sweet, savory, and succulent pieces of oven-roasted pork at home–you don't even need red food coloring to replicate the bold red shades of pork.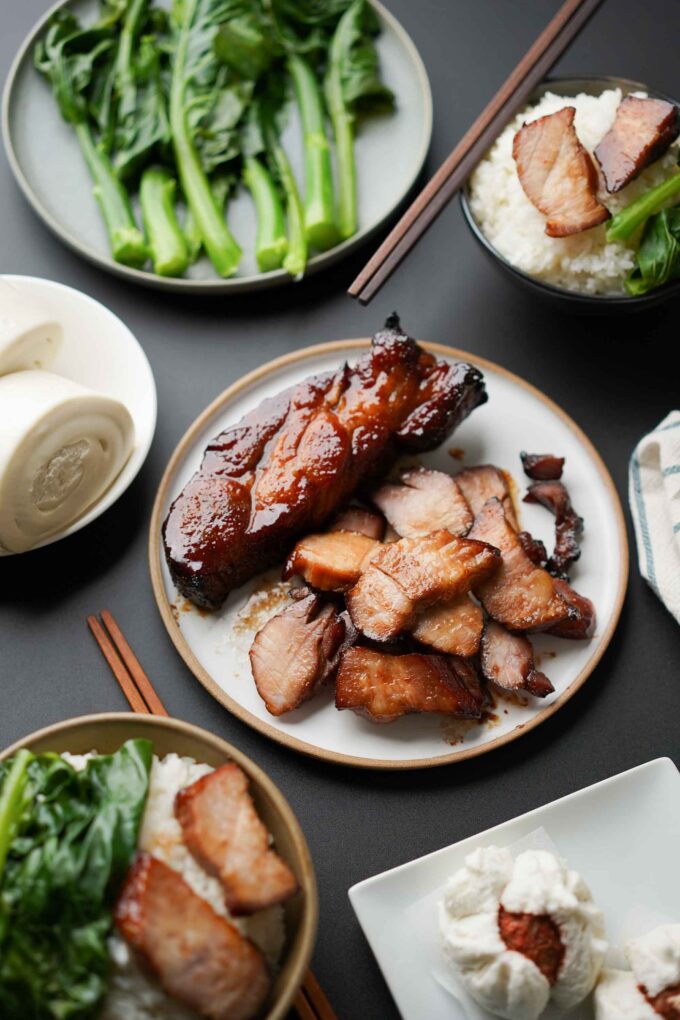 What is char siu or Chinese bbq pork?
Char siu, or cha siu, is a famous Cantonese dish that is a type of barbecued or roasted and marinated pork. The name char siu is translated as "fork roasted" and came about from the traditional way of cooking the dish: roasting long strips of pork that are held over a fire or in an oven with large pronged forks.
What ingredients make an authentic char siu recipe?
What makes authentic char siu is the marinade, which is made with variants of honey, five-spice powder, and most importantly, fermented red bean curd–this gives it a nice red coloring. This combination gives char siu it's sweet and savory flavor.
I opted to use the fermented red bean curd and sauce because it was a more traditional ingredient. Since it's maroon coloring is made by the addition of red yeast rice, I found this to be a perfect natural alternative to using food coloring.
Another important ingredient is maltose, a very viscous ingredient that gives char siu it's shiny glaze. If you don't have maltose you can also replace it with honey, but the sheen might not be as nice as maltose.
To make the marinade, I used sugar, fermented red bean curd and sauce, honey, dark soy sauce, molasses, salt, garlic powder, and five-spice powder. For the glazing sauce, I reserved ½ of the marinade and mixed in maltose and hot water. 
Best cuts of pork to use for char siu
Like many Asian bbq pork recipes (think Filipino BBQ skewers), the cut of meat you use can affect the texture, fat, or skin content and ultimately the final outcome greatly.
Pork butt/shoulder is one of the most popular cuts for char siu because it's slightly lean but still offers some fatty and lean pieces. I like to use this cut of meat because it's so moist that you're less likely to overcook it.
Pork belly will give you ultra fatty and juicy pieces of char siu. This is great for eating with Chinese steamed buns because it's fatty texture pairs well with the simple bao buns.
Pork tenderloin will give you the leanest, but most tender texture for char siu. If you are hesitant to use belly or butt because it's too fatty, this is a great option.
How to make char siu pork at home
Traditionally char siu, like other Chinese roasted pork dishes, was grilled over a fire, but these days you can easily roast it in the oven. The most important thing about this recipe is the marinade and to reserve about ½ marinade in a glass jar to make the basting sauce. 
I like to use a fork to pierce the meat about 5-10 times to make sure all the juicy marinade gets inside the meat. It's best to marinate in the fridge for at least 8 hours or overnight to get enough flavor into the meat, too. Before baking, remove the meat from the fridge for about 30 minutes to get it to room temperature–this ensures the meat will cook evenly.
To make the basting sauce, you need to mix the reserved marinade with maltose and hot water. Maltose can be quite tricky to use when it's at room temperature, so I prefer to heat it up slightly in the microwave to loosen it up. I then mix it with a little hot water to loosen it further and then mix it with the marinade. This will make sure the maltose is properly incorporated.
When the oven is nice and hot at 375 °F, place the pork on a rack on top of another pan. Add some water into the pan and this will help keep the inside of the oven moist, which prevents drying out your pork too quickly; It will also collect the excess basting sauce that falls through the rack before it burns.
I like to roast the char siu for about 40-50 minutes, turning the meat and basting with the sauce throughout the process. It's important to use a meat thermometer to check the internal temperature during this process to make sure it's fully cooked. After it's finished roasting, I let it rest on a cutting board and apply one last basting before cutting and serving.
What foods or recipes use Chinese bbq pork?
My favorite way of eating char siu is with plain white rice and a side of gailan, or Chinese broccoli. It's such a flavorful entree that all you need are some simple side dishes. While great on its own, you can also enjoy char siu in various forms, like char siu bao. Some cultures also have a type of their own, for example, in Vietnam, you can get pork belly included in your banh mi or mì khô xá xíu.
Storage and serving
I like to serve char siu by drizzling some of the extra basting sauce on top of the sliced pork pieces–it gives it extra seasoning and flavor. If you are going to continue to make char siu bao, then you don't necessarily need this extra basting sauce.
To store extra char siu, I like to precut the meat into slices and add the extra basting sauce to make sure it doesn't dry out. I keep it in an airtight container in the fridge and it should last for at least 5 days. To reheat, I put the slices in a bowl and microwave until it's nice and hot.
Char Siu Pork Recipe (Chinese BBQ Pork)
Spiced, savory, and sweet–this char siu recipe is a traditional take on Chinese roasted pork that goes well with anything: steamed bao, white rice, and even noodles.
Ingredients
Marinade
680

g

(

1 ½

lb

)

pork butt/shoulder

50

g

(

4

tbsp

)

white granulated sugar

56

g

(

4

tbsp

)

fermented red bean curd sauce

20

g

(

2

pieces

)

fermented red bean curd

81

g

(

4

tbsp

)

honey

32

g

(

2

tbsp

)

dark soy sauce

45

g

(

2

tbsp

)

molasses

10

g

(

1

tbsp

)

kosher salt

Diamond Crystal brand

12

g

(

3 ½

tsp

)

garlic powder

1.5

g

(

¾

tsp

)

five spice powder
Basting sauce & assembly
67.5

g

(

3

tbsp

)

maltose

14

g

(

1

tbsp

)

boiling water

water

for roasting
Equipment Used
cooling rack

sheet pan

tongs

brush
Instructions
Cut the pork butt into two long strips horizontally and set aside.

In a small-sized bowl, combine the rest of the ingredients to make the marinade. Use a fork or a whisk to thoroughly incorporate the bean curd in the sauce. Reserve half of the marinade in another glass container, you will use this for the basting sauce later.

In a container, combine the pork strips and marinade making sure every side of the meat is thoroughly covered. Cover with a lid and marinate in the fridge for at least 8 hours or overnight. Halfway in the marinating process, make sure to turn the meat so that all sides get an even amount of marinating.

Remove the pork from the fridge at least 30 minutes before baking to bring the meat into room temperature; This will help to evenly cook the meat throughout.

Preheat the oven to 375 °F. Prep the basting sauce by warming up the maltose in the microwave for about 20 seconds. Mix the maltose and hot water together, then mix with the rest of the reserved marinade to create the basting sauce.

Place the marinated meat on top of a rack lined sheet pan. Place the pan in the middle rack of the oven. Add water enough in the sheet pan to fill about 1 inch from the bottom of the pan.

Bake for 20 minutes, turn over and baste the meat with a brush.

Bake for another 15 minutes, turn over and baste.

Turn the heat up to 425 °F and bake for 5 minutes or until the edges of the char siu begin to darken and caramelize. Take internal temperature, it needs to be at least 145°F.

Transfer the meat onto a cutting board, baste one more time, and let it rest for about five minutes before cutting. Serve the meat with steamed white rice and fresh veggies.
Nutrition Facts
Calories:
301.06
kcal
|
Carbohydrates:
35.94
g
|
Protein:
22.92
g
|
Fat:
7.37
g
|
Saturated Fat:
2.27
g
|
Trans Fat:
0.04
g
|
Cholesterol:
68.04
mg
|
Sodium:
1457.65
mg
|
Potassium:
562.77
mg
|
Fiber:
0.24
g
|
Sugar:
31.75
g
|
Vitamin A:
0.78
IU
|
Vitamin C:
0.15
mg
|
Calcium:
64.41
mg
|
Iron:
1.98
mg
Like this recipe? Subscribe to my newsletter!