Sweet, rich, and melt in your mouth pork asado braised to perfection wrapped in a super soft and pillowy steamed bun–this siopao asado will satisfy any hunger craving.
My parents' love language was food, so they always made sure they fed us small Filipino snacks, like siopao or beef empanadas, during our many family road trips to prevent hangry tantrums. Even as an adult, I love keeping these in the freezer or buying extra at the store to keep on hand.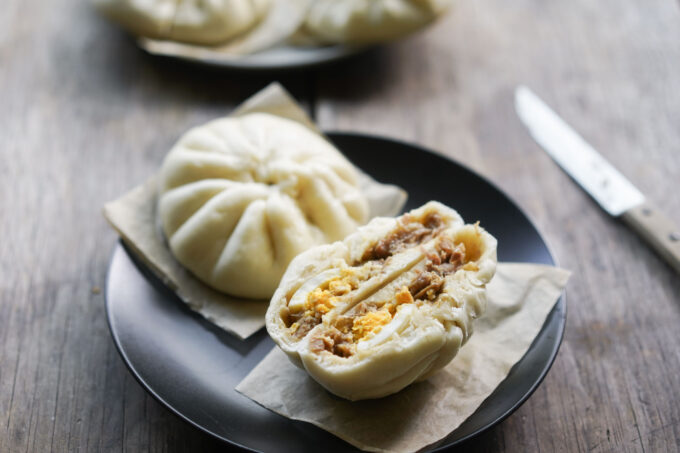 What is siopao asado?
Siopao Asado, pronounced "shoo-pow," is a Filipino steamed meat bun that shows the influence from Chinese immigrants and also Spanish colonialists. Siopao looks very similar to Vietnamese bánh bao, and Chinese char siu bao, except it's much larger in size sometimes. I've had siopao that was bigger than the size of a fist!
For the most part, siopao and char siu bao look very similar. They are white in color, steamed, and are sweet, but they differ in their fillings. The siopao asado filling is made of braised and stewed pork shoulder, hoisin, oyster sauce, and other ingredients, whereas char siu bao is made from roasted pork chopped into a thick red sauce of five-spice, sesame oil, and other ingredients.
The asado filling may have had influence from Spanish colonialists due to its similar name as Mexican carne asada, but it's similarities end there. The name asado comes from the Spanish word that means "grilled," and Philippine asado evolved from grilled to braised and stewed meat.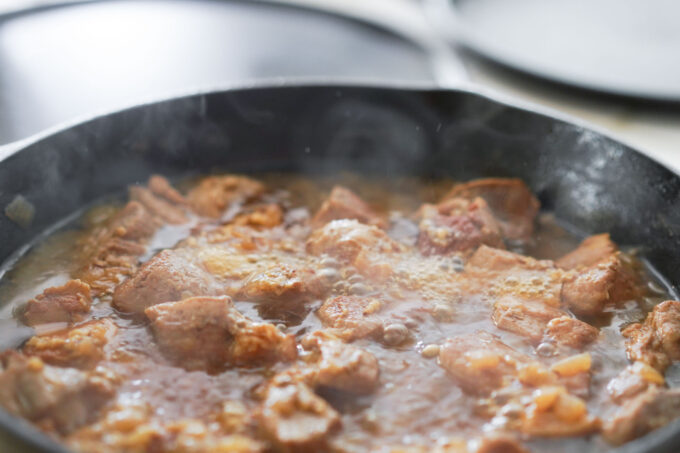 These days you can find siopao at many Filipino restaurants, bakeries, and grocery stores that sell various types and flavors. They also have different markings at the top to signify which flavor is which.
While there are also other fillings like siopao bola bola (a meatball version), I prefer siopao asado because I love the sweet stewed and peppered flavor. For this version, I added sliced, boiled eggs as a customary extra–always add eggs to everything!
Siopao dough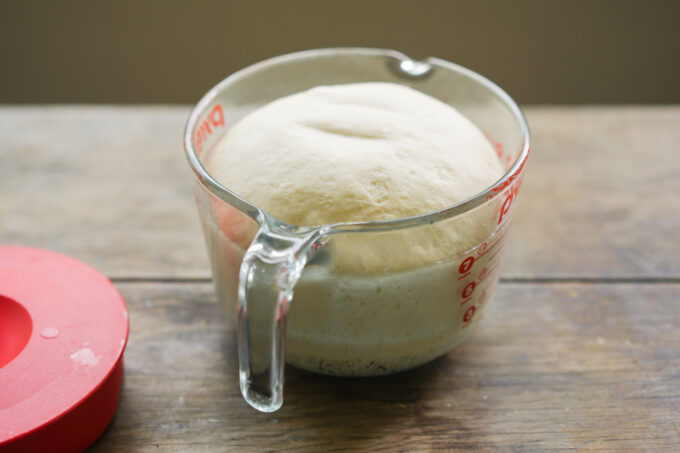 The dough for siopao needs to be super fluffy and soft, which is why I am using the same dough recipe as my char siu bao, steamed bao buns, and mantou recipe. Based on my experience the char siu bao dough has a similar flavor profile and texture, so I'm sticking with the same recipe. 
Asado filling
The filling for siopao asado is just as important as the dough, sometimes more so (I went through a phase as a kid where I just ONLY ate the filling and gave my mom my siopao scraps). Yes disgusting, I know.
To make the filling I followed a traditional process of braising and stewing to get ultra tender pieces of pork shoulder. In the beginning I also seared the meat to get a nice caramelization on the meat and enhance the flavor.
After searing, I saute garlic and onions in the same pan and de-glaze all of the caramel goodness with water, soy sauce, and salt to make a flavorful liquid that the meat will braise in for an hour.
I finish the asado by chopping the meat in fine pieces and cooking it down with some of the pork broth, oyster sauce, hoisin, dark brown sugar, pepper, and a mixture of cornstarch water to thicken. This viscous asado filling will give you a profile of sweet, savory, and peppery flavors all in one.
Cooking tips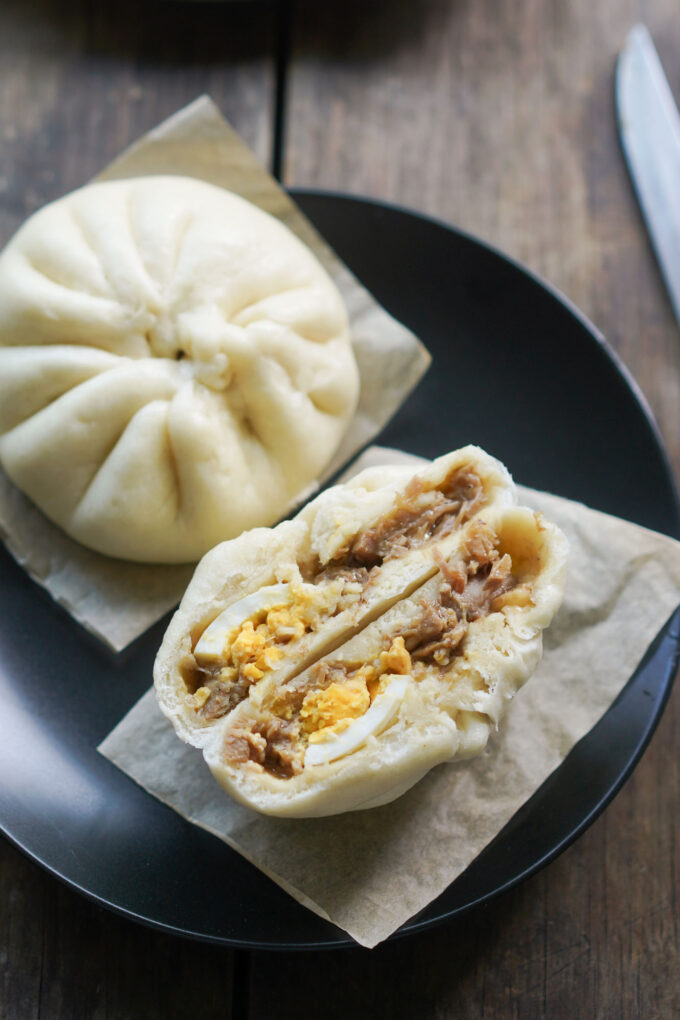 Here's some of my favorite tips for the getting great results with siopao:
To use your time wisely, I like to use the following timeline: (1) braise meat, (2) make dough & proof, (3) make asado filling, (4) boil eggs, and (5) assemble siopao. Note: I start with the meat first because you need time to cool the filling down before adding it into the dough.
Braise your meat to get tender and flavorful meat. I know this takes an hour, but it's worth getting that soft and melt in your mouth texture.
Proof your dough until it's doubled, even if that means two hours. I've made this dough in different temperatures and proofing can take from one hour to two hours and it's necessary to build up the gluten and get fluffy soft siopao dough.
Punch your dough after it's done proofing to get rid of excess gas. Not doing this will give you bubbles in your dough when rolling out.
Chop the braised meat to make sure you get meat in every bite.
When rolling out your dough, leave the center a little thicker to ensure you get an even amount of dough in each bite. Since you're folding the top over consecutive dough folds, it will end up thicker than the bottom. If you leave the center of your dough thicker, it evens out the top and bottom dough ratio.
Proof the dough a second time for a shorter 15 minutes before steaming to get them super fluffy! I'm amazed at how much fluffier they get by proofing an additional time. Typically, by the time I'm done with folding all my siopao, my first batch is already done proofing so win win!
Save extra siopao in the freezer in an airtight container for a snack in the future! They're easy to reheat in the microwave, you just need to wrap it in a wet towel and microwave for one to two minutes on high.
Siopao Asado (Filipino Steamed Pork Buns)
Hot and steaming buns that are ultra soft to the touch and sweet and peppery to the taste–this siopao asado recipe is a great way to prep future snacks you can pop into the microwave.
Ingredients
Braise
1 ½

lb

pork shoulder/butt

cut into 1 inch cubes

1

tsp

vegetable oil

1

tbsp

garlic (5 cloves)

minced

1

c

yellow onion (half yellow onion)

chopped

4

c

water

1

tsp

salt

1

tbsp

light soy sauce
Dough
470

g

(

3 ¾

c

)

all purpose flour

100

g

(

¾

c

)

cornstarch

10

g

(

2

tsp

)

baking powder

8

g

(

2 ¼

tsp

)

instant active yeast

100

g

(

½

c

)

white sugar

9

oz

(

1

c

)

water

2

oz

(

¼

c

)

vegetable oil

plus a little extra for greasing the mixing bowl
Asado filling
1 ½

c

braised pork shoulder

from above

1 ½

c

pork broth

from braised pork

1

tbsp

oyster sauce

1

tsp

hoisin

4

tsp

dark brown sugar

¼

tsp

black pepper

2

tbsp

cornstarch

4

tbsp

water
Assembly
3

boiled eggs

sliced into quarters lengthwise
Instructions
Braise
Prep your meat by patting it dry. Heat a medium sized pot over medium heat and add vegetable oil. In small batches, brown the pork pieces on each side for about one minute or until each side has a nice golden coloring. Turn the pieces as each to brown and move in batches to not crowd the pan.

Remove all the browned meat from the pan and add in the chopped onions and saute for one minute or until fragrant. Add the garlic and saute for about 30 seconds until it's toasted light brown.

Add the water into the pot and stir to deglaze the bottom of the pan. Then mix in the soy sauce and salt to the pot. Lastly, add the browned meat back in and make sure the meat is covered by the water. Add more water if necessary.

Raise the heat to high until it reaches a boil and then lower to medium-low to simmer for one hour, covered. Check on this braise every 20 minutes to mix the meat around and add just enough water to keep the meat submerged if necessary.

The finished meat should be significantly softer and easy to break apart.
Dough
Since the braise takes one hour, prep your dough as soon as you put the braise on a simmer.

Sift cornstarch, baking powder, and flour together, then add to your stand mixer with the dough hook attachment. Add sugar and instant active yeast and turn the mixer onto stir.

Turn the stand mixer on low and slowly add the water and vegetable oil. Continue to mix the mixture for about eight minutes until the dough is released from the sides and is smooth.

Remove, take off from the bowl, shape the dough into a ball.

Lightly grease the inside of the mixing bowl with one teaspoon of neutral oil and place the dough back into the bowl. Cover with a damp towel and leave it to proof for at least one to two hours or until the dough has doubled in size near a warm windowsill.
Asado filling
Transfer the softened meat to a cutting board and carefully use tongs and a knife to mince the meat into smaller pieces. They should easily shred when cut with a knife with little resistance.

In a large saucepan over medium heat, add the chopped meat, pork broth, oyster sauce, hoisin, dark brown sugar, and pepper. Mix thoroughly until the sugar and pepper dissolve. Cook for one minute.

In a separate small bowl, mix together the cornstarch and water until starch is incorporated.

Raise the saucepan to medium-high and stir in the cornstarch water mixture. Bring the sauce to a boil and stir consistently for 8-10 minutes or until the sauce thickens to a pudding consistency (see photo for final texture).

Remove from heat and let cool before assembling siopao.

Boiled eggs: Boil a small pot with water and add in eggs for 10 minutes. Remove eggs to cool (I put them in an ice bath), peel the shells, and cut into quarters lengthwise.
Assembly & steaming
After your dough doubles in size (it may take two hours), punch your dough to remove excess gas.

Move the dough onto a floured surface and lightly knead the dough with the heel of your hand for about one minute until it's smooth and shaped into a ball.

Cut the dough in half and place one half back into the mixing bowl, covered to prevent it from drying out. With your current half, use your palms to roll it into a large log about 6 inches. Cut this log into 6 even pieces.

Take one piece and use a rolling pin to roll it out into a four inch diameter circle. If necessarily, sprinkle flour on the surface to prevent sticking. Then, use your rolling pin to thin out the edges of the circle while keeping the middle section the same thickness. Your dough should be the size of about 5 inches now.

Add three tablespoons of the asado filling in the middle of the circle and one slice of egg on top centered.

To fold, hold your wrapper filled with meat on your non-dominant hand. With your dominant hand, take your thumb and pointer finger and begin to fold the edges around the meat. This should look like pleating. I like to use my non-dominant hand's pointer and index finger to guide more dough into the pleating. Continue to pleat in a circle until you reach the first pleat and close off the entire top with a pinch. The siopao should have a swirl pattern on the top. Add a small sheet of parchment underneath for it to rest on. Repeat with the rest of the siopao.

Before steaming, cover the wrapped siopao with the same damp cloth from before and proof again for about ten to 15 minutes.

Add about one and a half inches of water in your pot, but not too much that it's touching your steamer. Preheat your steamer before adding the siopao for about two minutes.

Add your siopao into the steamer and leave one inch space between each siopao because they will grow slightly in the steamer.

Steam the siopao for about 20 minutes and do not remove the lid during this time.

After they're finished, remove the siopao from the steamer and serve immediately. Repeat with the other siopao.

Freezing: You can freeze leftover siopao in an airtight container for up to one month. To reheat, wet a towel and wrap it around your siopao on a plate. On high heat, microwave for one minute. If it needs more time, add increments of 30 seconds until it's softened and warm.
Notes
Please note if you're using the slider to scale up or down these recipes, that the flour measurements by volume will be inaccurate. Measuring by weight will always be more consistent when baking anyways 🙂
Nutrition Facts (per serving)
Calories:
342.8
kcal
|
Carbohydrates:
50.7
g
|
Protein:
13.2
g
|
Fat:
9.4
g
|
Saturated Fat:
5.5
g
|
Cholesterol:
69.8
mg
|
Sodium:
569.9
mg
|
Potassium:
228.1
mg
|
Fiber:
1.5
g
|
Sugar:
10.3
g
|
Vitamin A:
65
IU
|
Vitamin C:
3.5
mg
|
Calcium:
75.2
mg
|
Iron:
2.6
mg
Nutrition Facts
Siopao Asado (Filipino Steamed Pork Buns)
Amount Per Serving
Calories 342.8
Calories from Fat 85
% Daily Value*
Fat 9.4g14%
Cholesterol 69.8mg23%
Sodium 569.9mg25%
Potassium 228.1mg7%
Carbohydrates 50.7g17%
Protein 13.2g26%
Vitamin A 65IU1%
Vitamin C 3.5mg4%
Calcium 75.2mg8%
Iron 2.6mg14%
* Percent Daily Values based on a 2000 calorie diet.
Like this recipe? Subscribe to my newsletter!