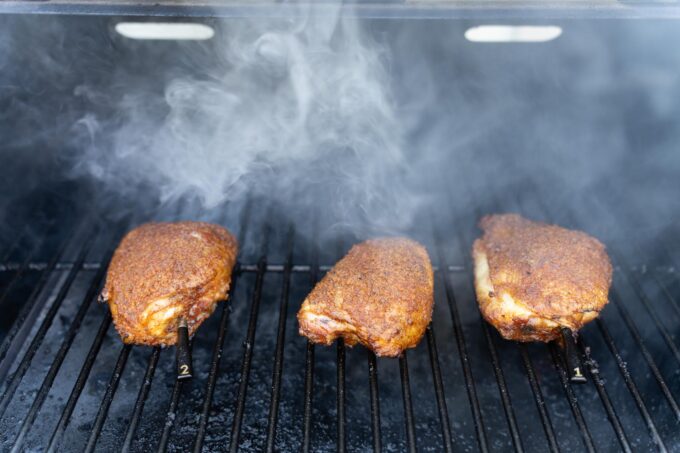 These smoky and spiced chicken thighs are so juicy and tender that you won't want chicken thighs any other way. It's pretty foolproof, all you need is a bit of time to let that dry rub do its magic.
Follow along to learn the best way to smoke chicken thighs using the right temperatures and dry rub with this recipe below. Yes I know it says Traeger only because I used a Traeger with pellets, but you can achieve the same results using any brand smoker. Let's smoke!
Type of chicken thighs to use
This smoked chicken recipe calls for bone-in and skin-on chicken thighs. I always prefer skin-on when grilling or smoking because it keeps moisture inside the poultry, not to mention I like eating skin.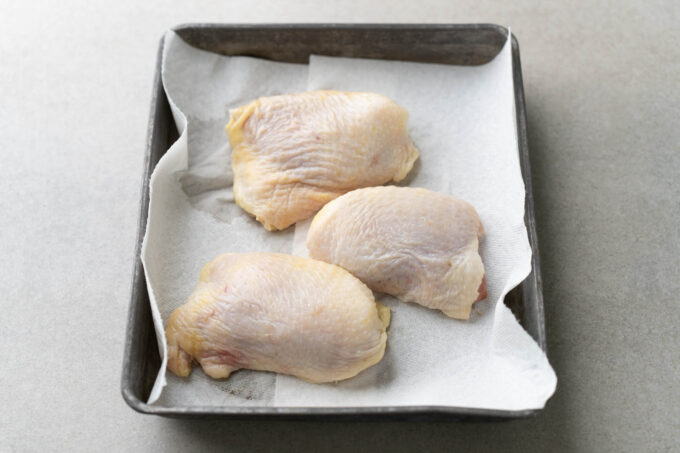 Bone-in chicken also allows for more flavor to be released during the cooking process. Eating with the bone might be a little tricky, but it's worth it for the taste. I've also found it's nearly impossible to find skin-on, boneless chicken thighs anywhere. I typically only find bone-in and skin-on chicken thighs or boneless and skinless varieties.
Seasoning for smoking chicken thighs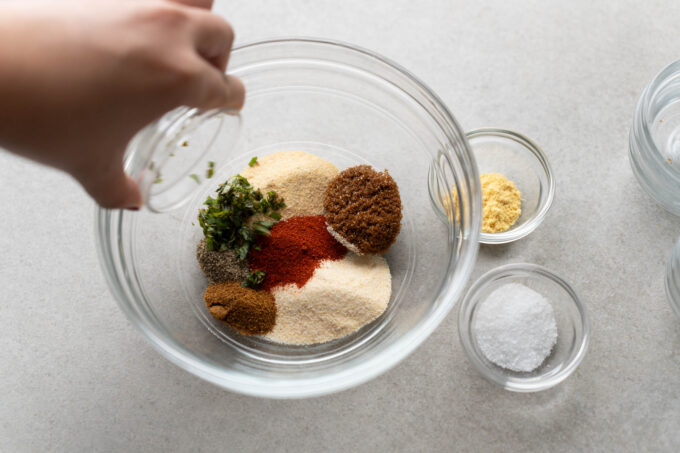 I season these chicken thighs with a dry rub of brown sugar, garlic powder, onion powder, fresh oregano, ground mustard, cayenne, smoked paprika, salt, and pepper. The key is to allow the chicken to marinate for at least four hours in the fridge, uncovered, to get a good flavor on the chicken and prep the skin to dry off a little for a crispier skin.
Make sure that the entire chicken thigh gets covered with seasoning, even the bottom. I also like to peel the center of the skin from the meat to make a little pocket and add seasoning in between to get more flavor. I recommend using a spoon to add about a teaspoon of seasoning in between and spread it around.
What temperature to smoke chicken thighs
Smoking at a lower temperature, like 225 °F, allows for a longer cooking time and a better smoky flavor in the chicken thighs, just like smoked turkey breast. If you go higher, you might risk dry or bitter-tasting chicken.
I smoked these chicken thighs at 225 °F for about 1 ½ hours or until the internal temperature reached 165 °F. I prefer smoking chicken thighs at a lower temperature to ensure they don't dry out while cooking. I crank the temperature to 400 °F at the end and cook for another 10 minutes or until the internal temperature reaches 175 °F to allow the skin to crisp up.
How long to smoke bone-in chicken thighs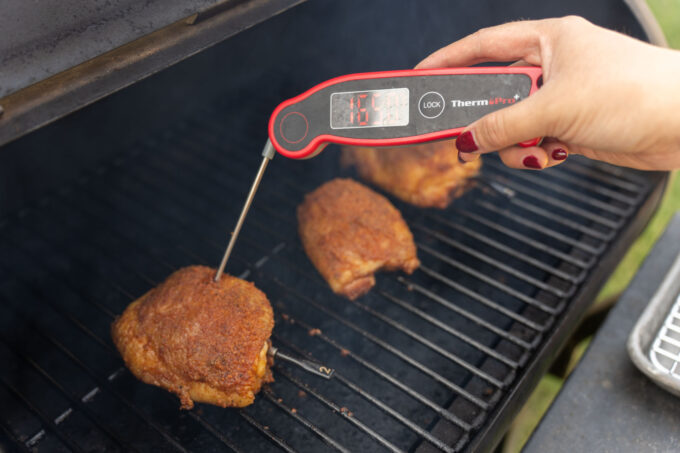 Since chicken thighs are darker meat, they can and should be cooked until they reach an internal temperature of 175-180 °F. This takes about 1 ½ to 2 hours at 225°F, with an additional 10 minutes at a higher temperature of 400 °F to crisp up the skin.
Cooking them longer and reaching this temperature allows the connective tissue to break down, giving you juicy and extra tender chicken pieces. This is, however, NOT recommended for chicken breasts because they will become rubbery at higher temperatures.
Do you need to flip chicken thighs when smoking?
When smoking chicken thighs, I do not flip the chicken during cooking like grilled chicken. Some say that leaving the chicken skin-side up the entire smoking time allows the fat to render from the top to the bottom.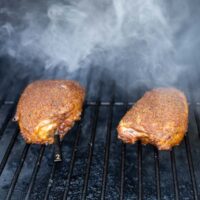 Traeger Smoked Chicken Thighs
Dry rubbed and full of flavor. Skin on, bone-in is the best way to go in my opinion. Try these savory, smoky, and caramelized chicken thighs for your next bbq.
Ingredients
Chicken thighs
1 ½

lbs

chicken thighs

bone-in and skin-on

olive oil
Dry rub
1

tbsp

dark brown sugar

1

tbsp

garlic powder

1

tbsp

onion powder

1

tsp

fresh oregano

minced

1

tsp

ground mustard powder

1

tsp

smoked paprika

½

tsp

cayenne powder

1 ½

tsp

kosher salt

½

tsp

ground black pepper
Equipment Used
smoker

pellets or wood chips

paper towel

tongs

small mixing bowl

spoon or small whisk

plate

measuring cups and spoons
Instructions
Use a spoon to peel the center of the skin and meat to make a pocket. Place a teaspoon of the dry rub into this pocket and spread it thoroughly.

Place the chicken thighs on the plate and refrigerate for at least four hours (and no more than 12 hours) uncovered. Remove them from the fridge and place them on the counter to come to room temperature for at least 30 minutes up to an hour before smoking.

Preheat the smoker for ~5 minutes or according to your manufacturer's suggestion. My Traeger needs about 5 minutes with the lid on. Afterwards, crank the temp knob to 225 °F.

Smoke the chicken directly over the grates until it measures 160 °F at the thickest part near the bone with an instant-read thermometer.

Raise the temperature to 400 °F and continue to cook for an additional 10-15 minutes, or until the internal temperature measures 175 °F and the skin is crispy.
Nutrition Facts (per serving)
Calories:
537.6
kcal
|
Carbohydrates:
9.69
g
|
Protein:
37.92
g
|
Fat:
38.14
g
|
Saturated Fat:
10.22
g
|
Polyunsaturated Fat:
7.99
g
|
Monounsaturated Fat:
15.81
g
|
Trans Fat:
0.19
g
|
Cholesterol:
222.26
mg
|
Sodium:
1342.67
mg
|
Potassium:
564.95
mg
|
Fiber:
1.36
g
|
Sugar:
4.28
g
|
Vitamin A:
657.33
IU
|
Vitamin C:
0.9
mg
|
Calcium:
49.17
mg
|
Iron:
2.31
mg
Nutrition Facts
Traeger Smoked Chicken Thighs
Amount per Serving
% Daily Value*
* Percent Daily Values are based on a 2000 calorie diet.
Like this recipe? Subscribe to my newsletter!