Kare kare is a rich and peanut buttery oxtail and beef stew that is braised for over two hours, includes a cornucopia of tender vegetables, and served with a side of steaming white rice
Like sinigang na baboy, kare kare is a classic Filipino stew that makes it the perfect comfort food. This hearty dish is definitely a labor of love, but it's worth making and sharing for your next dinner party!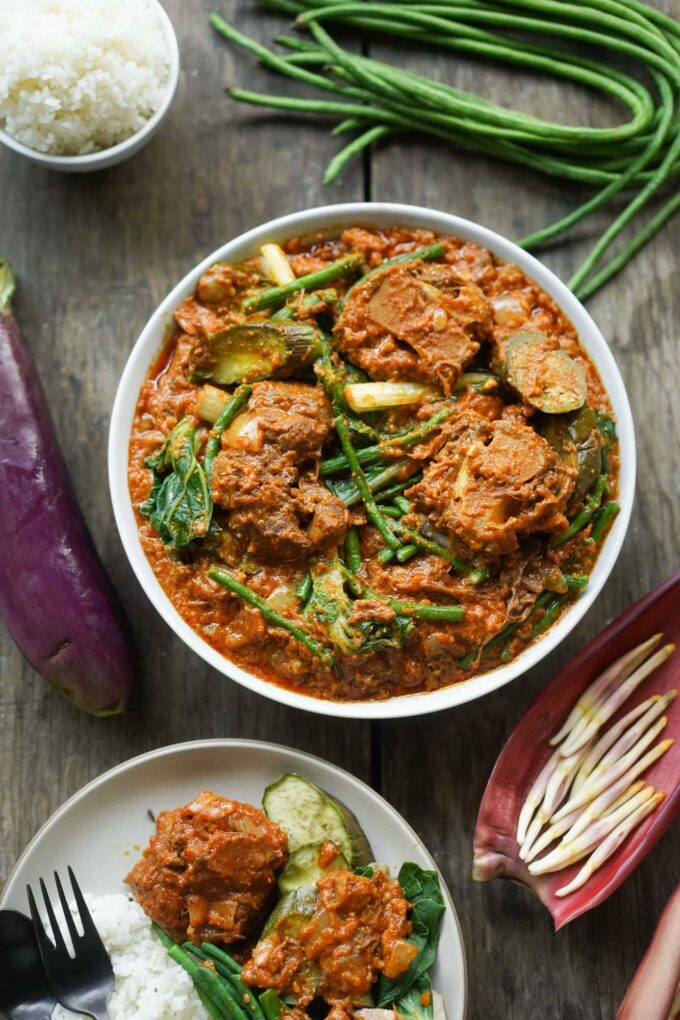 Recipe background
In general, kare kare is a peanut based stew spiced with annatto powder (or achiote oil) to get it's marigold coloring and filled to the brim with various meats (like oxtail or beef) and vegetables (like eggplant, pechay, string beans, and more). It's one of the Philippines' most loved dishes, but it also comes with a confusing origin.
There are about three general ideas of where kare kare comes from: the Kapampangan version where a traditional dish kari is thought to have been the original kare kare; precolonial Moro elite that states kare kare as a traditional dish in Sulu and Tawi-Tawi; and the Sepoy soldiers from the Southern Indian British colonies where kare kare evolved from a type of curry.
Whatever the origin details of this delicious dish comes from, it's evolved into a rich and flavorful stew that's beloved in the Philippines and in America. As a kid, I always referred to this as peanut butter stew after I saw my mom adding the peanut butter once (which I thought was WEIRD, but still ate it).
Honestly, I didn't even really know the term "kare kare" until I went to high school and saw my Tagalog-speaking friends talking about it. After learning to cook as an adult, I now truly understand the flavor bump that peanut butter adds to this dish.
Making kare kare from scratch can often be time consuming due to the braising process (which can take upwards of 2-3 hours based on my experience), but it's always worth it. What's amazing about this dish, like pork adobo or chicken adobo, is that it just gets better the day after because the flavors really melt into each other.
The meat: oxtail and beef
Traditionally people use oxtail, tripe, pig feet, or even seafood for kare kare. My love of oxtail surpasses the levels of annoyance I get sometimes when I realize how long it takes to braise properly.
It's flavorful and juicy pieces of meat fall off the bone if you braise it long enough and for me, it's definitely worth the wait. I added beef shanks because (1) it's more meat, duh and (2) it's relatively cheaper than buying two pounds of oxtail.
Before braising, I like to sear the meat to get a nice golden crust on each side and then finish off with sauteing garlic and onions for the braise. This sets us up for a really flavorful braise, you just want to make sure you add enough water at the beginning and top it off throughout this two to three hour braising process.
Peanuts, peanut butter, and toasted rice powder
Peanuts are a very big part of this dish and give it it's signature taste, but I know there's a very fine line between a nutty kare kare and a stew that tastes like you're eating straight peanut butter. To thicken the sauce and add a little bit more peanut taste, I use smooth peanut butter to amp up the flavor.
I follow a traditional recipe of making ground peanuts through a powerful blender that can grind ingredients like ice (I tried using a food processor and it wasn't powerful enough to give me powdery peanuts or ground rice). Grinding peanuts can be a little tricky because you want just enough fineness to not be crunchy, but you also don't want to end up with peanut butter. I like to use my Nutribullet and blend for about 10 seconds or in short spurts until I see fine peanut grounds.
Other ingredients in the sauce are also toasted and ground rice which also acts as a thickener and gives another complexity of nuttiness of the dish, and annatto powder that gives a golden orange coloring (like for chicken inasal and pork tocino). 
Vegetables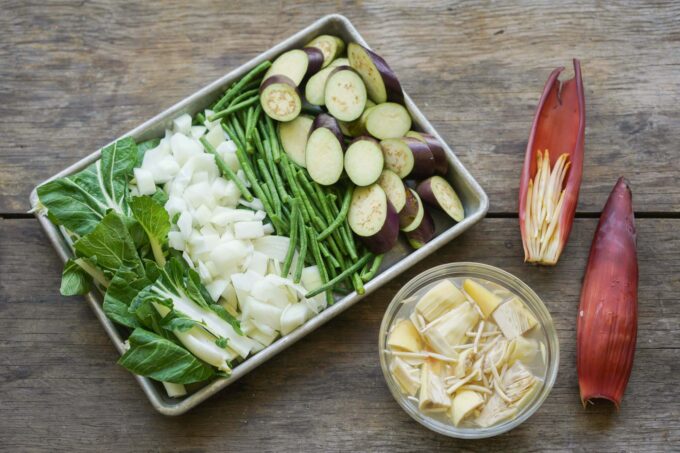 Some traditional vegetables that I add into this kare kare recipe are eggplant, pechoy (or regular bok choy), long string beans, and banana hearts (this is also used in our bún bò Huế recipe). You can buy banana flowers at Asian supermarkets and peel the tough outer layers until you reach the light yellow center. This is the banana heart. I like to cut this into quarters and then soak it in lemon or lime water to keep it from changing colors.
You can also add green beans, cabbage, daikon, and more. One of the things I like to do is blanch the vegetables before adding them into the kare kare. This makes sure all the vegetables are evenly cooked when you add them into the stew.
Tips
To make your kare kare more affordable, try to add cuts of meat that are often used for long braised stews like beef shanks.
If you are using additional meat like beef shanks, cut the meat into similar sizes so they cook evenly during braising.
Use a blender that is powerful enough to pulverize the peanuts and toasted rice. I used a Nutribullet because my food processor left me some larger pieces. Also be careful not to over-pulverize the ground peanuts because they might end up like peanut butter, which we don't want.
Cool the toasted rice before blending it into a pulp. This is mostly for safety just in case your blender or food processor doesn't react kindly to super hot food. I like to cool it down in front of a fan.
Blanch your vegetables before adding them into the stew to make sure they're all cooked evenly. You don't have to play the game of "are the beans going to cook the same time as the eggplant?" I like to prep the vegetables during braising.
Many times kare kare is served with a side of fermented shrimp paste to add a nice salty flavor.
What does kare kare mean?
Kare kare is an evolved stewed meat that has a contested culinary history in the Philippines. It's most likely taken from the dish "kari-kaari," which has Indian influences of curry.
Is kare kare a curry?
Technically, I would not say kare kare is a curry, but it does have influences of curry in it's confusing history. Many believe that kare kare evolved from Indian soldiers from a Southern Indian British colony who traveled to the Philippines before Spanish colonization.
Kare Kare (Filipino Oxtail, Vegetable & Peanut Sauce Stew)
This ultra tender oxtail and beef shank stew is a Filipino classic that is well known for it's peanut buttery flavor. Learn how to make this kare kare recipe for your next family gathering.
Ingredients
Prepping ingredients
½

c

peanuts

unsalted and dry

¼

c

white rice

2

8-inch Japanese eggplants

cut into 1 inch pieces

1

banana heart

peeled and chopped into 1 inch cubes

1 ½

c

long string beans (about 5 string beans)

cut into 4-inch pieces

3

c

bok choy (about 2 large heads)

individually peeled and chopped into 2 inch pieces
Kare kare
1

tbsp

vegetable oil

1 ½

c

yellow onion (about 1 medium onion)

chopped

1

tbsp

garlic (about 5 cloves)

minced

2

lb

oxtail and beef shank

from above

3

c

braising liquid

from above

1

tbsp

annatto powder

¼

c

smooth peanut butter

1

tbsp

fish sauce

1 ¾

tsp

salt

½

tsp

black pepper
Instructions
Braising
In a large stock pot over medium high heat, add the vegetable oil and sear the pieces of meat until each side has a nice brown crust. This should be about one minute on each side. Sear in batches to not crowd the pan.

Set aside the meat on a clean plate. Add the chopped onions and saute for about one to two minutes or until slightly translucent. Then add the garlic and saute for about 30 seconds until the garlic is fragrant.

Add about two cups of water to the pot and deglaze the bottom.

Add all the meat, the rest of the water, and salt into the pot and bring to a boil. Lower to medium low heat to a simmer, cover the pot, and braise for 2-3 hours or until the oxtail and beef shank pieces are super tender and fall off the bone.
Prepping ingredients
Ground peanuts: place peanuts in a food processor or powerful blender and process until it turns into fine pieces for about 10 seconds. Try not to blend for too long because it will turn into a paste.

Toasted ground rice: In a small pan over medium heat, add the rice and stir constantly until it begins to turn brown on the edges of the grains. It will take about one minute. Move the pan around to prevent burning the rice. Turn off the heat and allow the rice to cool for about five minutes.

Transfer to a strong blender like a Nutribullet. Process the rice until it turns into fine pieces–like powder.

Banana flower: Peel the tough purple leaves of the banana flower off until you reach the lighter yellow center. (This process is similar to artichokes). Once you reach the center, cut the heart into quarters and soak it in a lemon or lime water bath to prevent it from changing colors.

Vegetable blanching: Prep the vegetables (eggplants, banana hearts, string beans, and bok choy) by cleaning them in water and cutting them into the appropriate size. In a pot of boiling water, cook each of the vegetables by boiling them in hot water until slightly tender, then give them an ice bath to prevent further cooking.
Kare kare
In a pot over medium heat, add the vegetable oil and saute the chopped onions for about one minute or until slightly translucent. Then, add the garlic and saute for about 30 seconds.

Add in the braising liquid (without the meat for now), annatto powder, and peanut butter. Stir together until it's all combined.

Add the ground peanuts and toasted ground rice, and fish sauce into the pot and stir until all ingredients are incorporated.

Then add the braised meat and mix in the salt and pepper.

Simmer for about 15 minutes on low to thicken. See photo here for final sauce consistency. Taste the sauce to see if it needs adjusting.

Add in the blanched vegetables and cook for an additional 3 minutes and stir.
Nutrition Facts (per serving)
Calories:
363
kcal
|
Carbohydrates:
11.1
g
|
Protein:
30.4
g
|
Fat:
22.6
g
|
Saturated Fat:
9.1
g
|
Cholesterol:
75.6
mg
|
Sodium:
1747
mg
|
Potassium:
394.4
mg
|
Fiber:
3.2
g
|
Sugar:
2.8
g
|
Vitamin A:
13
IU
|
Vitamin C:
1.2
mg
|
Calcium:
48.6
mg
|
Iron:
3.8
mg
Nutrition Facts
Kare Kare (Filipino Oxtail, Vegetable & Peanut Sauce Stew)
Amount per Serving
% Daily Value*
* Percent Daily Values are based on a 2000 calorie diet.
Like this recipe? Subscribe to my newsletter!