Tender and smoky grilled veggies basted with garlic, basil, and oregano seasoning–This vegetable kabob (or vegetable skewer) recipe is a super simple and fast way to get your daily veggies in a flavorful dish. Throughout history, skewering food and grilling it over a fire has been a go-to method and for a good reason, it's delicious.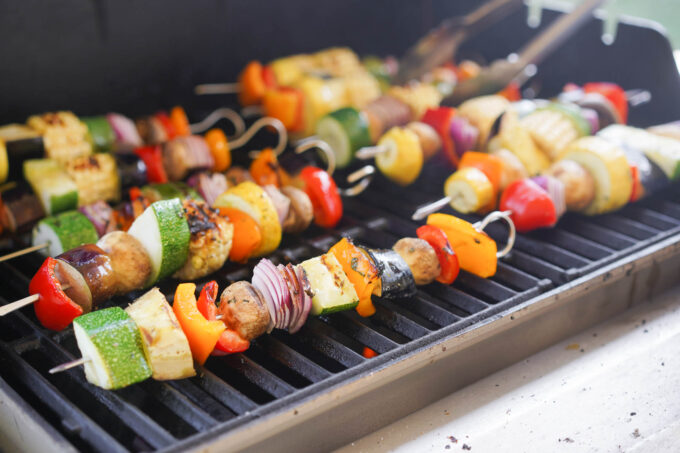 Which vegetables are good for grilling?
I like using an assortment of vegetables for grilling because I like having various textures, flavors, and also colors when eating. Some of my favorite vegetables to grill are sweet corn, zucchini, eggplants, and bell peppers. These vegetables hold their shape fairly well on the grill and don't disintegrate with the high heat.
The veggie kabob seasoning
For grilling, I like to baste the vegetable kabobs with an easy marinade of olive oil, garlic, oregano, basil, salt, and pepper. I also like to add a small amount of sesame oil (which is completely optional) because it adds another level of flavor to each vegetable. Right before I add the skewers to the grill, I baste each skewer thoroughly.
How to skewer the vegetables
To make veggie skewers, I like using metal skewers because they feel sturdy, are easy to pierce vegetables with, and are easy to slide grilled vegetables off after cooking. Metal skewers are also reusable, which makes it a win for me!
If you don't have metal skewers, you can also find bamboo skewers at your local grocery store. Just remember that you need to soak bamboo skewers for about 30 minutes before grilling, otherwise they might catch on fire and burn.
How to grill the veggie skewers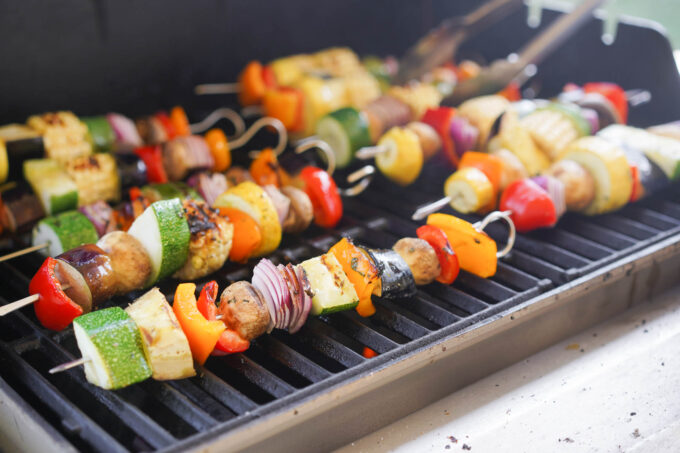 Here are some quick tips on how to grill veggie kabobs:
Preheat your grill to medium heat (or about 350 °F). If your grill is too hot, it will scorch your veggies and cause uneven cooking. If you're using a charcoal grill, learn how to start a charcoal grill here properly.
Veggie skewers take about 15-20 minutes of grilling, but it's important to check your vegetables at the halfway point, around 7 minutes and turn them once they've gotten grill marks on the bottom. 
After you flip them the first time, check on them every 2-3 minutes to prevent them from burning. They cook fairly quickly after the first turn. 
Are grilled vegetables healthy?
Grilled vegetable skewers or veggie kabobs are a good option for a quick and healthy side dish for dinner. The health benefits also depend on the ingredients of your marinade or seasonings along with the variety of vegetables you grill. So long as you're not completely drenching the veggies in oil, it's one of the healthier additions to my weekly routine.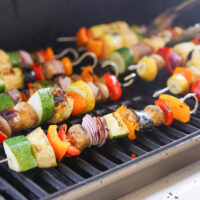 Veggie Kabobs (Grilled Vegetable Skewers)
Plump, juicy and flavorful vegetable skewers are within an arm's reach with this super easy and quick healthy side dish.
Ingredients
Vegetables
1

red bell pepper

cut into 1×1 pieces

1

medium-sized zucchini

cut into ½ inch slices

1

medium sized yellow squash

cut into ½ inch slices

1

red onion

cut into 1×1 pieces

2

ears corn

cut into ¾ inch slices

24

white button mushrooms

2

medium-sized Japanese eggplants

cut into ½ inch slices
Basting sauce
8

tbsp

olive oil

1

tsp

sesame oil

optional

1

tsp

garlic

minced

1

tsp

dried oregano

2

tsp

fresh basil

minced

1

tsp

salt

½

tsp

pepper
Equipment Used
knife and cutting board

12 skewers

BBQ grill

tongs
Instructions
Preheat your grill to medium or 350 °F.

Prep and clean your vegetables.

Add your vegetables onto the skewers in an alternating pattern.

In a bowl, combine the basting sauce ingredients and mix until fully incorporated.

Use a basting brush and apply the basting sauce over each vegetable skewer so that it soaks up all the flavorings. Repeat with all the skewers.

Use tongs to transfer the skewers on the grill so they lay perpendicular to the grill grates and you get nice grill marks later on. Close the lid and grill for about 10 minutes and flip them over. Cook for another 5-10 minutes depending on your preference for doneness.

Check for doneness by poking the corn, if it's plump and juicy, they're good to go. The mushrooms should be nice and browned, but not too tender where it falls apart.

Remove the skewers from the grill and serve immediately.
Nutrition Facts (per serving)
Calories:
129.73
kcal
|
Carbohydrates:
9.09
g
|
Protein:
2.73
g
|
Fat:
10.21
g
|
Saturated Fat:
1.45
g
|
Trans Fat:
0.01
g
|
Sodium:
201.48
mg
|
Potassium:
378.08
mg
|
Fiber:
2.63
g
|
Sugar:
4.64
g
|
Vitamin A:
416.91
IU
|
Vitamin C:
21.82
mg
|
Calcium:
16.48
mg
|
Iron:
0.67
mg
Nutrition Facts
Veggie Kabobs (Grilled Vegetable Skewers)
Amount Per Serving
Calories 129.73
Calories from Fat 92
% Daily Value*
Fat 10.21g16%
Sodium 201.48mg9%
Potassium 378.08mg11%
Carbohydrates 9.09g3%
Protein 2.73g5%
Vitamin A 416.91IU8%
Vitamin C 21.82mg26%
Calcium 16.48mg2%
Iron 0.67mg4%
* Percent Daily Values based on a 2000 calorie diet.
Like this recipe? Subscribe to my newsletter!