If you're looking for some inspiration for a quick breakfast and you happen to have some leftover pesto from the night before, then let me introduce you to a fun new way to eat fried eggs on toast–the pesto egg!
This open-faced pesto egg sandwich is full of herby, garlicky flavors, and the richness of fried eggs on top of a tangy sourdough toast.
What are pesto eggs?
Pesto eggs were popularized on TikTok by Amy Wilichowski and garnered over one million likes in the past year. In her version, she uses pesto as a base for cooking fried eggs on a pan and tops it with her ricotta avocado toast.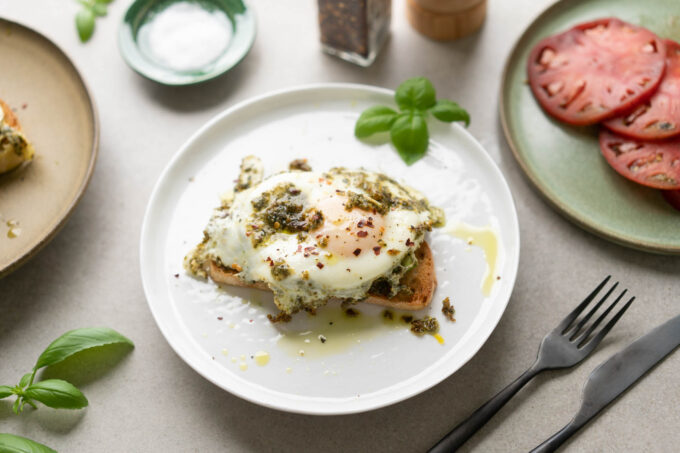 After trying out so many viral TikTok recipes like grated egg avocado toast, salmon bowls, and baked feta pasta, I HAD TO try this one out because pesto pasta is one of my favorite dishes. So why not try it on fried eggs AND avocado toast?!
Pesto egg ingredients
This might be one of the easiest ways to use leftover pesto (if that's even a thing) and turn it into a breakfast staple. For this open-faced pesto egg sandwich, all you need are:
Sourdough bread: The tangy flavors of sourdough bread helps to cut the fattiness of the pesto eggs. Try to find some fresh bread from your local bakery or grocery store so it's also easier to slice and not too hard when you toast it.
Large eggs (organic, pasture-raised eggs are recommended)
Pesto: This can either be homemade pesto or store-bought. Some of my favorite store-bought pesto brands are Trader Joe's kale pesto or more readily available Buitoni pesto.
Ripe avocado
Other optional ingredients: heirloom tomatoes, red pepper flakes, microgreens
Tips for pesto egg success
I'll be honest, the first couple of times I made pesto eggs weren't the most successful batches because the cheese and basil in the pesto ended up burning too quickly. After making about a dozen of these pesto eggs, I've figured out many tips to help you succeed on your first go:
Use a nonstick pan: While I try to refrain from using nonstick pans in general, the stickiness of the pesto was hard to work with on my well-seasoned carbon steel and cast iron pans.
Add pesto to a COLD pan: This is probably one of my biggest tips. There is so much fat in pesto that if you add it directly to a heated pan, you'll be met with a bunch of oil splattering. Starting with a cold pan and heating up slowly helped manage the oil splatter.
Add two tablespoons to the middle of the pan and spread it into a circle bigger than the size of the egg. Crack the egg on top immediately after turning the stove on low heat and then add a few more drops of pesto to the whites of the egg–this gives extra flavor.
Use a lid to steam the egg on top and cook for one to two minutes or until the whites are opaque and cooked. When I tried to turn the egg, it turned into a pesto mess. Using a lid to steam the egg helped keep it from breaking.
Dress the toast with your preferred toppings like avocado, tomatoes, butter, or other ingredients, and then top with the egg.
More ways to enjoy pesto eggs
You don't have to stop at just fried egg and avocado toast for these pesto eggs. If you want a gluten-free version, you can always use pesto eggs on a dressed salad for a healthier option, or try scrambling the eggs with pesto instead of making fried eggs.
For more egg sandwich recipes, you should try Korean egg drop sandwiches and Japanese tamago sando.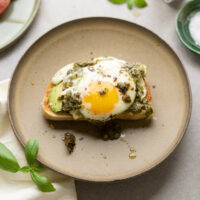 Pesto Eggs
Learn how to make this herby and garlicky viral pesto egg toast for your next breakfast.
Ingredients
2

tbsp

pesto

1

large

egg

1

slice

sourdough bread

toasted

1/2

avocado

optional

1/4

heirloom tomato

optional

red pepper flakes

optional

salt

optional
Equipment Used
nonstick pan

silicone spatula

lid
Instructions
In a cold pan, add the pesto and use a spoon to spread out the pesto into an even circle that's going to be larger than your egg. Then turn on the stove to low heat.

Crack the egg over the pesto and spoon a little bit more pesto on top of the whites.

Cover with a lid and cook for about 1 ½ minutes or until the whites are opaque. Here's what it looks like when the pesto eggs are done.

Add the optional avocado and tomato slices onto your toasted sourdough if you want.

Place the pesto egg on top. Season with salt and pepper to taste with optional red pepper flakes and serve immediately.
Nutrition Facts
Calories:
528.02
kcal
|
Carbohydrates:
45.75
g
|
Protein:
16.93
g
|
Fat:
32.24
g
|
Saturated Fat:
5.98
g
|
Polyunsaturated Fat:
3.37
g
|
Monounsaturated Fat:
11.92
g
|
Trans Fat:
0.02
g
|
Cholesterol:
188.4
mg
|
Sodium:
745.36
mg
|
Potassium:
704.18
mg
|
Fiber:
8.99
g
|
Sugar:
5.58
g
|
Vitamin A:
1277.68
IU
|
Vitamin C:
14.26
mg
|
Calcium:
124.72
mg
|
Iron:
4.18
mg
Like this recipe? Subscribe to my newsletter!