This grated egg avocado toast has a crispy, buttery base of avocado, seasoned with a little salt, and topped with grated egg. Yeah GRATED egg, you heard that right. Once I saw this viral grated egg avocado toast from TikTok, I had to try it.
All our favorite things wrapped into a new way of preparing egg so that it comes out super fluffy and tender, why not? Read below to get more ideas on how to top your new breakfast favorite.
What is this popular grated egg toast on TikTok?
With over 300,000 likes on TikTok, it's not hard to understand why grated egg toast is appealing to watch and eat. And it's all thanks to TikToker, Sara Thomas-Drawbaugh of Healthyishfoods. Hard boiled eggs don't always come to mind when you think of food trends, but by grating the eggs you change their texture to this fluffy cloud consistency and it changes the game.
Sometimes when you make regular fried eggs on toast, there can be runny yolks spilling all over the place, or not enough yolk with every bite. What I like most about this grated egg toast is that you can now get a uniform ratio of white to yolk in every bite. Once you taste grated hard boiled egg over an avocado toast, you won't want to go back.
Ingredients in grated egg avo toast
Making this grated egg avocado toast is SUPER simple and it involves a lot of the same ingredients you would normally use on an avo toast. You can use this recipe as a base and add or substitute items for your preferred taste. All you need is:
crusty bread (I like sourdough)
butter (Sarah uses Kewpie mayonnaise)
hard boiled eggs
avocados
salt
freshly ground pepper (optional)
Why should you bother grating hard boiled eggs?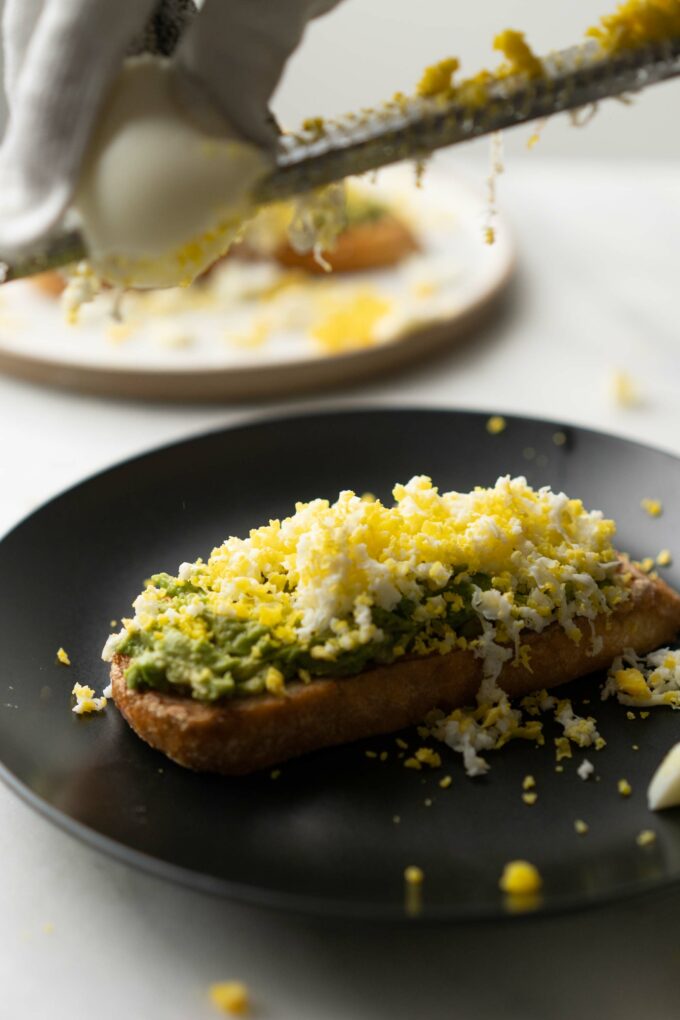 By grating hard boiled eggs, it turns these solid eggs into a tender cloud of egg on top of the toast. When you take a bite into this toast, you not only get a mouthful of fluffy eggs, but they seemingly melt in your mouth. If you've been wanting to incorporate more hard boiled eggs into your diet, but can't get over the chalky or mushy texture of regular hard boiled eggs, this method takes the cake.
How to make perfect hard-boiled eggs
To make perfect hard boiled eggs, fill a small pot of water and bring to a boil over medium heat. You can use the eggs straight out of the freezer with this recipe. Once it hits a consistent boil, gently lower the eggs into the pot. I like to use a ladle to gently lower them to prevent any cracking.
Allow them to boil for 10 minutes and then quickly transfer them to an iced bath for two minutes or run them under cold water until they're chilled to the touch. Peel them after they've chilled or been in the fridge–it's easier on your fingers. You can easily make these hard boiled eggs the day before and have them ready for the next morning. Eggs are easier to peel and grate once they've been chilled in the fridge for at least one or two hours.
The best grater to use
Hands down, one of our favorite tools to use in the kitchen is a Microplane grater and it is perfect for this job. While Microplanes come in different sizes, I used the Microplane premium zester/grater and it did a great job. You can also use a super sharp boxed grater too. I definitely recommend using a cut-resistant glove when using graters of any sort to prevent getting hurt.
What kind of bread to use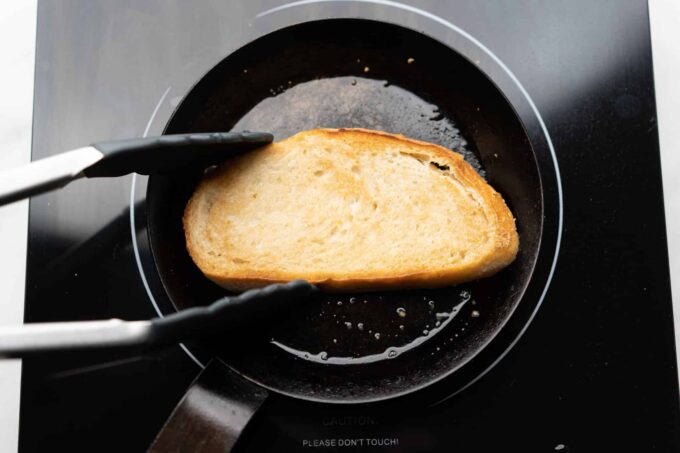 Since this uses a lot of fatty (i.e. flavorful) ingredients like avocados, butter, and eggs, I like using sourdough bread because it has a crispy crust and a slightly tangy flavor that pairs well with the other ingredients. Sourdough also holds its shape fairly well to all the toppings. You can also use other types of bread like a sliced baguette or French bread.
How to make the grated egg avocado toast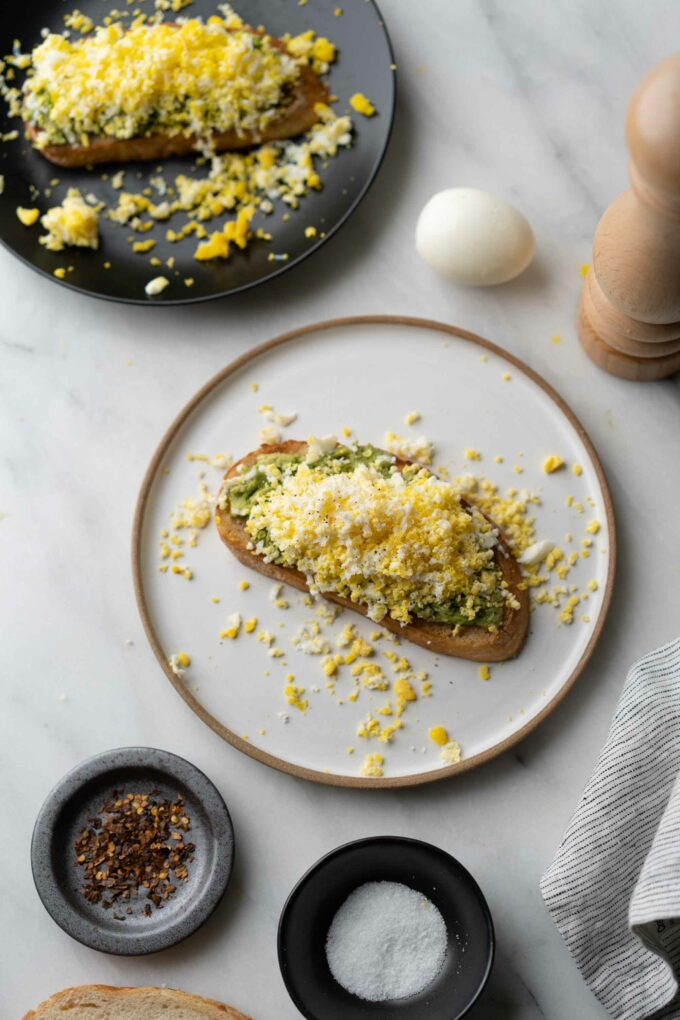 It's super easy to make a grated egg avocado toast. Here's a quick cheat sheet:
Boil your eggs for 10 minutes straight from the fridge and chill in cold water.
Toast your bread–I love to heat up the butter in a pan and toast the bread on the pan for an extra crispy texture.
Add avocado in slices or mashed up, your preference.
Season with salt! This is important so that the avocado also gets seasoned and not just the egg.
Peel your hard boiled egg and wear cut-resistant gloves to grate the egg with a Microplane or very sharp grater over the avo toast. Evenly cover the avocado.
Season the grated egg with your preferred seasonings and eat!
Other great pairings for grated eggs
Some of our favorite ways to change up this grated egg avocado toast is by adding different toppings like furikake, sliced tomatoes, red pepper flakes, or everything but the bagel seasoning. You can also add grated eggs to BLTs, on top of Korean potato salad (gamja salad), or even a quick breakfast with reheated rice.
To learn more viral TikTok recipes that are worth it, you can make pesto eggs, baked feta pasta, crinkle dessert, TikTok ramen, green goddess salad, and the tasty salmon rice bowl.
Grated Egg Avocado Toast
Ultra fluffy eggs on top of silky smooth avocado and crispy sourdough bread, this toast is a new level of deliciousness.
Ingredients
2

large

eggs

water

for boiling eggs

2

slices

sourdough bread

or your preference

1

tbsp

butter

unsalted

1

avocado

sliced or mashed

kosher salt

black pepper

red pepper flakes

optional topping

everything but the bagel

optional topping

furikake

optional topping
Nutrition Facts (per serving)
Calories:
467.45
kcal
|
Carbohydrates:
45.06
g
|
Protein:
15.87
g
|
Fat:
26.34
g
|
Saturated Fat:
7.62
g
|
Polyunsaturated Fat:
3.5
g
|
Monounsaturated Fat:
13.37
g
|
Trans Fat:
0.25
g
|
Cholesterol:
201.05
mg
|
Sodium:
456.34
mg
|
Potassium:
640.03
mg
|
Fiber:
8.27
g
|
Sugar:
2.5
g
|
Vitamin A:
591.66
IU
|
Vitamin C:
10.18
mg
|
Calcium:
69.9
mg
|
Iron:
3.76
mg
Nutrition Facts
Grated Egg Avocado Toast
Amount per Serving
% Daily Value*
* Percent Daily Values are based on a 2000 calorie diet.
Like this recipe? Subscribe to my newsletter!