Asian coleslaw is a colorful and fresh salad made with a tangy and savory sesame and rice wine vinegar vinaigrette. Learn how to make this healthy coleslaw and mix and match ingredients based on your preference below.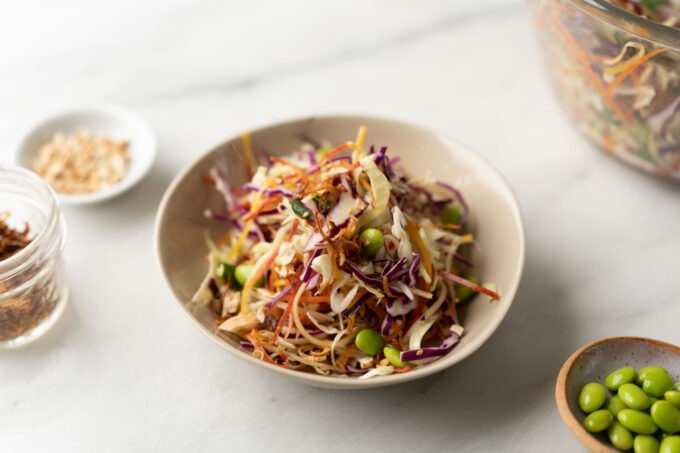 What is Asian coleslaw?
While not entirely from Asia, this Asian-inspired coleslaw is made with flavors and ingredients most commonly used in Asian cuisines, like sesame oil and rice wine vinegar. Its vinaigrette dressing creates a slightly pickled and tangy side dish that pairs best with Filipino BBQ skewers or chicken katsu sandwiches with milk bread.
Ingredients in this Asian coleslaw recipe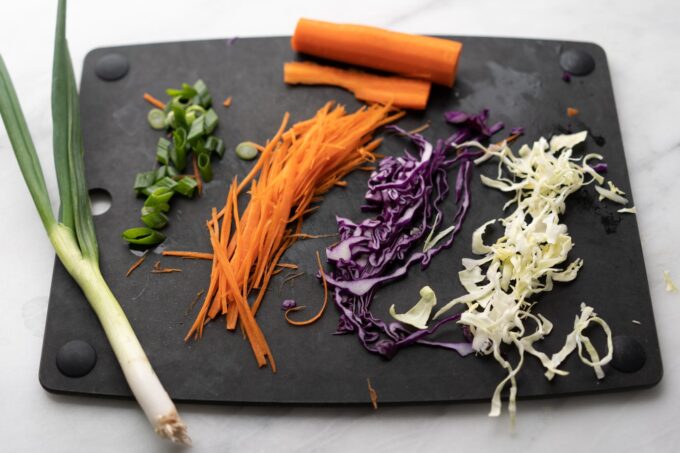 This Asian coleslaw has its main ingredients made of colorful ingredients like:
red cabbage
green cabbage
carrots
green onion
We also like adding toppings for extra texture, such as:
edamame
fried shallots
roasted cashews
Alternatively, you can also add or change out other ingredients like red bell peppers, peanuts, cilantro, napa cabbage, jicama, snow peas, almonds, or broccoli.
We use a mandolin and cut-proof gloves to get uniform pieces to prevent accidents. We also use the shredding attachment for the carrots, giving us very uniform julienned pieces.
Asian coleslaw dressing
Unlike the coleslaw I had as a kid at KFC and other American restaurants, Asian coleslaw has a lighter and tangier dressing than traditional American coleslaw made of mayonnaise and mustard. While there are similarities in the salad portion (cabbage and carrots), the dressing is rice wine vinegar, toasted sesame oil, sesame seeds, honey, fish sauce, and salt. You won't find any mayonnaise here.
You can also adjust the ingredients below based on your preference. For a more tangy flavor, add more rice wine vinegar. For more savoriness, add more sesame oil. If you want a sweeter taste, add more honey. If it's umami you want, adjust the fish sauce, but be warned this will also change the saltiness.
What does Asian coleslaw taste like?
This Asian coleslaw tastes fresh and crunchy from the cabbage and carrots and a combination of nuttiness and tanginess from the dressing. It goes perfectly with hot foods like chicken katsu or chicken karaage because the acidity cuts the grease from the fried foods.
What's the difference between slaw and coleslaw?
While sometimes coleslaw can be referred to as "slaw" for short, not all "slaw" is coleslaw. Sounds confusing? Well, it's not. Coleslaw actually comes from the Dutch word "koolsla" and is broken down into two "kool" meaning cabbage and "sla" meaning salad. So "koolsla" means cabbage salad. Slaw can be used to describe any cold salad made from raw vegetables with a dressing that isn't restricted to cabbage.
Can you substitute white vinegar for rice wine vinegar?
We would not recommend substituting white vinegar instead of rice vinegar for this Asian slaw dressing because the flavor profiles don't match. White vinegar is much more pungent than rice wine vinegar, so we recommend using apple cider or white wine vinegar instead. For more suggestions, see our vinegar substitutes post.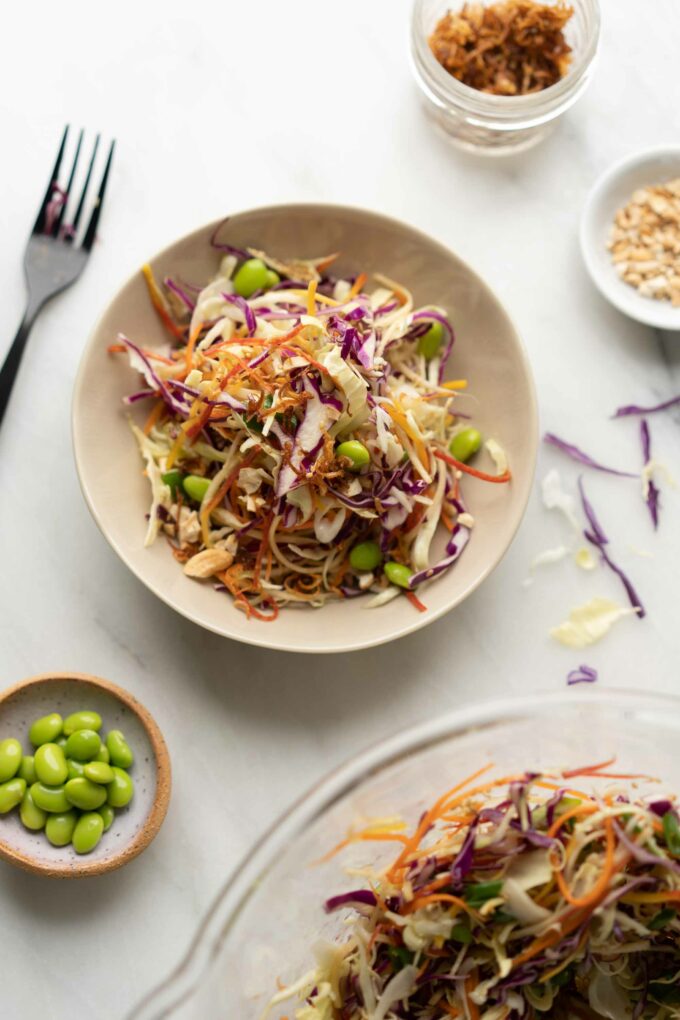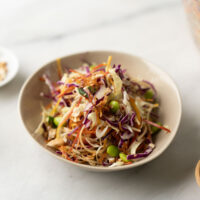 Asian Coleslaw w/ Sesame Rice Wine Vinaigrette Dressing
This healthy Asian coleslaw is a colorful salad perfectly paired with barbecued meats for your next party or even izakaya night at home.
Ingredients
Salad
3

c

purple and green cabbage

shredded

1

c

carrots

shredded

2

stalks

green onion

sliced thinly
Dressing
¼

c

rice wine vinegar

1½

tbsp

honey

1

tbsp

roasted sesame seeds

2

tsp

roasted sesame oil

¼

tsp

fish sauce

¼

tsp

kosher salt
Topping
edamame

fried shallots

roasted cashews

chopped
Equipment Used
mandolin

with shredding attachment

cut proof gloves

knife and cutting board

measuring cups and spoons

large bowl

small bowl
Instructions
Wearing cut-proof gloves, slice the cabbage into thin (⅛ -inch) pieces using a mandolin. Clean the shreds under water thoroughly and dry them with a salad spinner. Set aside.

Using a knife, cut the green onions into thin pieces. Set aside.

Clean and peel the carrot and cut it in half. Add the shredder attachment to the mandolin. Shred the carrots into super thin, 1/16-inch pieces. Set aside.

In a small bowl, combine all the dressing ingredients and whisk until emulsified. Taste test and adjust to your preferences.

Combine the cabbage, carrots, and green onion in a salad bowl. Pour the dressing over the vegetables and toss.

Place this in the fridge to chill and marinate for at least 15 minutes. Try only to prepare this side dish on the same day because it can get soggy overnight.
Nutrition Facts (per serving)
Calories:
56.16
kcal
|
Carbohydrates:
9.02
g
|
Protein:
0.98
g
|
Fat:
2.09
g
|
Saturated Fat:
0.3
g
|
Polyunsaturated Fat:
0.88
g
|
Monounsaturated Fat:
0.79
g
|
Sodium:
138.75
mg
|
Potassium:
148.73
mg
|
Fiber:
1.74
g
|
Sugar:
6.55
g
|
Vitamin A:
3638.28
IU
|
Vitamin C:
14.85
mg
|
Calcium:
38.04
mg
|
Iron:
0.51
mg
Nutrition Facts
Asian Coleslaw w/ Sesame Rice Wine Vinaigrette Dressing
Amount per Serving
% Daily Value*
* Percent Daily Values are based on a 2000 calorie diet.
Like this recipe? Subscribe to my newsletter!