Chicken thighs are anything but ordinary when you marinade them with an Asian inspired sauce full of umami flavors like soy sauce, rice vinegar, and sesame oil. These easy baked chicken thighs are perfect if you want a quick recipe that you can make in larger batches for meal prep too.
Selecting and preparing the chicken
This recipe calls for chicken thighs, the most juicy and flavorful part of the chicken. Ask anyone and they'll tell you chicken thighs is where it's at. Baking chicken is a bit of a healthier way to cook it than my previous fried chicken recipes, like tori karaage, chicken katsu, or Korean fried chicken although those are delicious in their own right. 
When selecting chicken thighs for this recipe, I always try to find organic chicken from a local grocery store with the skin intact (because it's so much more tasty with the skin on). Typically, chicken thighs come in two versions: bone-in with the skin or boneless and skinless. You'd be hard pressed to find a combination of the two for some odd reason.
After testing out this recipe with various types of chicken, I prefer boneless chicken thighs with the skin intact. The skin on the chicken helps a little to keep the thighs moist and juicy during cooking but it mainly allows for more Maillard browning action, more fat, and therefore more flavor. This leaves me with buying organic, bone-in chicken thighs with the skin on and deboning it myself at home if I care to have it boneless.
Marinade and herb variations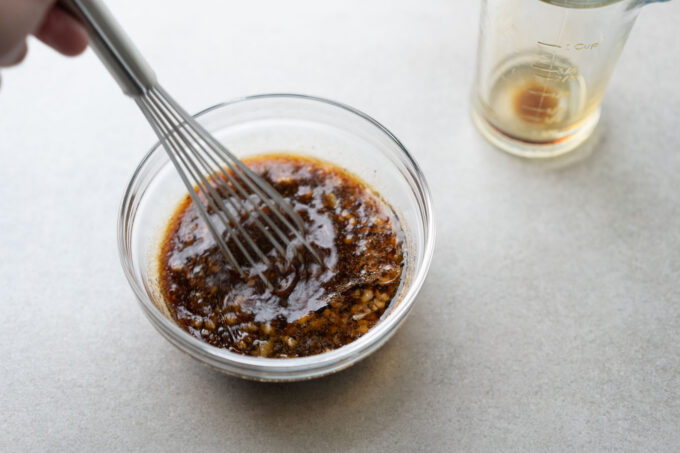 I like to add a little more flair to this easy baked chicken by making an Asian influenced marinade with soy sauce, rice vinegar, and sesame oil among other ingredients. Its light umami flavor has just a hint of savory flavors, but you do have the option of bringing more sweetness to the chicken by topping it off with Asian soy glaze sauce.
If you want a little more "Asian" inspired flavor try experimenting with other flavors in the marinade like lemongrass, Thai basil, miso, five spice, or ginger.
How long to bake chicken thighs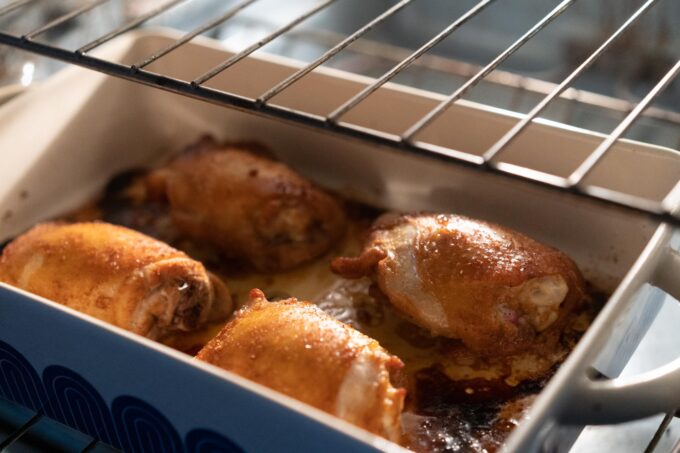 Before you even place the chicken thighs in the oven, take them out of the fridge and let them come to room temperature so they can cook evenly in the oven. Putting cold chicken in the oven can cause it to cook unevenly–faster on the outside (and potentially dry the skin) than the inside. In other words you'll run the risk of having dry chicken on the outside if you cook until the center hits a safe temperature to eat.
This oven-roasted chicken takes about 25-30 minutes in my oven cooking at 400 °F. I found that baking at this temperature and timing gives me a nice golden brown skin without needing to broil the chicken.
I use an instant read probe thermometer to measure the center of the chicken at 20 minutes into baking just to check its progress. If the skin is getting too brown at this point, you can cover it with foil. While the FDA states that the threshold to cook and consume chicken is 165 °F, I take it out at about 155 °F because it will finish cooking as its resting.
Is it better to bake chicken thighs at 350F or 400F?
Most of the time when you're cooking chicken, low and slow is the way to prevent your chicken from drying out while cooking (and reaching the safe temperature of 165 °F). However, since we're using the juiciest part of the chicken plus marinating it for so long, I bake the chicken thighs at 400 °F for 25-30 minutes–sometimes quicker if the piece of chicken is small. If you're cooking chicken breast, you would want to cook it at a lower temperature like 350 °F to prevent moisture loss.
Should you cover chicken thighs when baking?
From my experience, these chicken thighs bake evenly especially if you bring the chicken to room temperature before putting them in the oven. Chicken thighs are also some of the juiciest parts of the animal, so they won't dry out faster if you cook it at 400 °F for 25-30 minutes uncovered.
I would recommend taking the temperature of the chicken thighs at about 20 minutes into baking and observing the chicken skin color. If it's browning too quickly, you can cover it with foil for the last five to ten minutes.
Baked Chicken Thighs (With an Asian Twist)
Juicy, tender, and savory oven baked chicken thighs are a pretty easy dish that you can use to meal prep for later in the week.
Ingredients
2

lbs

chicken thighs

skin intact and deboned

¼

c

soy sauce

1

tbsp

rice vinegar

4

cloves

garlic

minced

1

tbsp

onion powder

1

tsp

sesame oil

¼

tsp

black pepper

chili powder

optional

scallions

thinly sliced optional topping

Asian soy sauce glaze

optional
Equipment Used
knife and cutting board

small mixing bowl

spoon or small whisk

air tight container with lid

baking dish

oven

tongs
Instructions
Debone your chicken thighs and butterfly each piece so it lays evenly flat while keeping the skin intact.

Take your knife and pierce the chicken thighs about five or six times in about ¼ inch depth per pierce to help the marinade seep through. Transfer the chicken into a container with a lid.

Combine soy sauce, rice vinegar, minced garlic, onion powder, sesame oil, and black pepper in a small mixing bowl and stir to combine. Pour the marinade over the chicken and use tongs or your hands to make sure each chicken thigh is thoroughly coated.

Place the lid on top and transfer the marinating chicken in the fridge for at least two hours, turning the chicken over half way through.

Remove the chicken from the fridge and uncover the last 30 minutes before baking to come to room temperature for even baking.

Preheat the oven to 400 °F.

Bake for about 20 minutes and check the internal temperature. Continue to cook until it reaches 155 °F and the skin is golden brown. This takes about 25-30 minutes in my oven. The chicken will typically reach 165 °F as it's resting on the counter, but if you want to cook it to FDA standards, then pull the chicken at 165 °F.

Make the glaze while baking chicken.
Nutrition Facts (per serving)
Calories:
525.7
kcal
|
Carbohydrates:
3.83
g
|
Protein:
38.74
g
|
Fat:
38.72
g
|
Saturated Fat:
10.31
g
|
Polyunsaturated Fat:
8.26
g
|
Monounsaturated Fat:
16.03
g
|
Trans Fat:
0.19
g
|
Cholesterol:
222.26
mg
|
Sodium:
986.5
mg
|
Potassium:
526.68
mg
|
Fiber:
0.47
g
|
Sugar:
0.4
g
|
Vitamin A:
177.86
IU
|
Vitamin C:
1.34
mg
|
Calcium:
33.99
mg
|
Iron:
1.99
mg
Nutrition Facts
Baked Chicken Thighs (With an Asian Twist)
Amount per Serving
% Daily Value*
* Percent Daily Values are based on a 2000 calorie diet.
Like this recipe? Subscribe to my newsletter!