These Brussels sprouts are not your everyday roasted sprouts, these are DEEP FRIED, and that's what makes them super duper crispy. No, these are not the most healthy greens to eat for dinner, but if you want an extra crunch as a side these are perfect!
These crispy Brussels sprouts taste more in-line with a healthier version of potato chips than your traditional roasted Brussels sprouts, which we typically cook at home. They still have a flavorful hint of Brussels sprouts, but the extra crispiness from the deep frying feels sinful.
There is definitely a reason why these deep fried sprouts are trending in restaurants all over the country. This recipe features a slight Asian twist to deep fried Brussels sprouts because of the seasoning.
The prep for these Brussels sprouts are fairly quick and easy. When you are at the grocery store, make sure to choose small sized Brussels sprouts as they are better in flavor and less chewy. At home, you should peel the outer leaves and trim the bottom part of the stem off since this is a bit harder to chew.
Cut them in half and rinse them in the sink. I like to also place them in a water bowl to soak for five minutes to get rid of extra dirt. Tip: if you want a REALLY crispy bite, you can cut the Brussels sprouts into quarters.
Place the cleaned Brussels sprouts on a dish towel on your counter and allow them to dry fully. The dry, room temperature Brussels sprouts allow for better crispiness. You also don't want to deep fry anything with too much water on it because it might splatter on you!
Set-up your deep frying station by pouring about 1 ½ inch of neutral cooking oil into a heavy-bottomed pot. For oil, you will need to choose one with a high smoke point since we will be deep-frying at about 350-375 °F. I like using vegetable oil because it's easy to find, it has a high smoke point of 400 °F and it's cheap.
Once you heat the oil to the right temperature, slowly lower the Brussels sprouts into the oil. Watch over the Brussels sprouts and turn them over so they can fry on both sides.
After the edges and the outer leaves are browned and almost blackened, and the Brussels sprouts have shrunk in size, you want to remove them from the oil and lay them on towels to remove excess oil.
While the Brussels sprouts are frying, you can make the seasoning. In a bowl, add the fish sauce, water, rice wine vinegar, garlic, and sugar. Squeeze in the lime and mix altogether.
I like to use an airtight Tupperware so that I can close the lid and vigorously shake and completely blend in the sugar granules. There's nothing more annoying than having all your sugar separate in the bottom of the bowl.
Taste the sauce, it should be a bit on the salty and sweet side. You can modify this sauce by adjusting the fish sauce for saltiness, lime for acidity, and sugar for sweetness. This is a modified version of my fish sauce recipe, which you can use directly as well.
The combination of this tangy and sweet seasoning is the perfect blend for the crispiness of the fried Brussels sprouts. I topped some fried shallots because why not?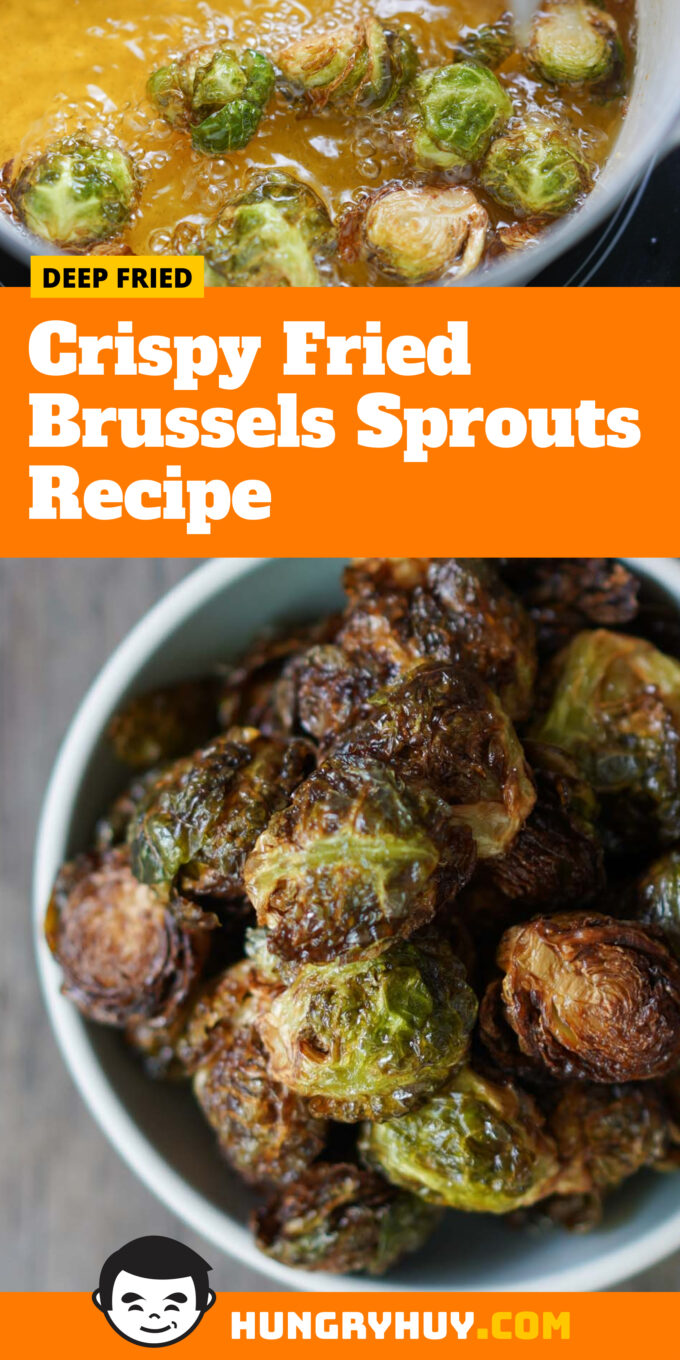 Crispy Deep Fried Brussels Sprouts
Make these crunchiest crispy fried Brussels sprouts the next time you host! The sweet and tangy Asian seasoning adds an extra twist to these tasty greens.
Ingredients
Brussels sprouts
2

lb

small Brussels sprouts

neutral cooking oil

for frying, vegetable oil preferred
Tangy and sweet Asian seasoning
Fried shallots (optional)
1

shallot

neutral cooking oil

for frying, vegetable oil preferred
Instructions
Brussels sprouts
Trim 2 lb Brussels sprouts by removing the outer layers of leaves first and then cut the bottom dried out stem portion off. Try not to remove too much of the stem so that it still keeps your Brussels sprouts intact. Cut the Brussels sprouts in half.

Rinse your Brussels sprouts and leave them in a water bowl for about 5 minutes. I do this to remove some extra dirt that might get stuck in between the leaves.

After rinsing, lay the Brussels sprouts out on a dish towel to let them dry fully. If the Brussels sprouts are wet or cold, this could change the temperature of the oil and affect the crispiness of the Brussels sprouts. You also want to prevent splatter by removing as much water from the Brussels sprouts as possible.

In the same heavy-bottomed pot, add about one inch of vegetable oil (or another oil with a high smoke point) and heat to 375 °F. Slowly lower about six to seven Brussels sprouts into your oil. Fry your Brussels sprouts in multiple batches to prevent crowding and to allow your Brussels sprouts to cook evenly.

When your Brussels sprouts have shrunk slightly and the outer layer leaves have changed to a dark brown, almost blackened color, remove them and place them onto a towel to get rid of excess oil.

In between frying batches of Brussels sprouts, combine the fish sauce, water, rice wine vinegar, and sugar into Tupperware. Add fresh squeezed limes and mix. Close the lid on and shake vigorously to evenly blend the sugar granules.

In a bowl, combine the freshly fried Brussels sprouts and seasoning and mix. Adjust seasoning to taste and top with fried shallots.
Fried shallots (optional)
Peel the outer layer of the shallot.

Using a mandoline slicer and some cut proof safety gloves, slice the shallots in ¼ of an inch slices.

In a heavy-bottomed pot, add one inch of vegetable oil (you can re-use this oil later for the Brussels sprouts) and heat to 325 °F.

Carefully add the shallots and watch over them as they brown–this can happen very quickly so watch the pot. When the shallots turn light golden brown, remove them immediately from the oil and place onto paper towels to dry. The shallots will continue to cook once you remove them so it's okay if you have extra pieces that are still light.

Top the fried shallots on the Brussels sprouts.
Nutrition Facts (per serving)
Calories:
176
kcal
|
Carbohydrates:
39
g
|
Protein:
9
g
|
Fat:
1
g
|
Saturated Fat:
1
g
|
Sodium:
2022
mg
|
Potassium:
992
mg
|
Fiber:
9
g
|
Sugar:
22
g
|
Vitamin A:
1710
IU
|
Vitamin C:
198
mg
|
Calcium:
112
mg
|
Iron:
4
mg
Nutrition Facts
Crispy Deep Fried Brussels Sprouts
Amount per Serving
% Daily Value*
* Percent Daily Values are based on a 2000 calorie diet.
Like this recipe? Subscribe to my newsletter!