Dumplings come in many shapes and sizes, but plump pork and shrimp shumai with their unmistakable combo of Asian aromatics and seasoning are a staple in dim sum carts around the world. These dumplings are the perfect shape for dipping into a mixture of soy sauce and chile oil.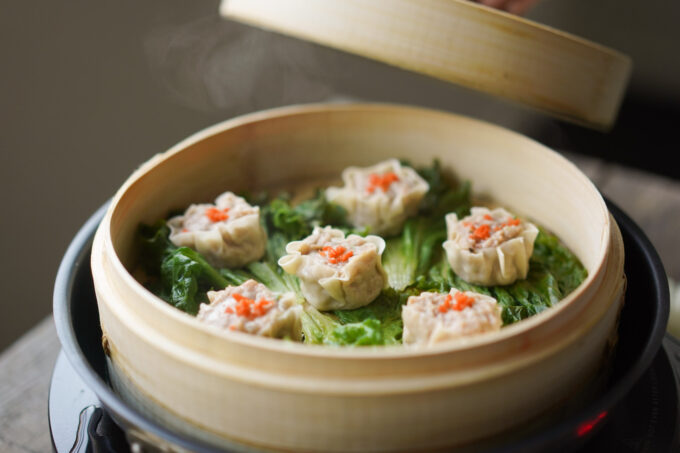 Shumai, also known as siumaai, siomai, or shaomai, are traditional Chinese open-faced dumplings and this recipe will help you make shumai at home and even learn how to make dumpling wrappers from scratch!
I used to eat dim sum with my parents a few times a month. They loved it yet mom would always make a comment about how oily the food would be, and how she needed to drink hot tea to digest this. I think I just had a realization about where my food guilt comes from. I still will dum sum, just thsoe comments will reliably echo in my head whener these dishes roll around :).
Store bought dumpling wrappers
Shumai wrappers are a basic dumpling wrapper made from flour, hot water, and salt, like spring roll wrappers. Dumpling wrappers are relatively affordable and you can find them in many Asian grocery stores. There's a variety of different types of brands and shapes and sizes you can choose from too. A good brand for dumpling wrappers is New Hong Kong Noodle Company, which is sold in different Asian markets in the US.
Typically for shumai, you want to find very thin (0.3 mm) wrappers that are circular (3 ¼ inches diameter). If you are having trouble finding round wrappers, you can also use wonton wrappers and cut the corners off with a circular cookie cutter.
Homemade dumpling wrappers
Another option that I prefer is making dumpling wrappers at home because you can customize shapes, sizes, thickness, and most importantly the ingredients. When you make it at home you know exactly what's in your wrappers and can adjust the recipe to meet your preferences. One piece of advice is using a pasta machine to help roll out your wrappers super thin! I also remember how it was a bit difficult holding super large shumai with chopsticks growing up!
To make shumai wrappers from scratch, you need to use hot water to help denature the gluten proteins in the flour; This helps with the texture and thinness of the wrapper. I add the salt into the hot water to dissolve the salt first, then gradually add the hot water into a mixing bowl with the flour. Use chopsticks to mix the flour and water until it becomes a shaggy dough consistency.
Place the shaggy dough on a floured surface and knead the dough with the heel of your hand, folding the dough into itself and continuing to knead for about ten minutes or until the dough is smooth. Let the dough rest for 30 minutes before rolling it out on your pasta machine. It's really helpful to have a pasta machine unless you want to end up super buff (and tired) hand rolling everything. Pasta machines also help you prevent overworking your dough and making the end result tough.
After resting your dough, press your thumb onto the dough and if it leaves an impression, your dough is ready to roll. Using your pasta machine, laminate your dough and roll it out until you reach thinness of about .3 millimeters (yes super thin!). On our Marcato Atlas pasta machine, the thinnest setting is level nine.
After you roll out your dough, use a circle cookie cutter to make circular wrappers. I use a 3 ¼ inch diameter circular cutter and I get about 50 shumai wrappers. To stack your shumai wrappers, use cornstarch in between each layer. You can also freeze these wrappers to use for later in an airtight zip-lock container.
Filling
I like to make the filling while my dough is resting. Since there are different varieties of shumai depending on region and culture, you can use different types of fillings like pork, beef, mutton, shrimp, peppers, and much more. For this recipe we're sticking with a traditional Cantonese mix of shrimp, pork, and mushrooms. You can find this version at many dim sum restaurants.
Mince your shrimp and place it in a large mixing bowl with your ground pork–I do a few short pulses in a small food processor to finish this quickly. Add the rest of the seasonings and sauces and mix to combine. Like my lumpia Shanghai recipe, before wrapping I like to test the filling by microwaving a small portion of the meat to make sure I have seasoned the filling properly.
Wrapping and assembly
Every time I looked at shumai I assumed wrapping them would be pretty simple based on their cylindrical shape, but it does take a bit of practice shaping them properly. Relative to xiao long bao though, they are much easier to wrap.
Step 1. Make a circle with your hand by touching your pointer finger and thumb.
Step 2. Place one wrapper on top of the circle.
Step 3. Add about one tablespoon of filling in the middle of the wrapper and slowly bring the sides of the wrapper to cover the filling. This is similar to crimping the sides of the wrapper around the filling. This should make a cylindrical shape with an open-faced top.
Step 4. I like to keep a bowl of water to dip my fingers in and help shape the top of the shumai to prevent the filling from sticking to my hands.
Step 5. Add a pea sized amount of minced carrots on top and repeat.
Steaming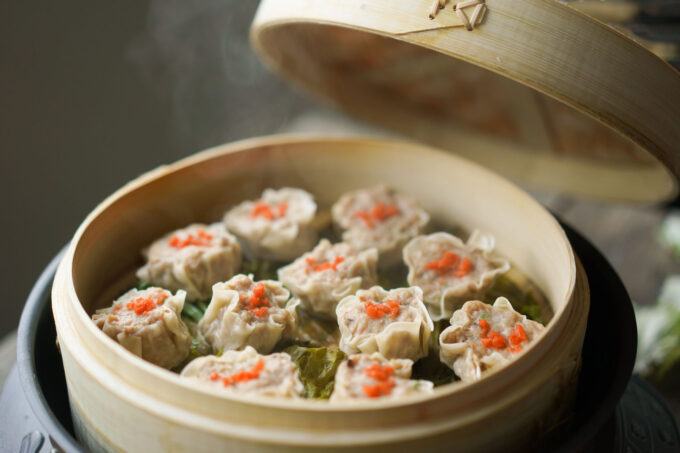 Similar to other dim sum dishes like char siu bao, shumai needs to be steamed to get that soft and delicious texture. Follow these steps to cook your shumai properly:
Pick a pot that is large enough for your steamer and preheat your steamer before adding the shumai to get the timing right.
Line your steamer with parchment paper or lettuce to prevent the shumai from sticking
Leave space between the shumai so it's easier to pick up after steaming
Cook the shumai for about ten minutes for each batch, or until it hits an internal temperature of 165 °F.
Do not open the lid while it's steaming otherwise you could lose steam and undercook your shumai.
Make sure you add enough water and check the water levels while you're steaming so you don't lose precious steaming time.
Serving and freezing
When you've finished steaming, the shumai should be plump and dense to the touch. Serve the shumai immediately with a side of soy sauce and chile sauce. You can also freeze cooked shumai in an airtight container.
If you want a full dim sum meal you can also make other traditional recipes: chicken feet, Chinese broccoli and oyster sauce, cheung fun, char siu bao, egg tarts, and xiao long bao. 
To reheat shumai, wet a paper towel and wrap the shumai with the towel on a plate. Place it in the microwave and cook in 30-second intervals until it's hot. Try not to overcook it or it will become tough.
Pork and Shrimp Shumai
Plump and meaty pork and shrimp shumai is a staple at dim sum restaurant and now you can make them at home with this easy to follow recipe!
Ingredients
Dough (makes 50 wrappers)
160

g

or 1 c all purpose flour

3

oz

or 6 tbsp hot water

5

g

or 1 tsp salt
Filling
½

lb

ground pork

½

lb

shrimp

peeled and minced

2

tbsp

dried shiitake mushroom

2

tbsp

green onions

minced

1

tbsp

cornstarch

1

tbsp

soy sauce

½

tbsp

oyster sauce

1

tsp

sesame oil

1

tsp

fresh ginger

finely grated

½

tsp

sugar

½

tsp

salt

⅛

tsp

white pepper
Other
carrots

minced

soy sauce

optional for dipping
Instructions
Dough
Heat hot water and mix in the salt.

Measure out one cup of flour and slowly add the hot water and salt liquid in a mixing bowl. Use a spoon or chopsticks to mix the flour with the water.

When the water is incorporated into the flour, you should have a slightly sticky ball of dough. If necessary add additional flour if it's too wet (the dough is wet to the touch and not forming into a ball or releasing from the sides) or water if it's too dry.

On a floured surface, begin to knead the dough by hand for about five minutes. The end result should be a smooth and round ball of dough. Optionally, you can use a food processor to mix your dough and flour and run the food processor until the ball of dough forms. Knead the dough for three minutes by hand.

Leave the dough to cool to room temperature and then wrap it with cling wrap to rest for at least 30 minutes on the counter. The dough should be ready once you can press a finger on the dough and it leaves a small imprint.

Use your pasta machine to roll out the dough and stop at the thinnest setting or until you reach about 0.3 millimeters. One my Marcato Atlas machine, this is level 9.

Using a 80mm / 3 ¼ inch diameter circular cookie cutter, cut out wrappers from this dough. This should make about 50 dumpling wrappers.

If you want to stack the wrappers, lightly spread two pinches worth of cornstarch on the top of each wrapper and stack them one on top of the other to prevent sticking. You can freeze the wrappers in an airtight container to use for later.
Filling
Mince the shrimp and add it into a large mixing bowl with ground pork. Add the rest of the ingredients and mix thoroughly.

Test the seasoning of the meat by putting ¼ of a teaspoon size of meat in the microwave for ten seconds. Adjust the seasoning if necessary based on your preferences.
Assembly and steaming
Make a circle with your pointer finger and thumb. Place one wrapper on top and add about one tablespoon of filling.

Cover the sides of the filling with the wrapper and try to keep a cylindrical shape.

If you need to form the uncovered meat on the top of the shumai, dip your hand in the water and shape it. You should end up with cylindrical-shaped dumplings.

Optional: you can add minced carrots at the top for extra color.

Line your steamer with parchment paper or lettuce. Preheat the steamer before adding your shumai.

Add shumai in the steamer and cook for about ten minutes per batch. Test one of the shumai by removing it from the steamer and lightly pressing the top. Finished shumai should feel springy to the touch and the color on top should be a pale gray. Use a thermometer to check if the temperature has reached at least 165 °F.

Serve immediately with soy sauce.
Nutrition Facts (per serving)
Calories:
56.9
kcal
|
Carbohydrates:
5.6
g
|
Protein:
3.8
g
|
Fat:
2.1
g
|
Saturated Fat:
0.7
g
|
Cholesterol:
26.2
mg
|
Sodium:
223.4
mg
|
Potassium:
53.4
mg
|
Fiber:
0.3
g
|
Sugar:
0.1
g
|
Vitamin A:
4.3
IU
|
Vitamin C:
0.5
mg
|
Calcium:
13.7
mg
|
Iron:
0.5
mg
Nutrition Facts
Pork and Shrimp Shumai
Amount per Serving
% Daily Value*
* Percent Daily Values are based on a 2000 calorie diet.
Like this recipe? Subscribe to my newsletter!