Sweet and salty glazed Spam on a layer of fluffy white rice wrapped with a roasted nori sheet–Spam musubi is the ultimate on-the-go snack that is sure to appease the hangriest friend or foe.
This is a recipe I love making at home and was so delighted to see just about everywhere when visiting Hawaii. This super easy and tasty Spam musubi recipe will teach you how to make one of Hawaii's famous little snacks–no special musubi mold required!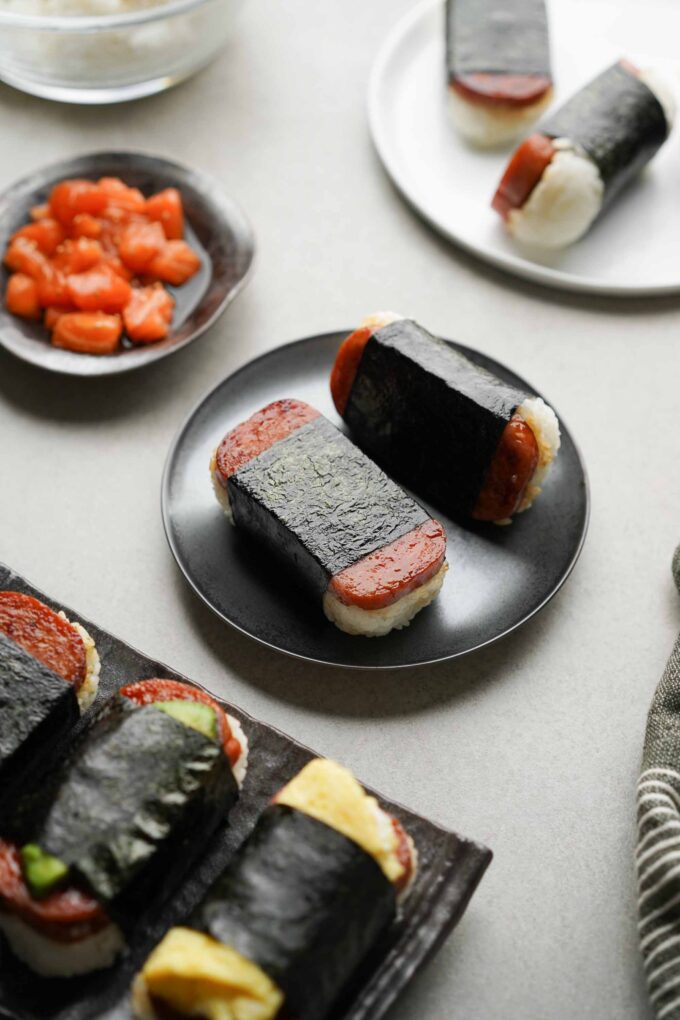 What's Spam musubi?
I've always found it ironic that Spam has a representation of disgust in American culture when it's an American invention by the Hormel company in 1937 and predominantly used in the military during the 20th century since it was difficult to send and pack fresh meat. Whereas in many Asian or non-western cultures, Spam is included in a bevy of different recipes. One of the most popular is Spam musubi.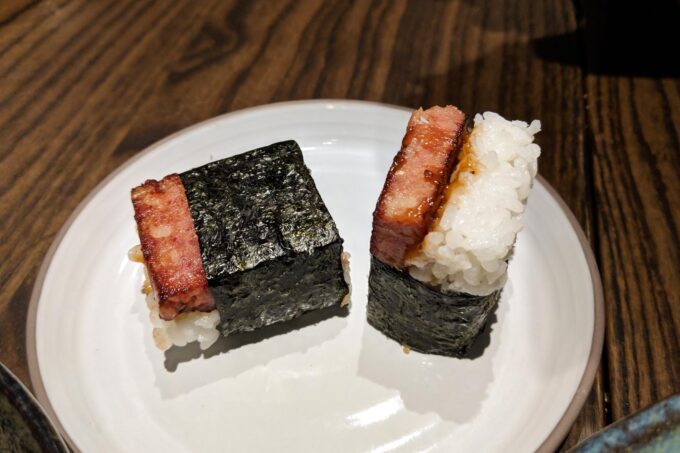 Spam musubi was invented in the 20th century by a Japanese American woman named Barbara Funamura who lived in Hawaii and helped run Joni-Hana of Kauai. The original spam musubi was triangle shaped and Ms. Funamura stated it was made up of "Spam and rice, two local favorites, are combined in an enormous musubi (rice ball) wrapped in nori (sheets of dried seaweed)."
Its popularity grew a lot because not only was it delicious, but it was such an easy on-the-go snack you could take anywhere. This recipe will show you how to make the best spam musubi that has a slight teriyaki flavor to pair with salty spam, sticky rice, and roasted nori.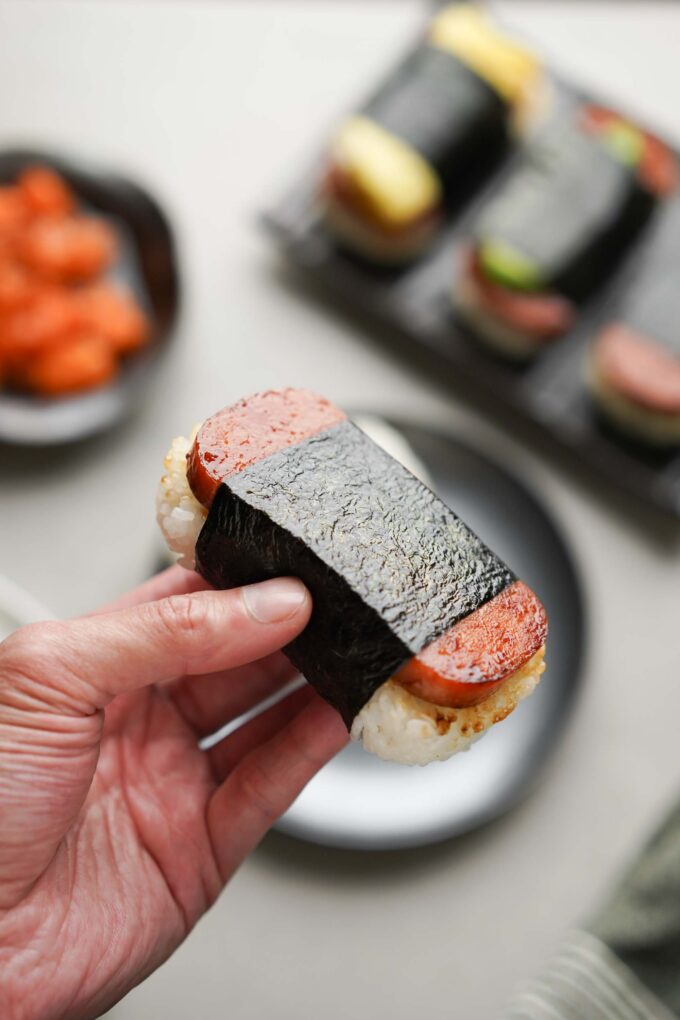 Making rice for spam musubi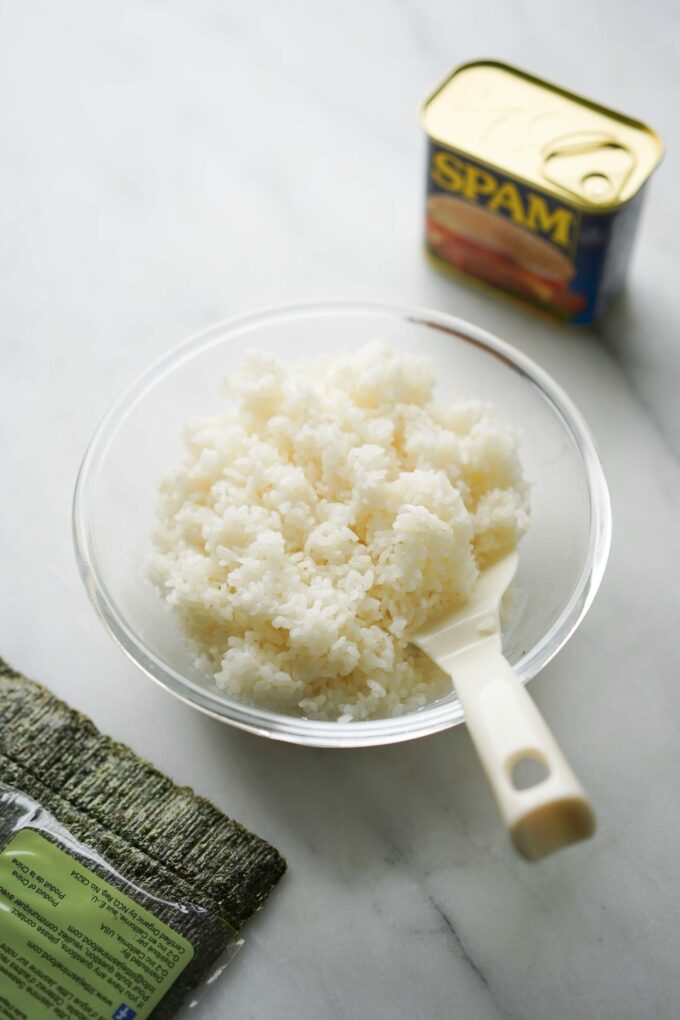 Spam musubi is influenced by a combination of American, Japanese, and Hawaiian cultural foods. The term "musubi" is taken from the Japanese dish "omusubi" or "onigiri," which translates to rice ball.
First, I like to make Spam musubi with short-grain rice because it's extra sticky (and it's also the same rice you use for sushi rice) in a rice cooker, in a microwave, or even in the Instant Pot. It's important to note that Hawaiian style Spam musubi uses plain white rice and not sushi rice (which has sugar and seasoning), but if you want to add more flavor you can also use seasoned sushi rice.
Once the rice is finished cooking, I like to fluff the rice a bit so that it's easier to add into the molds for assembly. Try to keep your rice warm while you make the rest of the ingredients.
Spam musubi sauce
Many Hawaiian-style Spam musubi has a slight teriyaki sauce cooked with the spam to give it even more flavor–I love the sweetness and saltiness of this and added it to my own recipe. I like to cut each spam block to about 8 even slices.
This sauce is fairly similar to my Asian-style glaze but with fewer ingredients. I use sesame oil, garlic, soy sauce, oyster sauce, and dark brown sugar to make glazed teriyaki Spam slices–perfect to top on warm, sticky rice.
Types of seaweed to use
Like other types of recipes that use nori (California rolls, spicy tuna roll, temaki), it's a very important part of Spam musubi. Nori typically has different grades based on the quality. For instance, some brands use a color rating like green (best used for salads) and go up to gold or platinum (best used for nigiri and other forms of sushi). Sometimes these rankings are also in letter grades too.
For Spam musubi, I like to get gold or grade-A or B rated nori so that the sheets are uniform in thickness and have less of a tendency to break during wrapping and eating. However, if you don't have access to this type of nori, it's okay to use nori at local supermarkets you may just need to be more careful when wrapping.
How to form spam musubi with a special mold
There are different ways to assemble Spam musubi one of the easiest ways is using a specific Spam musubi mold. I've seen so many different types throughout the years and you can buy them straight from Mitsuwa, Daiso, or online. It typically is a rectangular mold and a flat press to shape the rice.
All you have to do is cut your nori into your desired width, lay it on a clean surface vertically, and place the mold over the center part of the nori. Add a base of rice to the mold and use the press to make your rice even. Remove the press and add the Spam slice. Carefully lift the outer mold so you don't move the rice and Spam. Take your nori and wrap it around the stack and serve.
Making spam musubi without a special mold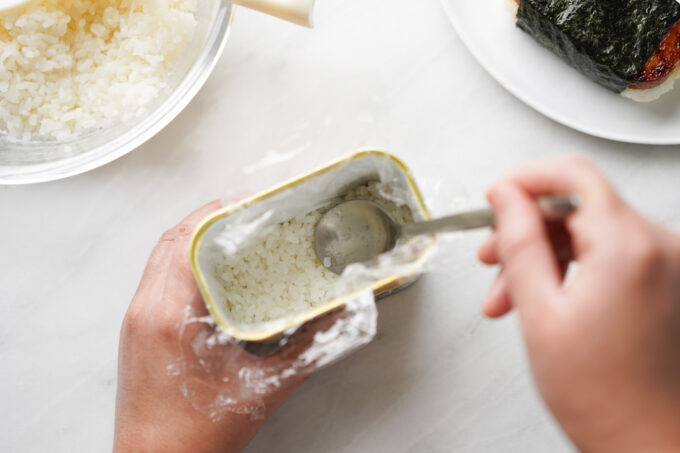 If you don't have access to a mold, there's an even easier solution. You can use your hands to form rice balls and top them with Spam slices, but did you know Spam cans can act as a mold? All you need is some cling-wrap.
Clean the inside of the can and cut the cling-wrap to about 8 x 12 inches. Line the cling-wrap inside the can and make sure all four corners are outside of the can.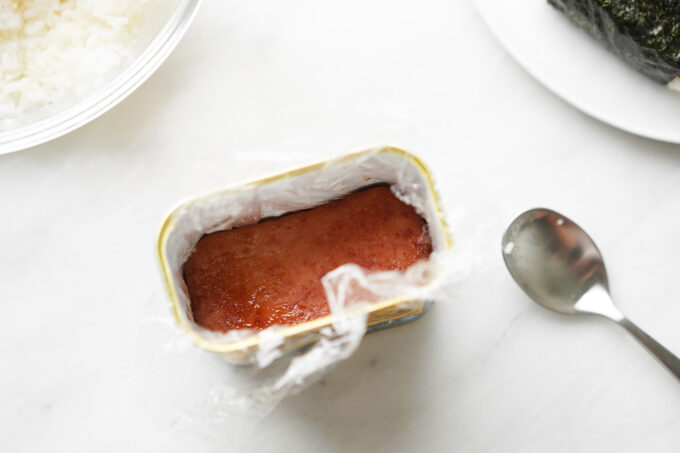 Scoop about 1 ½ inch of rice (about 3 tablespoons) inside the can. Use a spoon to flatten out the rice evenly and top it with a Spam slice. Take the corners of the cling-wrap and gently lift it out of the can. Open the cling-wrap and center the nori sheet over the Spam (it should be similar to a plus sign). Then wrap the nori sheet over the Spam stack, lifting the top and bottom to stick the nori all around.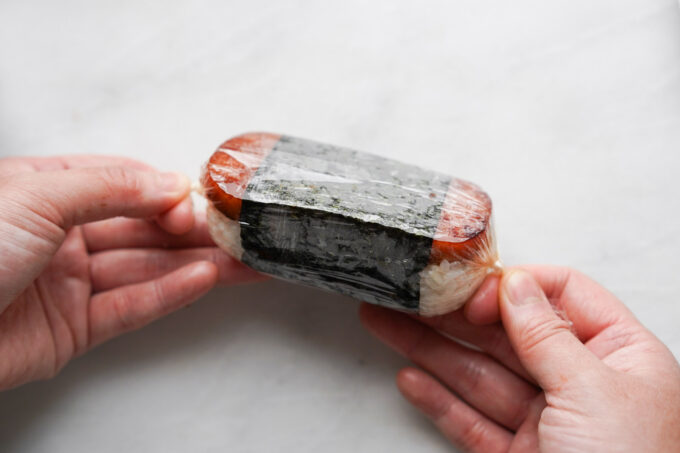 Cover the entire Spam roll with the cling-wrap again and twist the sides to make sure it's completely molded. You can use your hands to cup the sides. Unwrap the cling-wrap, and serve!
Spam musubi ingredients / variations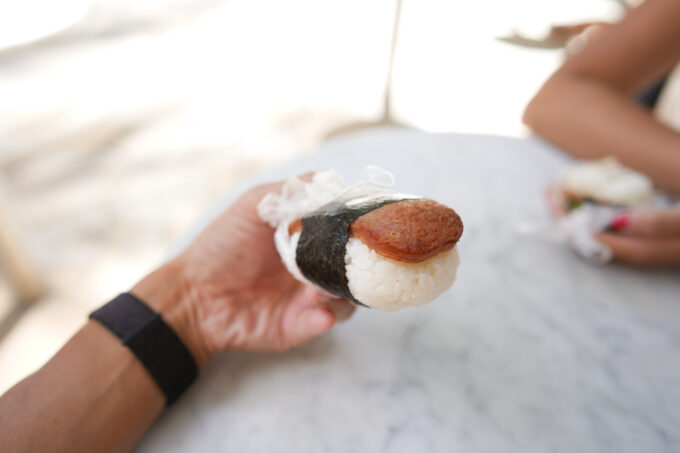 I was lucky enough to visit Maui and Oahu a couple of years ago and fell in love with the variety and ease of picking up multiple types of musubi for a snack at Iyasume and be on my way. On some mornings there would actually be a line of people out the door waiting to pick up their musubi!
I seriously wish they had a spam musubi cafe here in OC because I would drop by more than a few times a week.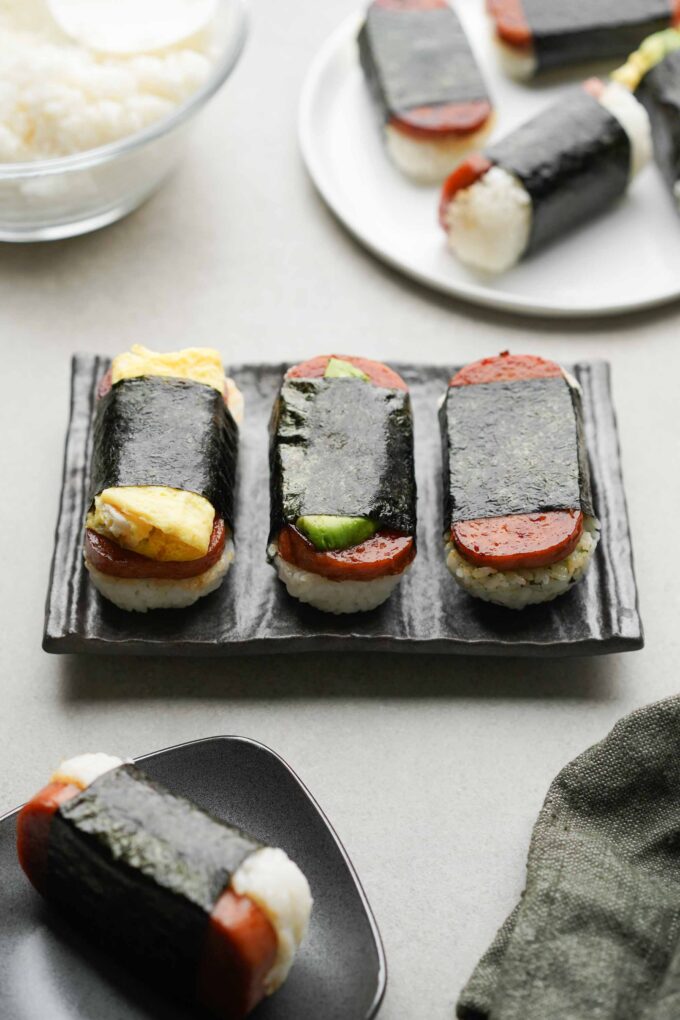 What's great about spam musubi is that you can mix and match different types of ingredients to spam musubi. I like adding eggs, avocado, furikake, and chicken katsu. At Iyasume, we also saw additions of kimchi, inari, and shiso amongst dozens of other variations. Of course, at the top of the list was the most popular and plain spam musubi.
How to serve and and store
These are best served fresh so that the rice is nice and soft and the nori is not too soggy. It's perfect with a side of ahi tuna poke or salmon poke bowls too. If you have leftovers, you can wrap them individually in a piece of cling-wrap tightly so they don't dry out. Once refrigerated they need to be microwaved in 30-second intervals until they are nice and warm. They are good in the fridge for about 3 days.
For another delicious way to use Spam and leftover rice, check out my Spam fried rice recipe.
To learn more about our favorite Hawaiian foods, you can read all about our top 15 best restaurants in Oahu.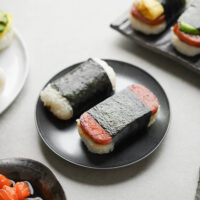 Spam Musubi
Sweet and salty Spam musubi is a great on-the-go snack and this recipe will teach you how to assemble this Hawaiian food in no time.
Ingredients
Assembly
1

can

Spam

2

c

short-grain rice

cooked

furikake

optional additions to rice

omelette

optional topping

avocado

optional topping
Equipment Used
cling-wrap

knife

rice cooker or other way of cooking rice

pan

Spoon
Instructions
Cook the rice in a rice cooker (or other method). Fluff the rice when it's finished cooking and keep it on the warm setting.

NOTE: If you do not have a saute pan large enough to cook all the Spam at the same time, make sure you divide the musubi sauce based on how many batches of Spam you need to cook. For example, if you can cook 4 Spam slices, divide the musubi sauce in half.

In a large saute pan over medium heat, add the sesame oil and garlic. Cook for about 30 seconds or until fragrant, but before it turns brown.

Add the soy sauce, oyster sauce, and sprinkle the dark brown sugar. Use your spatula to mix all the ingredients together and let it warm up only briefly.

Add the spam slices and cook for about 1 minute and then turn them over to make sure all sides of the spam are coated. Cook and occasionally turn the spam to prevent from burning for about 10 minutes or until the Spam begins to caramelize or turn golden brown.

Clean the Spam can and dry. Cut cling-wrap to about an 8 x 12 inch piece. Line the cling-wrap inside the can and make sure the corners are outside.

Scoop about 3 tablespoons of rice into the can. It should be about 1 ½ inch high from the bottom of the can. Use a spoon to press down on the rice to make it even.

Cut nori into your desired thickness, I like to cut the sheets into thirds. It's a little thinner so that the ends of the Spam and rice stick out, but you can also cut them in half and cover the Spam and rice fully.

Collect the corners of the cling-wrap and gently lift the Spam stack out of the can. Open the cling-wrap so that the Spam stack is lying horizontally on the table.

Lay one piece of nori so that it's vertical from the Spam stack. It should look like a weird cross at this point.

Carefully wrap the nori around the Spam musubi. I like to lightly press the nori on the sides and then lift the top to slide in the nori underneath and repeat for the other side.

To make a tighter musubi, cover the musubi in the cling-wrap again and twist both sides until it's tight. You can also now use your hands to cup the sides and mold the shape so that it's round.
Nutrition Facts (per serving)
Calories:
327.42
kcal
|
Carbohydrates:
43.77
g
|
Protein:
9.35
g
|
Fat:
12.08
g
|
Saturated Fat:
4.39
g
|
Cholesterol:
30.18
mg
|
Sodium:
788.54
mg
|
Potassium:
228.26
mg
|
Fiber:
1.45
g
|
Sugar:
1.51
g
|
Vitamin A:
65.12
IU
|
Vitamin C:
0.8
mg
|
Calcium:
6.6
mg
|
Iron:
2.5
mg
Nutrition Facts
Spam Musubi
Amount per Serving
% Daily Value*
* Percent Daily Values are based on a 2000 calorie diet.
Like this recipe? Subscribe to my newsletter!