Salmon poke is another variation of traditional Hawaiian poke where tuna or octopus is marinated in a seasoning of sesame oil, soy sauce, and more. This version is made with spicy sriracha mayo and has other simple ingredients like sweet onions, fresh green onions, salty roe, and roasted sesame seeds.
What is salmon poke?
Poke is a Hawaiian word meaning to "cut into pieces" or "to slice," and directly relates to how Hawaiian fishermen used to cut the leftover pieces of their fish and mix them with sesame oil, soy sauce, sea salt, candlenut, and seaweed as a treat. While this is a traditional Hawaiian snack, it also uses a lot of Japanese and other Asian ingredients like furikake, wasabi, roe, and more.
This variation of salmon poke is also marinated before consumption for at least 30 minutes to get all the flavors infused in the fish. Many mainland poke bowls are made right before they are eaten and are often served on top of rice or salad. Some of my favorite local poke shops are North Shore Poke (mainland poke style) and 808 Local Hawaiian Grill (traditional Hawaiian poke style). We've even made a list of our The Tamura's we visited it located at 500 Ala Moana Blvd Suite 2C, Honolulu, HI 96813, however there are many locations throughout the island. You can also learn our other top 15 best restaurants in Oahu.
Can you use regular salmon for poke?
For salmon poke, or any type of poke dish, it's best to go with fish from trusted stores like Mitsuwa or companies like Catalina Offshore (affiliate link), which are known for their fresh fish specifically prepared and labeled to be eaten raw, like sushi.
While there are labels like "sushi-grade fish" or "sashimi-grade fish," these labels aren't given, monitored, or regulated by the FDA, so you would only be trusting the source and/or seller of the fish.
Sushi-grade labels from Mitsuwa or Catalina Offshore typically mean that the fish has been frozen to appropriately low temperatures for a certain time to ensure that any parasites in the fish have been killed off. This makes it safer to consume the fish raw without cooking.
I typically buy raw salmon labeled specifically for raw consumption from my local Mitsuwa Market–this type of salmon is usually located in a different area from salmon meant to be cooked. If these stores are out of stock, I will wait and NOT just buy sushi from a random grocery store.
The poke bowl sauce recipe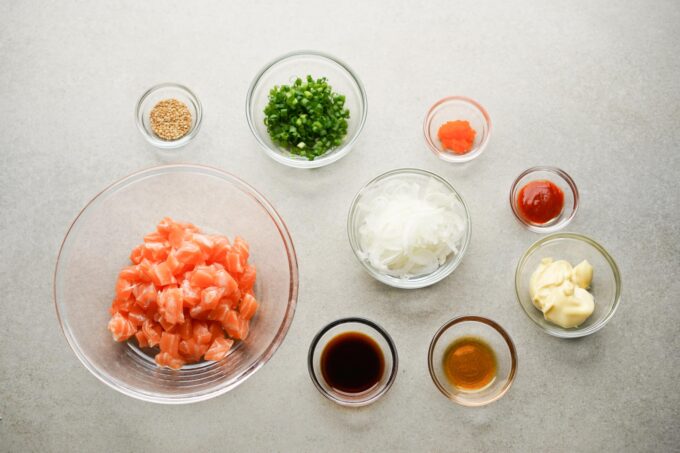 This spicy mayo salmon poke is super easy to make at home once you gather all the ingredients. I like making poke bowls at home because you can customize the spice level, which you aren't typically able to do at a poke store. It's made with a sriracha mayo mix of sriracha, Kewpie mayonnaise, sesame oil, and soy sauce. 
How to make rice for salmon poke
I like to eat my salmon poke bowl with short-grain white rice and my favorite ways to make the rice is by using a rice cooker, microwave, on the stove, or even using an Instant Pot. Unlike nigiri, these poke bowls don't require making sushi rice (sushi rice is seasoned, whereas rice for poke bowls is plain). There's already so much flavor in the marinade and fish, I don't need the extra rice seasoning.
It may be a nitpick, but another benefit to making poke bowls at home is I know the rice will come out how I want it. You (and the poke shop workers) may think I'm crazy, but I now always ask to try their rice before ordering a poke bowl since I have many times been served rice that was too dry, or too moist and overcooked–which ruins the whole bowl in my opinion!
I like my rice temperature in poke bowls to be warm, but not super steaming straight out of the pot. Cold rice would be too hard, and not good. So if you just cooked a fresh batch of rice, let it sit on the counter for about 5-10 minutes and you should be good to go.
Additional toppings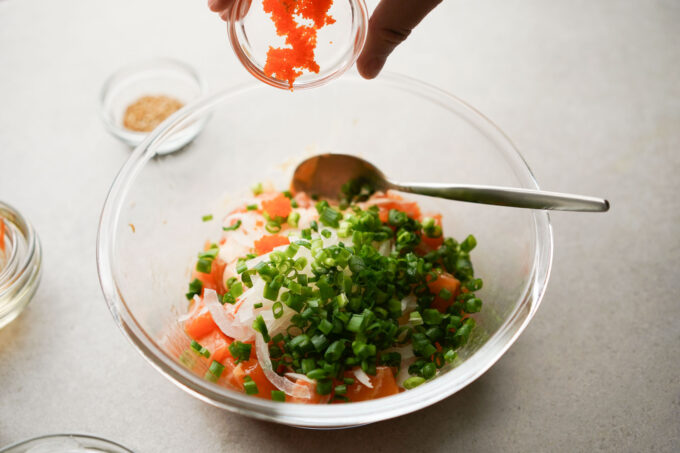 In addition to the simple marinade seasonings, I like to add sliced green onions, sweet onion slices, sesame seeds, and roe. I like the added texture of the sesame seeds and the little pops of flavor with the roe.
To make traditional ahi tuna poke bowls, you can use this simple recipe here.
Are salmon poke bowls healthy?
Salmon does have beneficial fatty acids like omega-3s, however, other health benefits are definitely dependent on the specific addons, seasonings, and other ingredients that you add to your dish. But if you choose so, it can be made pretty low fat and loaded with veggies.
Is a poke bowl OK to eat the next day?
Yes, it's ok, but it's not ideal. Poke bowls are best eaten as soon as possible and within the same day as it's made. However, if I have extra I keep it in the fridge for up to two days before it starts to get old. The problem is the fish and rice start to intermingle, and you will only want to reheat the rice so have you separate all the grains out from the fish, or the unheated rice remains hard.
Can you refrigerate poke bowls?
If you have extra poke, you can keep them in an airtight container for up to two days before they need to be thrown out. I like to keep my rice and fish in separate containers while consuming the fish so that I can reheat the rice without removing the fish.
Salmon Poke Bowl
Tender and flavorful pieces of salmon mixed with spicy sriracha and buttery Kewpie mayo, nutty sesame seeds and oil, and fresh green onions and sweet onions–this spicy salmon mayo poke bowl is best made at home because you can customize it however you want!
Ingredients
8

oz

sushi-grade salmon

cut into ¼ inch cubes

½

tsp

sesame oil

3

tsp

soy sauce

2

tbsp

Kewpie Japanese mayonnaise

1

tsp

sriracha

¾

tsp

roe

2

tbsp

green onions

sliced thinly

¼

c

sweet onions

sliced thinly

1

tsp

roasted sesame seeds

plus more for topping
Equipment Used
knife and cutting board

mixing bowl

small bowl

spoon or spatula

airtight container with a lid
Instructions
In a medium bowl combine your salmon cubes, sesame oil, and soy sauce together until it's incorporated.

In a different small bowl, combine the Kewpie Japanese mayonnaise and sriracha together until it's mixed. Add this into the bowl with the salmon cubes.

Add the roe, green onions, sliced sweet onions, and sesame seeds. Gently mix all the ingredients then cover it with a lid and place it in the fridge for about 30 minutes to allow the flavors to marinate.
Nutrition Facts (per serving)
Calories:
113.91
kcal
|
Carbohydrates:
2.79
g
|
Protein:
13.11
g
|
Fat:
5.46
g
|
Saturated Fat:
0.84
g
|
Cholesterol:
42.05
mg
|
Sodium:
610.95
mg
|
Potassium:
348.17
mg
|
Fiber:
0.53
g
|
Sugar:
1.33
g
|
Vitamin A:
102.76
IU
|
Vitamin C:
3.58
mg
|
Calcium:
31.92
mg
|
Iron:
1.19
mg
Nutrition Facts
Salmon Poke Bowl
Amount per Serving
% Daily Value*
* Percent Daily Values are based on a 2000 calorie diet.
Like this recipe? Subscribe to my newsletter!