Instant ramen is always a treat but what if we upgraded it? If you like a combination of sweet, spicy, and salty flavors, then you need to try this TikTok ramen recipe. This ramen recipe uses ingredients that you can find at home and is a new twist of traditional prepackaged ramen.
What is TikTok ramen?
TikTok ramen is a twist on traditional prepackaged ramen by ditching the seasoning packet completely and adding everyday items to make your own salty and sweet sauce and mixing it with ramen noodles. This video first was popularized by TikToker harleen.eats at the time of this writing it has garnered over 1.6 million views.
Is TikTok ramen worth trying?
It might seem crazy to throw away the seasoning packet to make ramen noodles, but hear me out, this TikTok ramen recipe is worth a try especially if you like sweet and savory flavors. This recipe actually reminded me a lot of our Asian soy glaze, except it's faster and even easier to make.
What's tasty about this ramen is that you get savory flavors from the fragrant garlic, saltiness from the soy sauce and bagel seasoning, sweetness from the brown sugar, and spiciness from the red pepper flakes. Many times, I've found that regular ramen packets have too much sodium in them. This recipe allows you to adjust the saltiness and add other flavors like brown sugar to your ramen.
Ingredients in TikTok ramen
This viral TikTok ramen uses a combination of ingredients that you can easily have at home:
unsalted butter
minced garlic
brown sugar
soy sauce
one egg
everything but the bagel seasoning
red pepper flakes
You can also top the ramen with sliced scallions if you're feeling fancy.
The best ramen noodles to use for this recipe
The great thing about this recipe is that you can use any type of prepackaged ramen you have at home, specifically egg noodle-based ramen. I'm ok with using cheaper brands of ramen since you won't be using the seasoning anyways.
You can definitely use fancier ramen packs for different noodles if you're ok spending $2 and over per pack just to throw out the seasoning. I'll use whatever packs of ramen I have at home though, like Maruchan or Sapporo Ichiban brands and it turns out great.
Why Everything But the Bagel Seasoning?
Everything but the bagel seasoning has taken the world by storm the last couple of years and I love it on grated egg avocado toast but now also add it to ramen–and it's delicious! Adding it to this ramen adds saltiness and savory flavors of garlic, onion, and nutty sesame seeds. I love it in this ramen because it gives complex and savory flavors, but also adds texture to ramen.
How to make TikTok ramen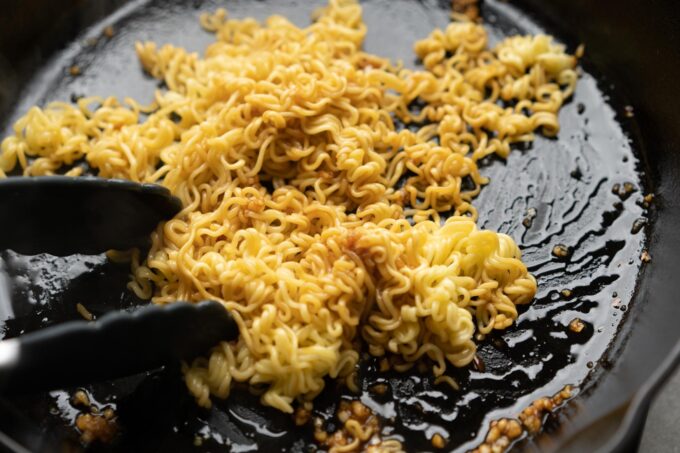 Making this ramen is super simple, but here are some tips and tricks to learn how to make the best TikTok ramen:
Prep your ingredients for the sauce before cooking the noodles so that the noodles don't dry out while you're making the sauce.
Reserve two tablespoons of noodle water just in case you need to dilute the sauce.
After the butter has melted and you've added all the ingredients into the pan, turn off the heat and add the noodles. When I cooked the butter and soy sauce down too much it became way too salty.
Add the noodles directly into the sauce and mix so that the noodles can soak up all the sauce.
If you prefer extra spicy, add the red pepper flakes into the pan to cook with the sauce. If you want a little spice, add it as a topping. This way you can control the spice level.
How to customize your TikTok ramen
To customize your ramen, you can change the amounts of each ingredient. For spicier ramen, add more red pepper flakes. For less salt, save some of the water from cooking the noodles and dilute the ramen as well as reduce the amount of soy sauce. For a sweeter recipe, add more brown sugar.
Don't stop at just using these ingredients for your TikTok ramen! We love experimenting with ratios, but also different ingredients. You can try adding some acidity with lime juice for more acid, onion powder, or ginger powder for a different savory flavor, or add furikake as a topping for saltiness and umami flavors.
If you want to explore other viral TikTok recipes, you can make baked feta pasta, crinkle dessert, green goddess salad, grated egg avocado toast, pesto eggs, and the tasty salmon rice bowl.
TikTok Ramen
Sweet, savory, and spicy, this homemade TikTok ramen recipe is your next easy meal. You'll never look at prepackaged ramen the same again.
Ingredients
1

instant ramen package

discard seasoning packet

1

tbsp

unsalted butter

1

tsp

minced garlic

1

tsp

brown sugar

2

tsp

soy sauce

1/2

tsp

cooking oil

2

large

eggs

1/4

tsp

kosher salt

Everything But The Bagel Seasoning

to taste

red pepper flakes

to taste

sliced scallions

optional topping
Equipment Used
small pot

for boiling noodles

cast iron pan

or nonstick

tongs
Nutrition Facts (per serving)
Calories:
203.11
kcal
|
Carbohydrates:
6.58
g
|
Protein:
7.95
g
|
Fat:
16.31
g
|
Saturated Fat:
8.83
g
|
Polyunsaturated Fat:
1.42
g
|
Monounsaturated Fat:
4.84
g
|
Trans Fat:
0.48
g
|
Cholesterol:
216.1
mg
|
Sodium:
764.85
mg
|
Potassium:
116.94
mg
|
Fiber:
0.18
g
|
Sugar:
4.33
g
|
Vitamin A:
620.25
IU
|
Vitamin C:
0.94
mg
|
Calcium:
42.8
mg
|
Iron:
1.29
mg
Nutrition Facts
TikTok Ramen
Amount per Serving
% Daily Value*
* Percent Daily Values are based on a 2000 calorie diet.
Like this recipe? Subscribe to my newsletter!