Every time I make these braised chicken feet, or fèng zhǎo (meaning phoenix talons), they fill the air with the savory and aromatic smells of star anise, spicy fermented chili oil, and fragrant garlic.
They're a dim sum staple in China and many places around the world, but making them at home will give you fresh and fall off the bone phoenix claws.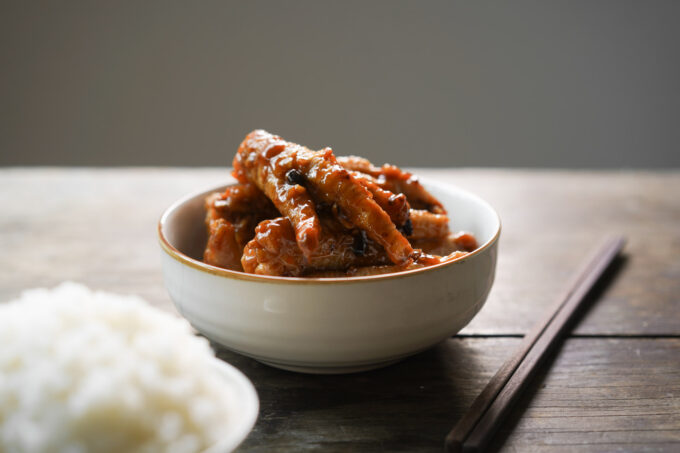 Background
Chicken feet are definitely not an everyday item on most American menus, but it's a pretty regular item on many Asian, Eastern European, African, and other ethnic cuisines. As inexpensive pieces of chicken, they are accessible and are just as delicious.
I thoroughly enjoy all aspects of dim sum: the push carts, the fragrant smells of five spice, the card stamping, and most importantly, the vast array of small and shareable options. It's often difficult to find chicken feet, char siu bao, cheung fun, pork and shrimp shumai, xiao long bao, and egg tarts all in one place at the same time except dim sum. It's a special treat (that I like to treat myself to almost every chance I get).
Sourcing & prep
If you've never made chicken feet before, you might be wondering where you can even get chicken feet since it's not typically a piece of chicken you find at most American grocery stores. In the past, I've bought them from my local Asian stores, like Hmart or 99 Ranch. Try to pick the most plump and large sized feet to get the most skin.
To prepare the chicken, you want to scrub and rinse them, remove any "impurities" like dark brown spots with a knife, and also cut off the tips of the claws where the nails lie.
One of the best pieces of advice I got when first making these chicken feet is to dry them up as much as possible before frying. Drying the feet beforehand reduces splattering oil when frying — trust me these babies splatter a LOT.
During the frying process, I usually place about four or five feet in the oil slowly and cover with a lid.
Frying & braising
With this recipe, I am sticking with the traditional way of cooking chicken feet by frying first and then braising. This process might seem a little weird to you, but frying the chicken feet first actually gives us the most plump and tender skin at the end of cooking.
The frying process slightly breaks down the stiff structure of the chicken feet, removes the excess water from the chicken, and allows for the chicken to soak in all the savory and flavorful liquid during braising.
After frying, I braise the chicken feet with an assortment of aromatic ingredients like star anise, oyster sauce, chinkiang wine, ginger, and garlic. You want to braise for a long period of time to get tender and flavor infused pieces of chicken feet. Skipping the braising step can potentially give you chewy and tough chicken skin that no one wants to eat.
Sauce
The last step is making a thick, salty, and sweet glaze to saute the now puffy and supple chicken feet. If you've had chicken feet during dim sum, you might notice the red coloring; This is made by using fermented black bean chili oil that carries a slight back heat so you only need a small amount.
I like to balance out the spiciness of the fermented oil by adding soy sauce, oyster sauce, and dark brown sugar. I also add some of the braising liquid into this sauce to dilute the thickness of the sauce and add even more flavor. When you toss the plump chicken feet into this sweet, salty, and spicy glaze, you'll think you're actually at a dim sum restaurant.
How do you eat dim sum chicken feet?
Now that you've got your succulent and tender chicken feet, how do you eat them? After dozens and dozens of chicken feet I've consumed over the years, I've figured out the best way to eat them.
If you're using chopsticks, get a good, firm grip at the wrist so that it doesn't slide around or drop right when you're about to take a bite. You can also use a fork, but this is harder to use since there isn't really "meat" to pierce. I like to bite off the fingers from the claw and use my chopsticks to remove extra bones along the way while I'm eating.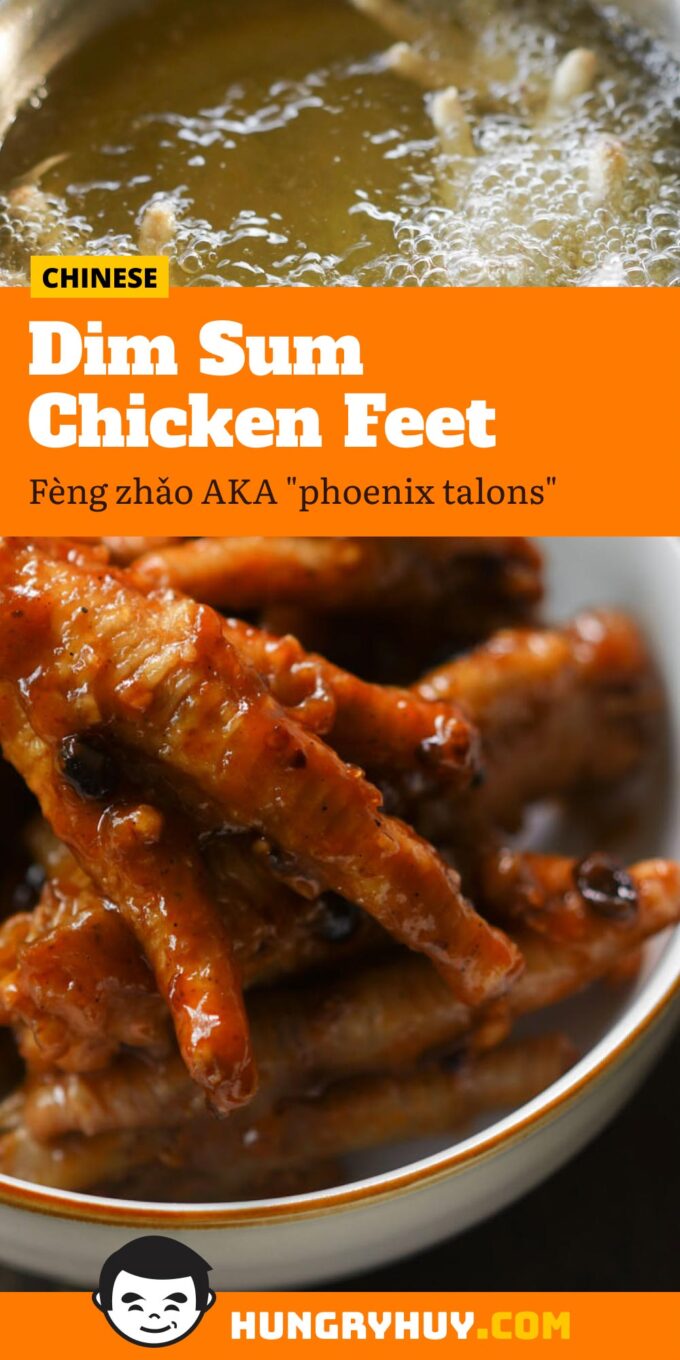 Dim Sum Chicken Feet
These supple and soft chicken feet (or phoenix talons if you're fancy) will give you flavorful dim sum style dish at home, achieved by frying and braising!
Ingredients
Braising
10

c

water

3

inches

ginger

sliced

6

cloves

garlic

smashed

4

cloves

star anise

2

tbsp

oyster sauce

1

tbsp

chianking wine

or rice wine vinegar
Sauce
1

tbsp

cornstarch

2

tbsp

water

1

tbsp

neutral cooking oil

vegetable oil preferred

1

tbsp

garlic

minced

¼

c

braising liquid

from above

2

tsp

dark brown sugar

1

tbsp

oyster sauce

1

tbsp

light soy sauce

¼

tsp

crushed black pepper

2

tsp

black bean chili oil
Instructions
Frying
Clean your chicken feet by running them under cold water to remove any brown spots or extra bone fragments and pat dry. Place them on a cooling rack to dry out as much as possible for at least 30 minutes on your counter (or your fridge if you want to dry them out longer).

Use sharp kitchen scissors or a knife to cut the tips of the claws/nails and also other dark spots around the feet.

In a bowl, add the cornstarch and lightly cover the chicken with the cornstarch. Dust off excess cornstarch and place the chicken feet back on the rack.

Fill a heavy bottomed pot with vegetable oil (or another neutral oil) to about two inches and preheat oil to 375 °F. Carefully lower the chicken feet one by one into the oil and fry for about two minutes or until they turn lighter brown.

Transfer the chicken to a cooling rack to remove excess oil and cool. Repeat with the next batch of chicken feet.
Braising
Braising immediately after frying allows for plump and supple chicken feet, so don't wait. In a large stock pot over medium-high heat, add in water, ginger, garlic, star anise, oyster sauce, chinkiang wine, and the deep fried chicken feet. Bring to a boil and stir. Lower the heat to medium-low or to a simmer and cover the pot. Simmer for about one hour.
Sauce
After braising, the chicken feet should look puffy and soft. Transfer the chicken feet into a bowl and filter the braising liquid to save for later using a strainer to remove aromatics. TIP: I try not to premake the braised chicken feet the day before because I found the chicken feet don't soak up the flavorful sauce as much as fresh braised feet. It also takes longer to heat up the already supple chicken feet and can cause skin breakage.

In a medium saucepan over medium, add vegetable oil and saute garlic for about 30 second or until fragrant.

In a small bowl mix the cornstarch and water.

Add the remaining Sauce ingredients to the pot and stir until the sugar has dissolved, then cook for another minute.

While stirring the sauce, add in the cornstarch and water mixture and stir to fully dissolve. The sauce should begin to thicken very fast so keep stirring to make sure all the liquid is incorporated. If it's too thick you can add more braising liquid to thin it out. See photo for the target sauce consistency.

Add in the chicken feet and stir to coat each piece. Transfer to a serving bowl and serve immediately.
Nutrition Facts
Calories:
513.3
kcal
|
Carbohydrates:
23.8
g
|
Protein:
32.2
g
|
Fat:
31.6
g
|
Saturated Fat:
10.1
g
|
Trans Fat:
0.3
g
|
Cholesterol:
127
mg
|
Sodium:
1089.5
mg
|
Potassium:
131.9
mg
|
Fiber:
1.6
g
|
Sugar:
2.4
g
|
Vitamin A:
151.2
IU
|
Vitamin C:
3.3
mg
|
Calcium:
184.9
mg
|
Iron:
2.1
mg
Like this recipe? Subscribe to my newsletter!